Description
11.17 Thursday (Bluegrass)
Nectar & The PBJ Present:
TROUT STEAK REVIVAL
THE WARREN G. HARDINGS
The Railsplitters
$12adv / $16dos
21+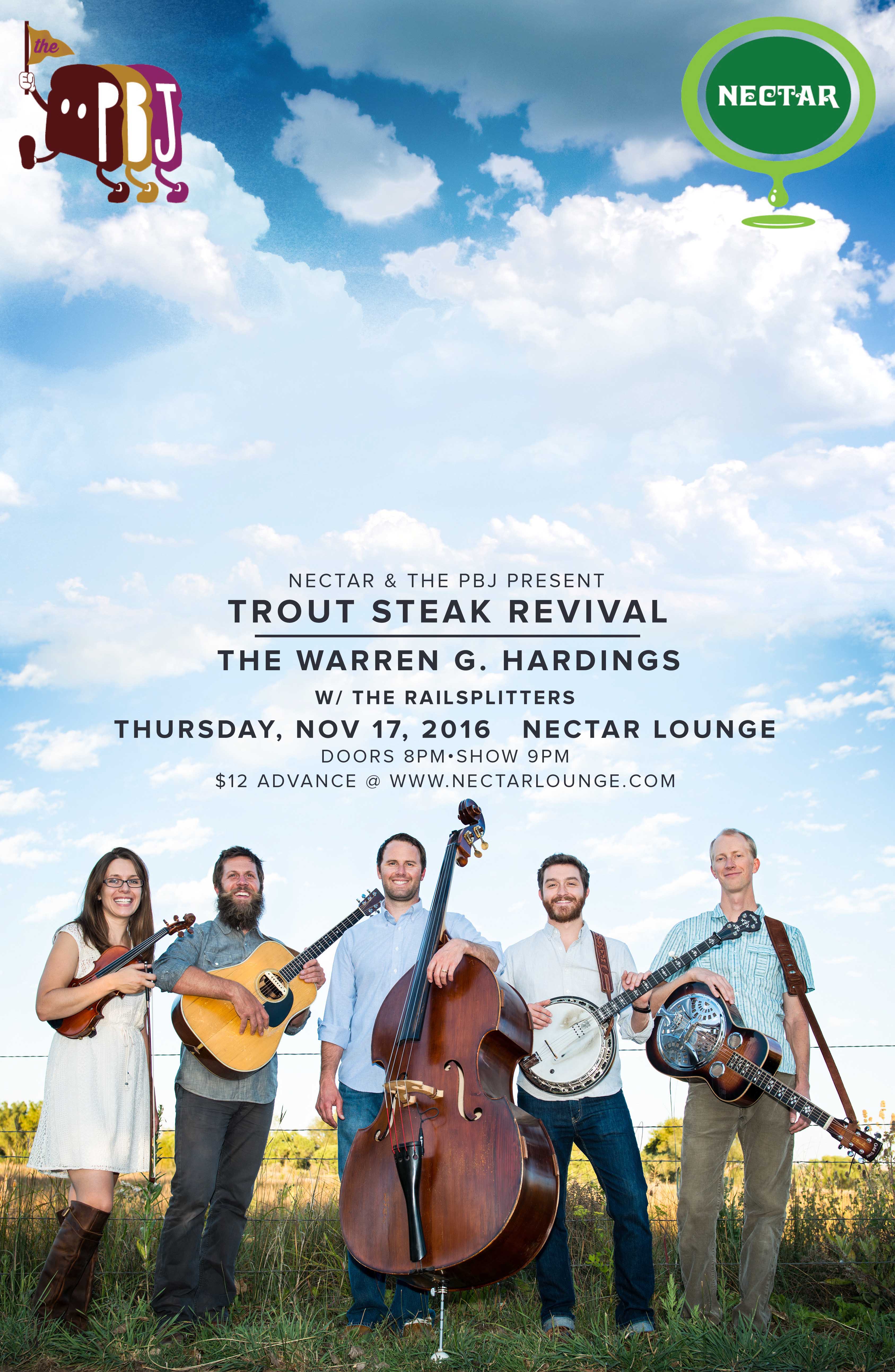 BIO:
Trout Steak Revival has earned a place in the mountain states bluegrass scene, performing to sold-out audiences, winning the 2014 Telluride Bluegrass Festival Band Competition, placing in the 2012 Rockygrass Band Competition, and even winning an Emmy Award for a soundtrack with Rocky Mountain PBS. Their new album, "Brighter Every Day," was released in March 2015. Produced by Chris Pandolfi of the Infamous Stringdusters, the album has received radio play and acclaim both in Colorado and across the world.
Soulful Narratives. Heartfelt Songwriting. Tightly-woven Instrumentation. Harmonies Rooted in Years of Friendship. Blending the foregoing, Trout Steak Revival pushes the envelope on a progressing genre while drawing creatively from the many canons of American roots music.
2016:
IBMA Official Showcase Band, Denver Westword's "Best Bluegrass Band"
THE WARREN G. HARDINGS
The Warren G. Hardings are a high-energ
y stringband
from Seattle, Washington
. Heavily influenced
by America's roots, folk and bluegrass heritage, they belong to
a generation

of young musicians that continues to evolve and adapt these acoustic traditions

for the 21st century. The band has a deep affinity for the music of legendary bluegrass pioneers such as Bill Monroe and Flatt & Scruggs, as well as the countless artists following in their footsteps who have helped progress the genre to the rich and diverse art form it is today. The Warren G's draw on this legacy and contempora

ry influences

, ranging from pop to punk, to create a live show experience

that promises a foot-stomp

ing party atmosphere

and a good time for all. Whether ripping through old standards or performing

original songs, the band strives to provide an infectious

energy that gets the crowd moving