Description
Join us for an memorable Troubadour Bluegrass Concert with "Riders in the Sky!"
"Riders in the Sky" are America's favorite cowboys and Grammy winning members of the Grand Ole Opry. Their major motion pictures include "Woody's Roundup" from Toy Story 2.
Music sample: https://www.youtube.com/watch?v=GG5wrBj3rlo&feature=youtu.be
Dinner begins at 6pm in the Grand Ballroom with social seating. The concert starts at 7:30pm in the Greenhouse.
Concert Only Ticket: $35.
Dinner & Reserved Seating Concert Ticket: $95
MENU
Seasonal Castle Salad
Rolls and Butter
Seasonal Vegetable
Roasted Potatoes
Grilled Flank Steak
Roasted Chicken
Bread Pudding
If you have dietary restrictions, we are happy to let you know which foods you can safely eat. Please email Mary@thekentuckycastle.com.
Menu subject to change.
Concert doors open at 6:30PM. Concert begins at 7:30PM.
For a Dinner Ticket with Reserved Seating, the chef's table will open at 6PM and close at 6:45PM; these concert seats will be reserved. If you would like to be seated with another party for dinner, please email Mary@thekentuckycastle.com.
The Kentucky Castle sells tickets to special events only on Eventbrite. If guests purchase tickets through another source, they may not be valid.
This event is located in the Greenhouse. The interior of the Castle is limited to guests with Hotel reservations, Restaurant reservations, and Dinner tickets for the Ballroom. For guests that may enjoy a tour of the Castle, our doors are open to serve guests during the times available in this link. https://www.thekentuckycastle.com/tours.
If you'd like to reserve a room at our Castle Hotel, please call (859) 256-0322 or visit https://www.bookonthenet.net/east/premium/eresmain.aspx?id=9G53JR2%2fnywlpIdWgZyVITmeoZgW8bmYWEiEDFZ5%2fc8%3d#/search
Artist Bio: Riders In The Sky are truly exceptional.
For more than thirty years Riders In The Sky have been keepers of the flame passed on by the Sons of the Pioneers, Gene Autry and Roy Rogers, reviving and revitalizing the genre. And while remaining true to the integrity of Western music, they have themselves become modern-day icons by branding the genre with their own legendary wacky humor and way-out Western wit, and all along encouraging buckaroos and buckarettes to live life "The Cowboy Way!"
Riders In The Sky are exceptional not just in the sense that their music is of superlative standards (they are the ONLY exclusively Western artist to have won a Grammy, and Riders have won two), but by the fact that their accomplishments are an exception to the rule as well.
As a classic cowboy quartet, the trail has led them to heights they could have never predicted. Riders have chalked up over 6100 concert appearances in all 50 states and 10 countries, appearing in venues everywhere from the Nashville National Guard Armory to Carnegie Hall, and from county fairs to the Hollywood Bowl. Their cowboy charisma and comedic flair made them naturals for TV, and landed them their own weekly show on TNN, as well as a Saturday morning series on CBS. They have been guests on countless TV specials, documentaries and variety shows, appearing with everyone from Barney to Penn & Teller. And their animated likenesses have shared the screen with Daffy Duck on the Cartoon Network, and the Disney Channel's Stanley. If you consider their compositional credits, one might call them "Writers In The Sky!" In addition to penning award winning songs for their own albums, they wrote the score for Pixar Animation's 2002 Academy Award-winning short "For the Birds." They composed the theme song for the internet cartoon show "Thomas Timberwolf" by renowned Bugs Bunny creator Chuck Jones. But the animated character that history will most certainly link to Riders In The Sky is the loveable cowboy Woody, as Riders performed "Woody's Round Up" in "Toy Story 2," with the album of the same name garnering Riders their first Grammy Award in 2001 for "Best Musical Album for Children." Two years later, Riders roped their second Grammy in the same category, for "Monsters Inc. - Scream Factory Favorites," the companion CD to Pixar's award winning movie.
In 1982, Riders In The Sky became the first, and to date only, exclusively Western music artist to join the Grand Ole Opry, the longest running radio show in history, and thus began a love affair with radio as well. In 1988, they recorded comedy skits for the album "Riders Radio Theatre" and launched the long-running international weekly radio show of the same name on public radio. And keeping pace with the ever-changing technological landscape, in 2006 "Ranger Doug's Classic Cowboy Corral" debuted on XM Satellite Radio, still heard weekly on SiriusXM Channel 56.
Yes, it would be "The Easy Way" to call it a career after 30-plus years, but it wouldn't be..."The Cowboy Way!" And so, the never-ending trail drive continues. The ponies are rested and watered, and America's Favorite Cowboys are ready to saddle up and ride, bringing good beef to hungry people wherever they may be. Yes, Riders In The Sky are truly an exception to the rule.
https://www.ridersinthesky.com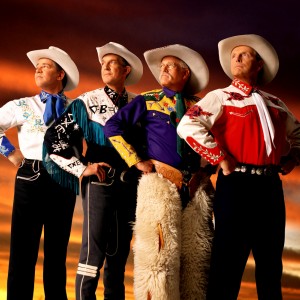 Performers
Date and Time
Location
Refund Policy