In response to Covid-19, TROPICS MAGAZINE is pleased to announce its 4th annual TROPICS BUSINESS SUMMIT as a global multi-streaming event.
About this event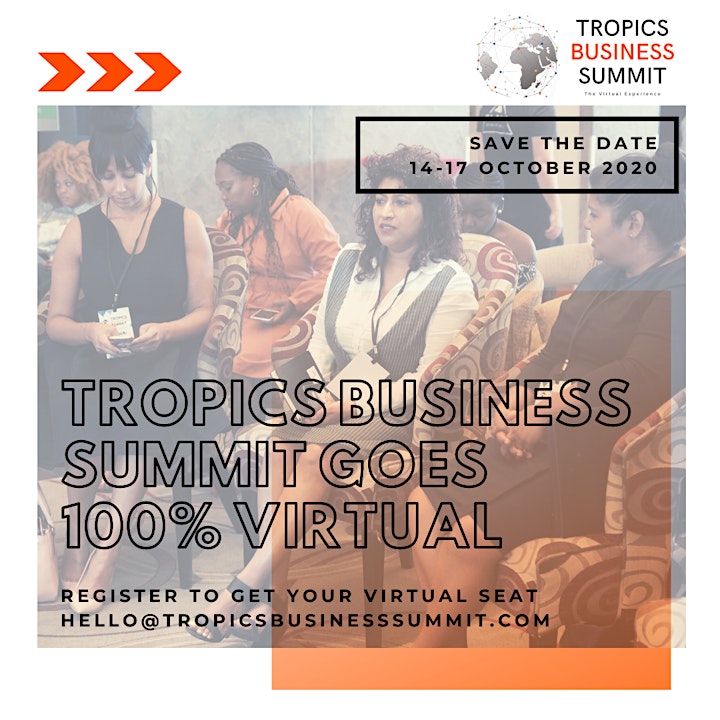 Join us on October 14 – 17, 2020 as TROPICS BUSINESS SUMMIT goes virtual due to the Coronavirus spread. The safety of our community is a top priority. In light of the health safety recommendation across Africa and the world, we will deliver our 4th annual TROPICS BUSINESS SUMMIT as a digital event, in lieu of an in-person event.
Once again, we look forward to bringing together our multilingual ecosystem of Entrepreneurs and Investors hailing from five (5) continents in this new virtual and action-oriented format to learn, connect and build even more impactful economic synergies amidst the Covid19 crisis.
TROPICS BUSINESS SUMMIT is the most important business meeting on investing in Africa! Successfully bridging the funding gap between Anglophone and Francophone markets for Africa's industrialization.
The TROPICS BUSINESS SUMMIT is a unique opportunity for your organization to connect with 250+ Speakers, Panelists and Investors and a global audience close to 500,000 digital attendees in Africa and beyond in a variety of government and private sectors.
The organizing committee is committed to engaging with delegates through an energizing, result-oriented and informative program of Speakers, Panelists and facilitating networking and business opportunities for Sponsors and Partners through an interactive exhibition and a dynamic program of business-focused and social activities.
Delegates include investment professionals and associated professions, heads of governments, embassies, business leaders, institutional partners and investors, representatives of public authorities, media and thought leaders.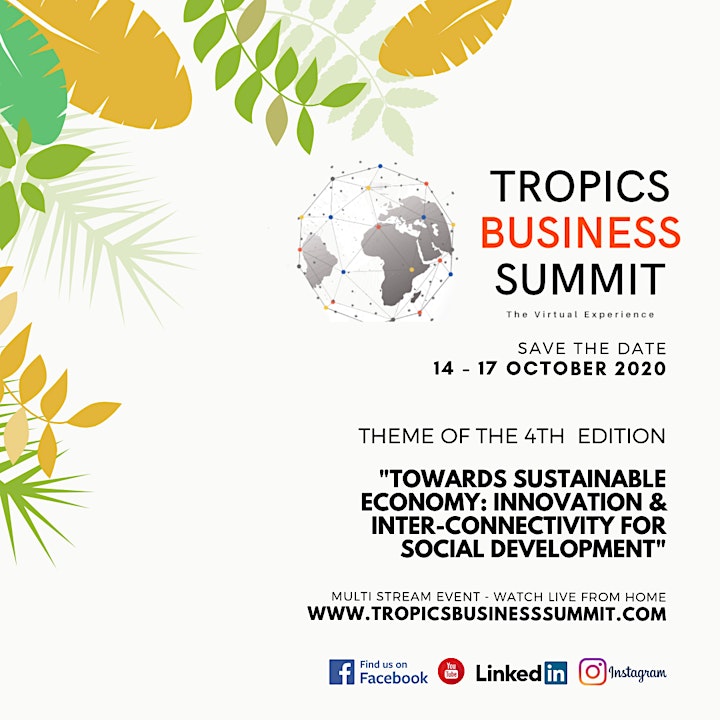 WHY YOU SHOULD INVESTORS AND ENTREPRENEURS ATTEND?
Our multi-streaming meeting platform is fully integrated with all-important social media platforms including Facebook, YouTube, LinkedIn, Twitter, Instagram and Periscope allowing both Investors and Entrepreneurs to continue to host face-to-face discussions and share their company presentations (publicly or privately).
Some of the benefits of attending the TROPICS BUSINESS SUMMIT - Virtual Experience 2020 include the following:
• Full support received from Investors to take part in online one-to-one meetings
• The online conferences and meetings platform allows our events to continue
• With distance and time out of the office no longer being a hinderance, a far wider pool of investors is expected to take part in the summit this year from across the world. At the same time, your participation fee is being reduced, and your travel/accommodation costs are cut to zero
• Our online system is secure and simple to use and you will be able to show your presentation and interact face-to-face with our global Investors as normal
• Our conference concierge team is multilingual and they will be working closely with Entrepreneurs and Investors to build a full schedule optimized to your timezone
• To stay on top of your game, it is important that companies around the globe continue to engage with Investors and Partners.
BOOK YOUR VIRTUAL SEAT ON TIME AND HELP SPREAD THE NEWS
This year, TROPICS BUSINESS SUMMIT will feature 100+ sessions and top-caliber Corporates from across the African continent and the world. They will take part in the 4th edition, representing a broad range of sectors, including financial services, agri-business, healthcare, power, transport, mining, construction, chemicals, leisure, telecoms, food, retail, arts and culture, tourism, communications, marketing, beauty, fashion, etc.
The TROPICS BUSINESS SUMMIT - Virtual Experience 2020 will come ahead of the anticipated launch of the AfCFTA - African Continental Free-Trade Area in Accra which will is set to boost Intra-African trade and Pan-African economies at large amidst the delay caused by the Covid-19 spread.TROPICS BUSINESS SUMMIT is free to view on the web; global viewers just need to register by email at hello@tropicsbusinesssummit.com to book their virtual seats ahead of the event to avoid surprises. Alternatively, head onto the Eventbrite to register before it's too late: Professional quality videos and additional footage (B-roll) in English, French, and Portuguese languages will be made available for download from the official TROPICS BUSINESS SUMMIT website.
If you wish to join in as a Keynote Speaker, Panelist, Sponsor, Investing Partner or Strategic Partner, kindly get in touch with the organizing committee: hello@tropicsbusinesssummit.com C'c tropics.info@gmail.com Get all the latest updates on https://tropicsbusinesssummit.com and be sure to follow our official hashtags: #TropicsBusinessSummit and #TropicsSummitFromHome to get all the latest news and updates across all social media platforms.
Organizer of TROPICS BUSINESS SUMMIT 2020 | Request Your Free Invitation