L'OCHESTRE TROPICALD' HAITI / KLASS LIVE IN PHILLY FOR THE FIRST TIME
About this event
SATURDAY NOVEMBER 27TH 2021
L'OCHESTRE TROPICALD' HAITI / KLASS
LIVE IN PHILLY FOR THE FIRST TIME.
Featuring DJSMOY
HALF TIME: DJ HOTSAURCE
HOSTED BY: ROZZ YSB
EARLY BIRD TICKET $60 BEFORE OCTOBER 10TH
SILVER VIP $75
PREMIUM VIP $100
——
DJSMOY.EVENTBRITE.COM
——
Happy hour from 8:pm-11
RED WINE (701 Adams Ave Philadelphia PA)
For more info: 719-357-6690 / (267) 504-0348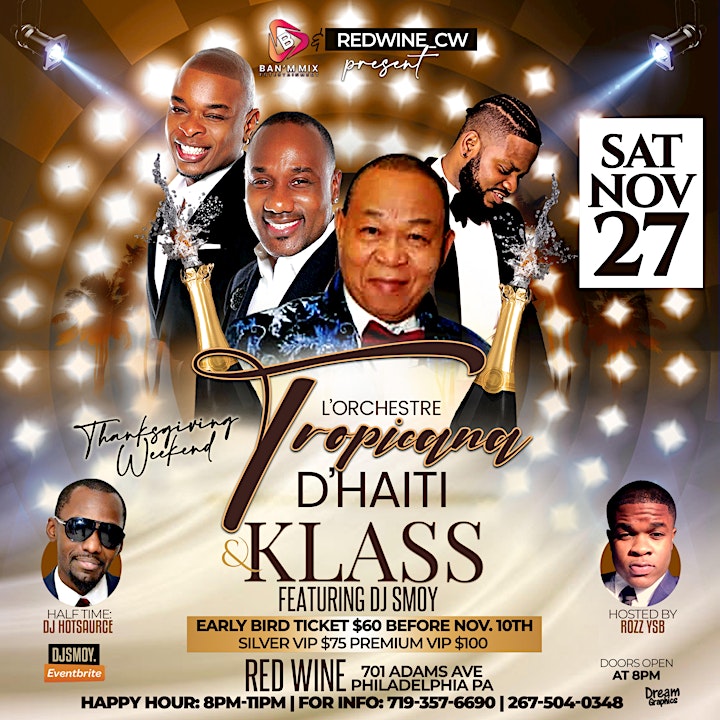 Organizer of TROPICANA & KLASS LIVE IN PHILLY
Jean Edouard better known by his stage name DJ Smoy, was born on August 23rd in the city of Port-au Prince, Haiti. Smoy has been influenced by few different people which brought and led him to start playing music. However, his major influence was from DJ Jack who was well known in Haiti, and his older sibling, Giro Exil who was a DJ. DJ Jack was his inspiration and motivation.

DJ Smoy dreamt of becoming a disc jockey at the age of 10. Smoy's entertainment background began while in high school and had played at several events such as, weddings, graduations, and other special occassions. Smoy has travelled to NY, NJ and MA to play all genres of music and stay connected when it comes to pleasing the crowd on the dance floor! As a DJ, Smoy understands a crowds musical interest and breaks the ice early at any event! In his spare time, DJ Smoy enjoys playing soccer as a way to stay active and continues to expand his business. With attention to detail Smoy is a confident, articulate master of ceremonies who knows how to make your event fun and classy or wild and exciting! Smoy is a well known and an excellent DJ in and other states. A crowds' favorite, clients are always happy to have Smoy as their DJ!