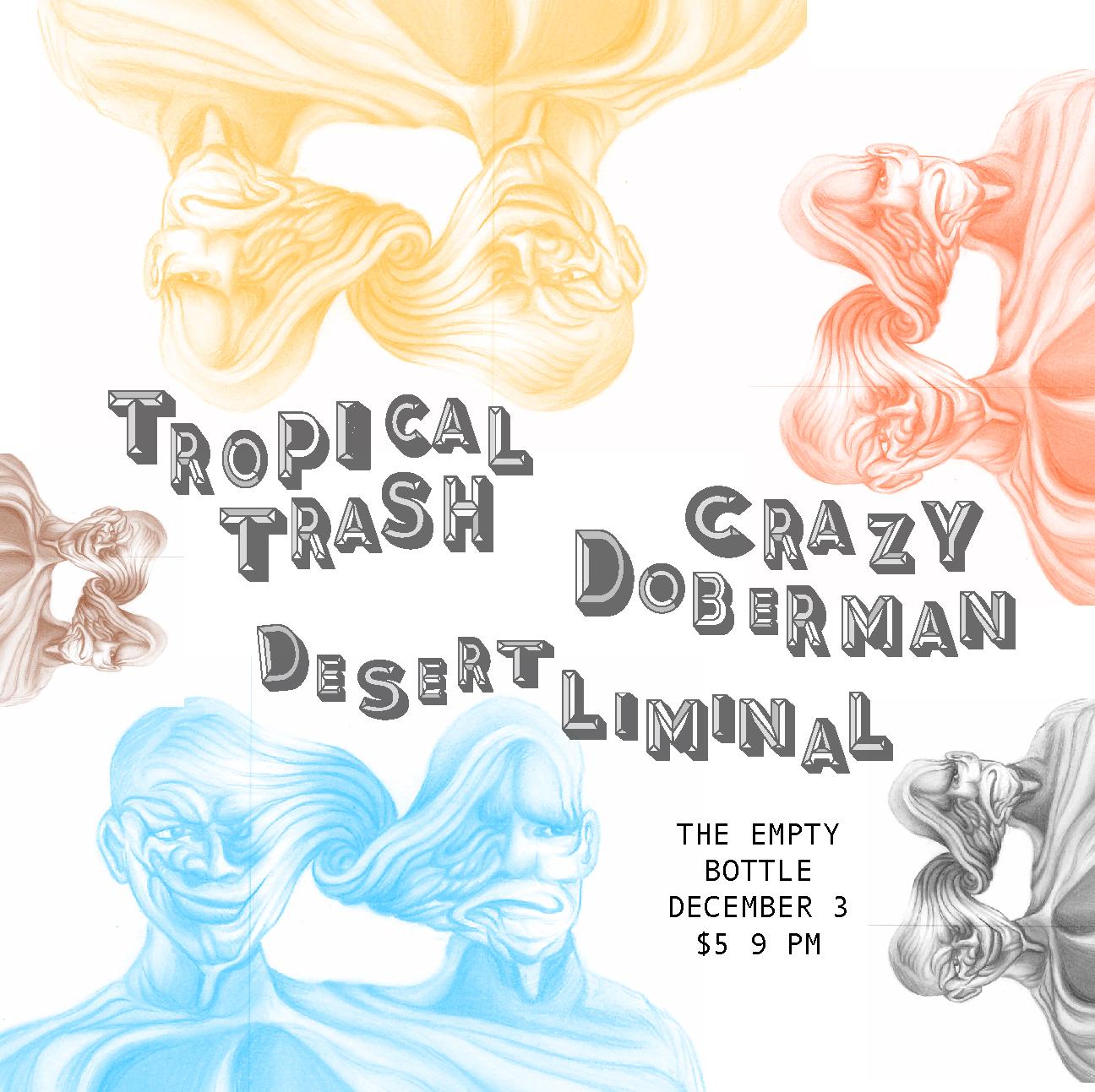 About this Event
TROPICAL TRASH is a three-piece punk band from Louisville, KY who bash and beat your existence to a pulp with every song. Luckily for your eardrums - and your withering spirit - each song runs around 60-90 seconds, so you've got some time to recover before the next onslaught of sound begins. The band's 2013 release, Think Back Kick A Beer, out on Sophomore Lounge, is a fucking massacre of blistering guitars, punishing drums and meaty bass lines. On their most recent release, DECISIONS' EMPTY NEST, TROPICAL TRASH's jacked-up power choogle works seamlessly to complete their sole mission, to find your brain and liquefy it. 
CRAZY DOBERMAN breathes infection, delirium and utter chaos. Don't let the hysteria fool you though, this noise-mania six-piece experimental jazz group meticulously arranges their frenzied aberration to create an atmosphere of unknowing and oddity. Featuring John Olsen of popular meme site and band, WOLF EYES, CRAZY DOBERMAN sets off to diverge from normality and alter your perception of what noise is today. 
Armed with an array of distortion pedals and an old faithful Casiotone CT-310m, DESERT LIMINAL dives head first towards our stage for a night of reflective lo-fi rock and lyrical storytelling. Their most recent release is a three-part piece titled Catalina, Still. Short but sweet, each track creates a strong narrative with robust poetry, filled with carefully curated noise and ambient tones.  
DJ DR. MORALES PHALLUS 420 WEB MD playing nothing but the hits to get you riled up for this hard knocker of a show.