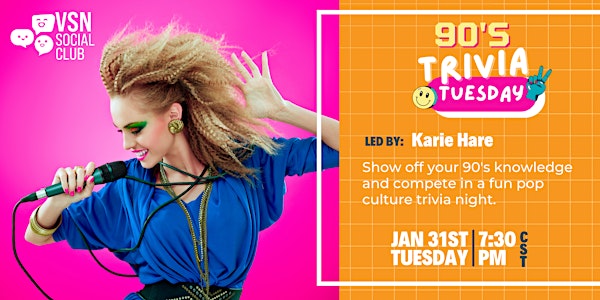 Trivia Tuesday - "90s Pop Culture"
Show off your 90's knowledge and compete in a fun pop culture trivia night.
By Veteran Spouse Network
Date and time
Tuesday, January 31 · 5:30 - 6:30pm PST
About this event
Can you name all the Spice Girls? Maybe you can sing the lyrics to the top Gwen Stefani songs. Or can you quote the Wedding Singer? Show off your 90's knowledge and compete in a fun pop culture trivia night. Share with your veteran or military spouse and family community and come on out. Free and Online! **Not required** but there may be prizes for those that wear their best 90s outfit to this event, remember this is on zoom so from the top up.
To be eligible for this group you must be affiliated with the military: the spouse, partner, caregiver, or family member of an active duty service member or post-service veteran, a veteran, active duty service member, the family member or individual widowed or divorced from an SM or Veteran.
Eligibility for our Virtual Social Clubs varies by session, so please check our Eventbrite page to see other social clubs that may interest you.
Once registered, on the morning of the event, you will be emailed a Zoom invite to join via computer, tablet, or phone. Once registered, you will also be able to access the Zoom information by viewing the event's Online Event Page. The Online Event Page can be accessed by clicking the "View the event" button in your order confirmation email, OR by selecting the "Access this event" button on the right-hand side of this page.