Trivia (& Prizes) For Two Great Causes: Cystic Fibrosis Research and Youth...
Location
Acre 121
1400 Irving Street Northwest
Washington, DC 20010
Description
DOORS at 7pm
TRIVIA begins at 8:30PM
________________________________________
You're smarter than your friends, so why not prove it while winning some great prizes and sharing drinks with friends? This event is open to the public, but we recommend registering early to save your spot.


Details:
Teams of 4-10 people (but you can come on your own & join a team on the spot)


Not good enough to win at trivia but still like freebies? We've got you covered. Get a raffle ticket and win one of the many prizes below.

Trivia starts at 8:30pm a

t Acre 121, just steps from the Columbia Heights metro, but come early to claim your spot. Want to Uber to/from? We'll give all new accounts a $15 credit.
Special thanks to District Trivia, for providing questions, format and support.
NEW: Get an extra raffle ticket for everyone who you bring. (They must note your name when they register in the form.)
Winning Team & Raffle Prizes:


Winning Team
$50 toward their tab
$40 credit for a ride home from Uber
Raffle Items (More To Be Announced)
10 VIP tickets to a filiming of Who Wants To Be A Millionaire
A detailed apartment cleaning from Maids in Black
$50 credit to Uber
$10 gift card to Mr. Yogato
Canvas time at Art Jamz
$10 gift card to Bloomingdales
$50 gift card to Hugh & Crye
5 tickets to the AMC Uptown in Cleveland Park
$50 to DC Atlas Arcade on H Street

$50 bar tab to Brass Monkey in Adams Morgan

3 gift cards for a dozen cupcakes to Georgetown Cupcake
$50 to spend at Fox & Hound/Bier Baron or Policy, or $100 at My Brother's Place
Two VIP tickets to DC Shorts Film Festival 2013
Private test drive by Tesla Motors DC.
___________________________________

100% Of The Proceeds Goes To Two Great Charities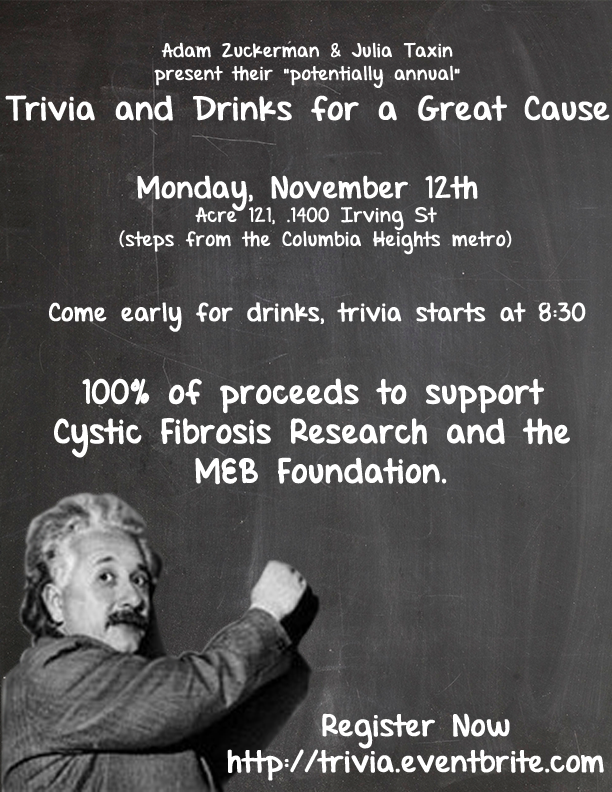 About Cystic Fibrosis
Cystic fibrosis is a disease passed down through families that causes thick, sticky mucus to build up in the lungs, digestive tract, and other areas of the body. It is one of the most common chronic lung diseases in children and young adults. It is a life-threatening disorder.
About The MEB Foundation
The MEB Foundation supports programs and events that inspire youth and their families to lead healthy, balanced lives. The MEB Foundation fulfills its mission as a collaborator and leader in health, education, and fitness.


http://marathonmeb.com/foundation/