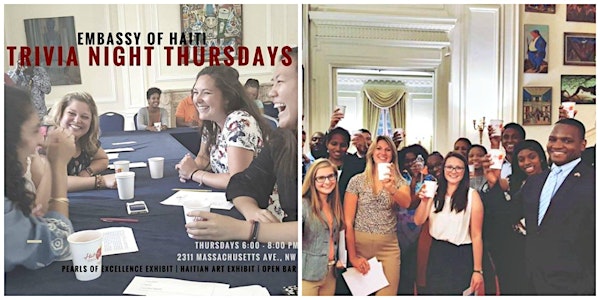 Trivia Night Thursdays at the Embassy of Haiti - September 28, 2017
Event Information
Location
Embassy of Haiti
2311 Massachusetts Avenue Northwest
Washington, DC 20008
Description
The Embassy of Haiti in Washington, DC invites you to Trivia Night Thursdays on September 28. Launched on July 13, 2017 to complement its existing Open House series, this event is open to the general public and has been designed to offer an educational, cultural and social experience. Participants engage in a fun, interactive and competitive activity integrating lively Haitian music, with prizes awarded to members of the winning trivia team.
The initiative will be held at the Embassy every Thursday from 6pm to 8pm.

Participants will have the opportunity to partake in a guided tour of the historic Chancery starting at 6:00pm, and will gather in the Embassy's grand ballroom at 6:15pm to assemble into Trivia Night teams. The trivia game will begin promptly at 6:30pm!

The featured questions will pertain to the following categories: art, business, culture, current events, entertainment, geography, history, literature, music, nature, and sports. Within these categories, a few questions on each night will relate directly to Haiti.

Complementary drinks will be served (alcoholic and non-alcoholic).

We look forward to hosting you and your friends on Thursday night (9/28)!
The more friends you bring, the more fun the evening will be!
Please click here to view photos from the launch.


Embassy of Haiti Staff
Date and time
Location
Embassy of Haiti
2311 Massachusetts Avenue Northwest
Washington, DC 20008