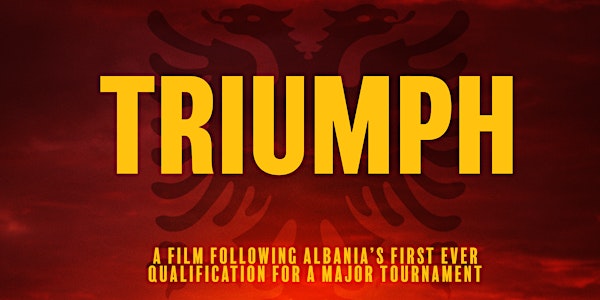 Triumph Movie: Special Guest Lorik Cana
When and where
Location
One Woodward 1 Woodward Ave Detroit, MI 48226
Description
Please join us for a private screening of the documentary feature film, "Triumph". The film that follows the Albanian national team and their journey to their first ever qualification for a major tournament.
Seats are limited and admission is granted by advance ticket purchases.
Proceeds will help finish post production of the film & benefit the Lorik Cana 5 Foundation.
On October 14, 2014 the two Eastern European countries of Albania and Serbia faced off on the soccer field in the Serbian capital of Belgrade. With Albanian fans not permitted to attend the game due to purported safety concerns, the stadium full of Serbian fans echoed racist chants and death threats. Tensions rose to a boil when a drone carrying an Albanian flag flew above the players and onto the pitch. Angered fans rushed the field, attacking the Albanian players, forcing the match to end. A history of political tensions, war and genocide is explored as we follow the journey of the Albanian National Team on their first EURO cup appearance.
The film is directed and produced by Kreshnik Jonuzi, Luftar Von Rama, and Charlie Askew.
About the Lorik Cana 5 Foundation:
The foundation was founded on May 2017. The fundraising will increase the number of multifunctional kinder-pitches in Albania, Kosovo and other Albanian speaking territories, implementing the kindergarten sport program making it possible for the physical education in an early age for children.