Actions and Detail Panel
Triple Threat Manila 3-on-3 Basketball, Pre-Season
Sun, June 11, 2017, 1:00 PM – 6:00 PM Philippine Standard Time Philippines Time
Description
Join us for the TRIPLE THREAT MANILA, PRE-SEASON, an official FIBA-endorsed 3on3 Basketball Tournament on June 11th!
12 slots. 48 players. 5 hours of fast-paced and fiercely competitive tournament
Grab some friends, put together a team or join as an individual* to battle it out for the crown and shoot for history!
This is the Pre-Season Tournament for male ages 18 up to 50 years old in partnership with Hardwood Hoops Basketball Club with existing 2,400 group members which gathers its members on a weekly basis for a friendly invitational game since year 2015.
The goal of this tournament is to create various world-class opportunities for all Filipinos to contribute to the development of 3x3 Basketball in the Philippines and be recognized internationally. We believe that Filipino athletes have what it takes to go from streets to Olympics.
By participating on TRIPLE THREAT MANILA, all participants will be given individualized profile page and will get a spot in the 3x3 Individual World Ranking on 3x3planet.com.
Photo credit:
https://goo.gl/C71b2L
Additionally, the tournament's result and players statistics are showcased on the same portal.

Photo Credit: https://goo.gl/kaWCIi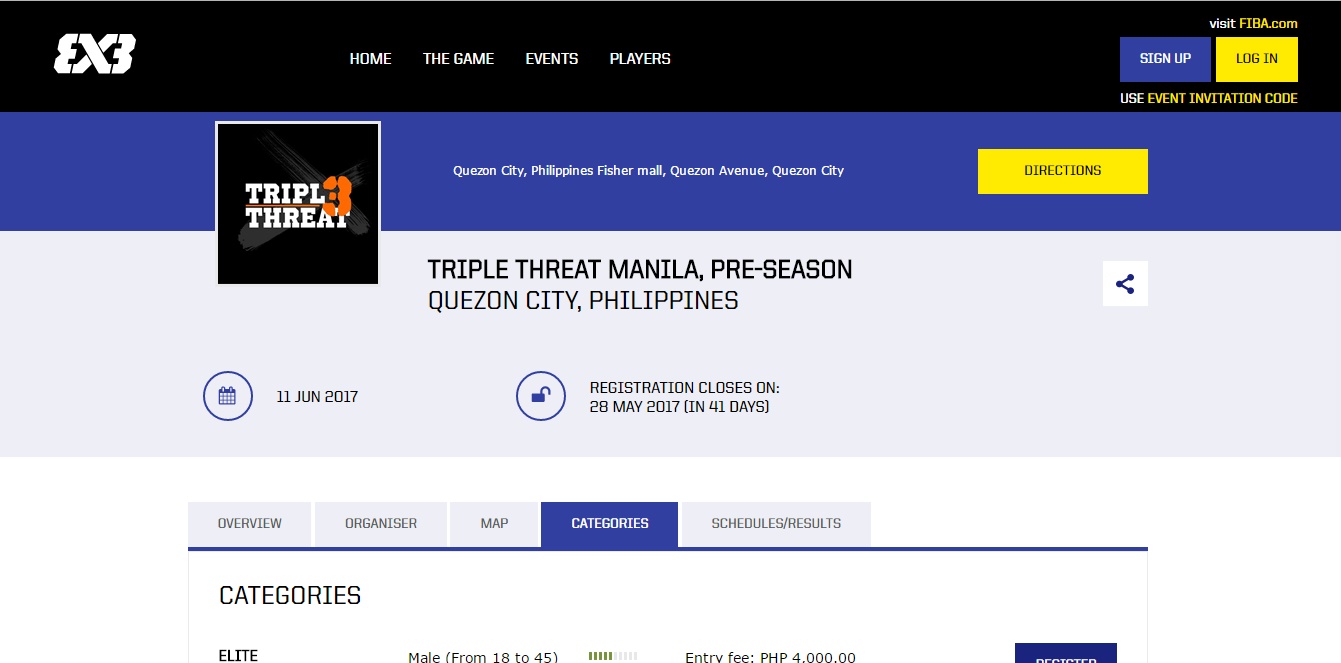 Photo Credit: https://goo.gl/chuZew
---
Triple Threat Manila, Pre-Season Tournament Cash Prize:
Champion: P3,000
1st Runner-Up: P1,500
2nd Runner-Up: Freebies
Skills Challenge Prize:
Champion: P1,000 and Exclusive Event Drifit Shirt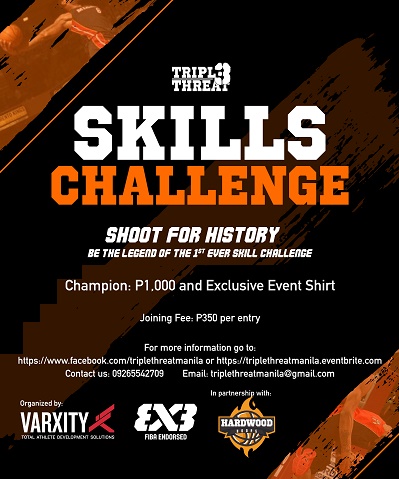 ---
The BASICS:
Make sure you and your team have read and understood Tournament Guidelines and Player Eligibility, Rules and Regulations, Waiver, and Uniform Order, Registration Procedure provisions (https://goo.gl/DNi2QO) before registering

Only Team Captain should register on behalf of the team
If you are registering for 3-player, 2-player and 1-player category, Triple Threat Manila will match you with other players to complete the required four (4) players in a team
Availing of any of our Jersey option (top only and jersey set) entitles the team to One (1) FREE Triple Threat Drifit Shirt per player. Posting of orders and full payment is until May 28, 2017 only.
Be the legend of the 1st ever Skills Challenge and win Php1,000.00 plus Exclusive Event Drifit Shirt
Registration ends on May 28, 2017 or until slots are available
Player Eligibility:
Open to male ages 18 to 50 years old only
No current professional, semi-professional, and collegiate basketball players (Team B included)
No former professional basketball players (PBA, MBA)
Only a 6'0 players and above will be subject to screening
Former collegiate players (Team B included) may be allowed to play provided his last playing year was at least 3 years ago, and with no semi-professional league experience (D-League, FBA, PCBL, etc.), but will be subject to screening

Players with semi-professional league experience may be allowed to play provided his last playing year was at least 6 years ago, but will be subject to screening
Registration and Payment Options: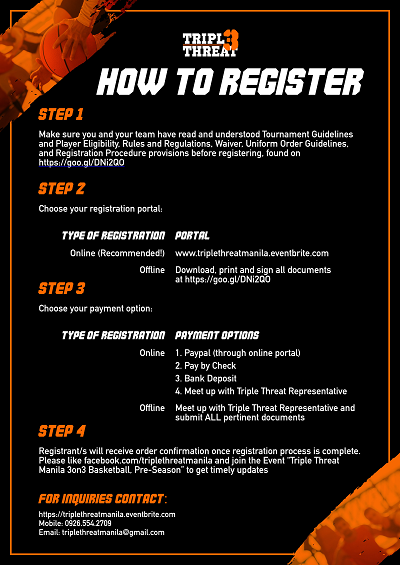 Option 1: Register Online and Pay Online (this portal)
Secured payment gateway is through Paypal by using your debit or credit card. You don't need to have a Paypal account for this transaction.
Option 2: Register Online and Pay Offline
During the "Check-out" under the Paypal Check out icon, choose "Other Payment Option" the small underlined link "Show". Finally, click "Pay by Check".
By choosing this option you agree to pay through the following options: Check, Bank Deposit, and meeting up with Triple Threat Representative. Find complete details at Registration Procedure (https://goo.gl/DNi2QO)
Option 3: Register Offline and Pay Offline
Download, print and sign all pertinent documents (https://goo.gl/DNi2QO) and submit with full payment through our Registration Committee Representative, cellphone number 0926.554.2709
---
Before beginning your team registration, please be sure to gather the following information:
Complete Name
Email Address
Cellphone Number
Address
Postal Code
Job Title
Company Organization
Birth Date
Age
Height
Team Name (for Full Team and 3-player registrations only)
Playing Experience
Joining Skills Challenge (P350 per entry)
Getting Jersey? Top only or Set? Prepare sizes and Jersey Number
Getting Tshirt? Prepare sizes

---
Jersey Size (P1,000 top only; reversible/ P1,600 set; top reversible and short)


*All uniforms come with one (1) free Exclusive Event Shirt per order.


Exclusive Event Drifit Shirt Size (P350)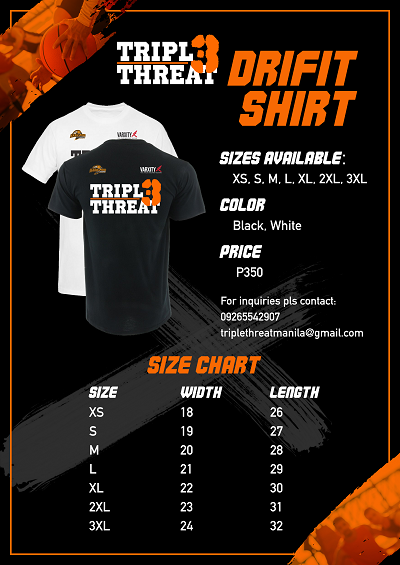 *Posting of orders and payment of Jersey and Exclusive Event Drifit Shirt is until May 28, 2017 only.


---
FAQs


How can I contact the organizer with any questions?
Mobile: 0926.554.2709
Email: triplethreatmanila@gmail.com
Facebook: https://www.facebook.com/triplethreatmanila
3x3planet portal by FIBA: http://www.3x3planet.com/en/event/details/TMZ17CADXSJONZZZ
Where can I find Tournament Guidelines, Rules and Regulation, Waiver, Registration Procedure and other tournament information?
Visit and download documents here: https://goo.gl/DNi2QO
What's the refund policy?
Once registered, no refunds will be given.
Do I have to bring my printed ticket to the event?
No. Just bring one valid ID for identity verification.
Is my registration fee transferrable?
No, registration fee is non-transferrable and non-refundable.
Do I need to create my own 3x3planet account?
No. For this event, Triple Threat Manila Registration Committee will create players account their behalf. Once created, all Team Captains will be notified on how to access their account.