Sophisticated Lady Productions, JimAustinOnline.com, and DFW Metroplex Jazz presents Triple Threat in a Valentine Concert 2/13/2021, 8PM CST
About this Event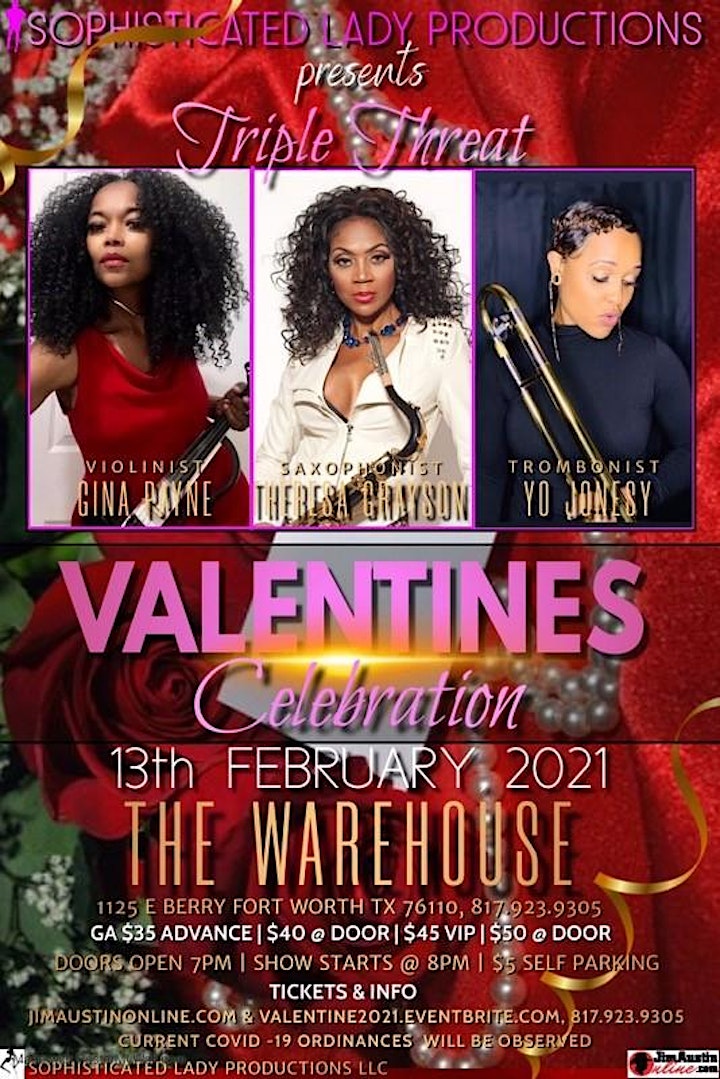 Sophistocated Lady Productions in partnership with JimAustinOnline.com and DFW Metropex Jazz presents "Triple Threat" in a Valentine Celebration, featuring violinist Gina Payne, saxophonist Theresa Grayson, and trombonist Yo Jonesy, on February 13, 2021, at The Warehouse in Fort Worth, TX, at 8:00PM.
Limited seating available. The concert will also be shown virtually. This will be a fabulous show. Get your tickets today!
Doors Open: 7:00 PM
Concert: 8:00 PM
Admission:
GA: $35 Advance | $40 Door
VIP: $45 Advance | $50 Door
Self-Parking: $5.00
Virtual Viewing: Free
Food and Beverages for Purchase from WhoDaq? Daiquiris
Table Seating
Reservations for Groups Accepted
Special Celebration Reservations (Birthdays, Anniversaries, etc.) Accepted
Virtual and On-site Vendor Opportunities Available
Sponsorship Opportunities Available
Inquiries:
Jim Austin Online Team | (817) 923-9305
Email: Receptionist@JimAustinOnline.com
WANT MORE LIVE MUSIC??? WANT TO ADVERTISE YOUR BUSINESS TO A NEW AUDIENCE?
Be sure to join us for upcoming Live Music Events at the Warehouse!!
Visit JimAustinOnline.com to purchase tickets and sign-up to receive the E-Newsletter, Livestream Concert info and exciting updates!
VIRTUAL & ON-SITE VENDOR & EVENT SPONSOR OPPORTUNITIES
Sponsorship & Vendor Opportunities are available for all scheduled concerts and events at the Warehouse.
Call the Jim Austin Online Business Office (817) 923-9305 or email Receptionist@jimaustinonline.com for details.
PUBLIC POLICY NOTICE
Out of an abundance of care for our guest and artist, and in compliance with current regulations, social distancing seating, temperature scan at entrance; and mask are requested to be worn when away from your socially distanced seating area. (Complimentary mask will be available if you do not have one).
Thank you for your compliance as we care for the well being of one another.