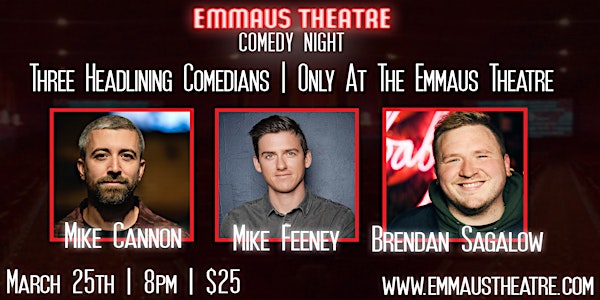 Triple-Headliner Show w/ Mike Cannon, Mike Feeney & Brendan Sagalow
Triple-Headliner Show w/ Mike Cannon, Mike Feeney & Brendan Sagalow
When and where
Location
The Emmaus Theatre 19 s 4th street Emmaus, PA 18049
About this event
The Emmaus Theatre Presents:
A Triple-Headliner Show w/ Mike Cannon, Mike Feeney & Brendan Sagalow from the "Here's the Scenario" Podcast"
Doors at 7:15pm
Show at 8pm
General admission only $25
VIP tickets w/ preferred seating only $35
We will have a drink vendor on site
About Mike Cannon:
Mike Cannon is a New York City comedian. In 2020, Mike released his independently produced comedy special – LIFE BEGINS – on YouTube. It has hundreds of positive reviews and earned a spot on Laugh Button's Top 35 Comedy Specials of 2020. The album – LIFE BEGINS – was released February 2020 through 800 Pound Gorilla Records. It was recognized as one of Interrobang's Top 11 Albums of 2020 as well as one of Sirius/XM Raw Dog Radio's Top 10 Comedy Albums of 2020. Recently, Mike earned critical acclaim for his acting as the lead role in the feature film Timing on Amazon Prime. Mike's first comedy album – I Think It Just Kicked In – debuted at #1 on the iTunes comedy charts and #7 on Billboard comedy charts and has over 5 million streams on Pandora.
Mike appeared as a guest on the popular Barstool Sports series Friday Night Pints and Answer The Internet, a guest on Comedy Central's Stupid Questions with Chris Distefano, an actor on Blake Griffin's Double Cross on TruTV, a panelist on Comedy Central's The Nightly Show with Larry Wilmore, a talking head on TruTV's Greatest Ever, a sketch performer on TruTV's Top Funniest, a comedian panelist on MTV's Failosophy and Money From Strangers, a regular guest on Fox's Red Eye, a talking head on MSG's The Bracket, and was a contributing writer and performer for MTV2's Guy Code. He is a regular guest on several Sirius/XM Radio shows including The Jim Norton and Sam Roberts Show, KFC Radio, Barstool Radio, and Barstool Breakfast, The Bonfire with Big Jay Oakerson and Dan Soder, You Up? with Nikki Glaser, and Bennington.
Mike is co-host of Here's the Scenario podcast and host of Heads Up and Mike Takes Edibles. Mike has been a guest on several popular podcasts including Andrew Schulz's: Flagrant 2, Sam Roberts Now, Robert Kelly's You Know What Dude!, Doug Benson's Getting Doug with High, Ari Shaffir's Skeptic Tank, Jim Norton's The Chip Chipperson Podcast, Are You Garbage?, Joe List's Mindful Metal Jacket, Mike Vechione Investigates, and Jessica Kirson's Disgusting Hawk. He's also been a guest on Girls Gotta Eat, Friday Night Greg, Medium Popcorn, Dad Meat, History Hyenas, Doped Up & Dyin, Real Ass Podcast, OOPS The Podcast, In the Aisle, Legion of Skanks, The Dad Club, Calta and Kelly, Comedy Cellar Nightly, and Opie Radio.
In March 2017, Mike made his first television appearance on AXS Gotham Comedy Live with host and comedy icon (and first time stand-up performer) Fran Drescher. He was a finalist in the 2016 and 2014 New York Comedy Festival's "NY's Funniest" contest. Previously, Mike hosted the long-running Irish Goodbye Podcast and the popular weekly web-series The Weed News with Mike Cannon. He was a co-host of Cosmopolitan Magazine's series Sexy vs Skanky and a featured performer on VH1's Why Am I Still Single?
About Mike Feeney:
Mike Feeney is a New York City-based comedian. His high energy and sharp wit captivate young and old audiences alike. He has been featured on NBC's "Last Call with Carson Daly", Barstool Sports, Fox's "Laughs", Funny or Die, Sirius XM, The Chive, ABC's "Right This Minute", Inside Edition, Reader's Digest and Food Network's "Restaurant Stakeout".
​Mike's debut album, "Rage Against The Routine", premiered at number one on the iTunes Comedy Charts and number six on the Billboard Charts. His comedy videos have amassed over 65 million views across Instagram, TikTok and Youtube.
He won "Best Micro Short" at the Houston Comedy Film Festival and his other comedy shorts have been featured in the Williamsburg Independent Film Festival and regularly on the front page of Funny or Die.
​Mike has performed in the New York Comedy Festival, Asheville Comedy Festival, Cape Fear Comedy Festival, Rogue Island Comedy Festival and Skankfest. In 2021, Mike was a finalist in the 2021 New York Comedy Festival's "NY's Funniest Stand-up Competition".
​Previously, Mike was the co-host of Irish Goodbye Podcast, which was featured in the Top 100 of Apple Comedy Podcasts. Currently, Mike performs all over the U.S. and is the host of Snarky with Mike Feeney and Here's The Scenario Podcast.
About Brendan Sagalow:
New York City Comedian, Brendan Sagalow deftly and defiantly owns the stage with equal parts confident social observations and cutting self-deprecation, In 2020 Brendan Self produced his first album and special called "Not Now More Than Ever" which was #1 on the iTunes Comedy Charts.
Brendan has been featured on Barstool Sports Answer The Internet and KFC radio and has appeared as a regular on many Sirius XM radio shows including Bennington, Jim Norton and Sam Roberts, and You Up? with Nikki Glasser. As well as many popular podcasts including Robert Kelly's You Know What Dude! Joe List's Mindful Metal Jacket, Ari Shaffir's Skeptic Tank, Are You Garbage?, Jim Norton's The Chip Chipperson Podcast, Jessica Kirson's Disgusting Hawk, Real ass Podcast, and Legion of Skanks. in 2017 Brendan wrote for MTV's Joking Off for 2 seasons. In 2018 Brendan won The New York Comedy Club's first ever Comedy Competition and in 2019 was a finalist in New Yorks Funniest at carolines comedy club.
No Refunds