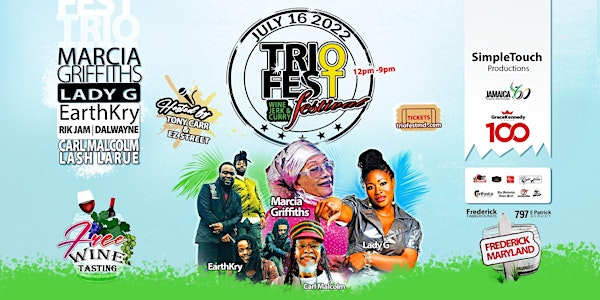 TRIO FEST Wine, Jerk and Curry Festival
TRIO FEST. "Embracing diversity through food, fun and Family".
When and where
Location
Frederick Fairgrounds 797 E. Patrick Street Frederick, MD 21701
About this event
About Trio Fest Wine, Jerk & Curry Festival
The Trio Fest Wine, Jerk & Curry Festival is a one of a kind event aimed at creating moments of fun, interaction, and culinary adventure for individuals as well as the whole family. Come and enjoy an unbeatable, exciting experience as Simple Touch Productions brings an that could make foodies, wine & music enthusiasts wish for more hours in the day.
Get ready to tantalize your taste buds with local and regional foods; experience some wine tasting and jazz up your day with lovely music from some of the regions top Djs. While the event seeks to delight individuals and bring an elevated dining experience to foodies, our goal is to curate a moment that will linger for a lifetime.
At Trio Fest, several exciting features will unfold to make every moment memorable and special. Get ready to raise a glass of wine, and explore a vending village that will highlight local and regional culinary experts who will serve your favorite cuisines. Local artisans will also grace the venue to offer captivating art & craft, Multiple vendors will also bring you elegant clothing, personal care items, and more.
Why Participate In The Festival?
At Trio Fest Wine, Jerk and Curry Festival you can:
• Discover a unique variety of wines
• Sample delights from a list of fresh culinary experts
• Rock to the beat as you enjoy music from top Djs & live performances from local and international bands!
• Connect and hang out with new friends in the community who share your passion for food, wine and music
Who Can Participate ?
Trio Fest Wine, Jerk & Curry Festival is open for all ages and individuals looking for fun-filled moments with local and regional food, wine, and music within the community of Frederick, Maryland.
Event Date
Saturday, July 16 from 12 pm -9 pm
Don't miss out!
Get your ticket now!
KIDS 12 & UNDER FREE!
No Pets, Alchohol, Food, Drink or coolers allowed.
Snacks, bottled water, standard Pop up Tents, umbrellas & lawn chairs are welcome.
NO REFUNDS!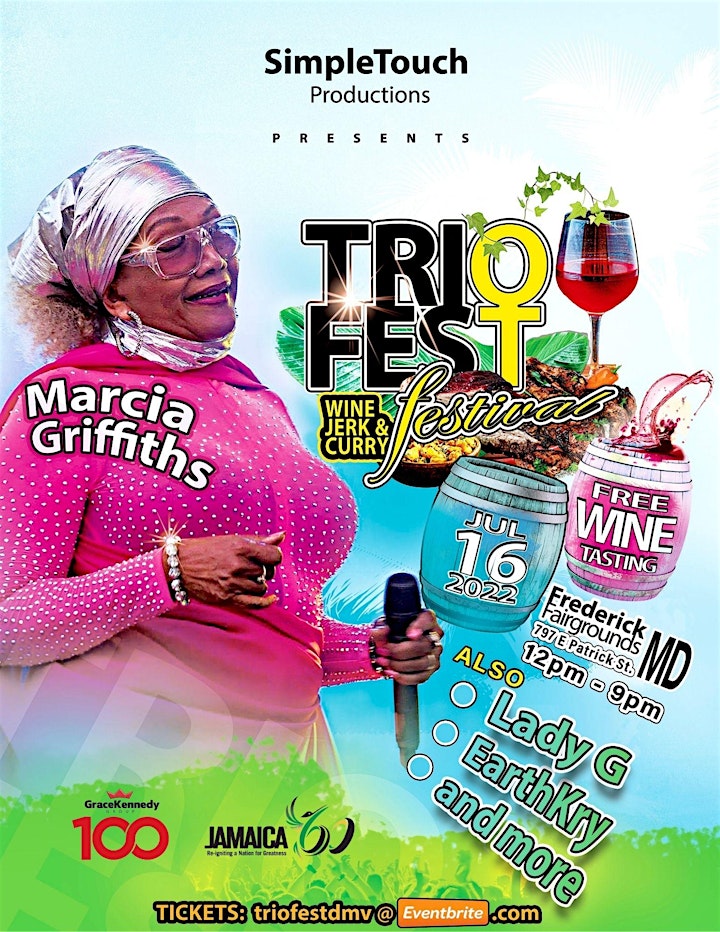 MARCIA GRIFFITHS (The Queen of Reggae)
In a genre traditionally dominated by male artists, Marcia Griffiths is arguably the best-known and most influential woman in the history of reggae. Griffiths first made a name for herself when the music was still evolving from its roots in ska and rocksteady, and she later became an ally of reggae's signature artist Bob Marley before embracing the electronic-based sounds of dancehall and funk in the 1980s. Her 1982 track, "Electric Boogie," went on to inspire the popular dance the Electric Slide, giving the song a new life as a perennial dance staple. Griffiths' versatility and knack for choosing interesting collaborators ensured her relevancy well into the 21st century; she was a part of Toots & the Maytals' Grammy Award-winning 2004 set, True Love, and cut songs with artists like Shaggy and Buju Banton. While her own lasting influence continued to inspire younger acts, she gracefully honored her peers and forebears and in 2019 offered up an album devoted to the music that emerged from Kingston's famed Studio One label.
LADY G (THE ORIGINAL QUEEN OF DANCEHALL)
She is widely recognised as a dancehall veteran and pioneer.
Lady G is probably best known for her first hit, "Nuff Respect", produced by Gussie Clarke in 1988 followed by the two hits in combination with Papa San: "Legal Rights" and "Round Table Talk. 1994, Lady G began working with Danny Browne and his Main Street label, and in 1997 the partnership resulted in the hit single "Breeze Off" on the Filthy riddim. In 1997, she recorded "Man a Bad Man" which was featured in the film Third World Cop.
In 2000, Lady G featured alongside Crissy D on "Girls Like Us" by B-15 Project, a UK garage song which reached No. 7 on the UK Singles Chart. She performed to great acclaim at the Splash! festival in Chemnitz, Germany, in July 2001.
Lady G was recognised by the Jamaica Reggae Industry Association (JaRIA) with an 'Iconic Artiste in the Music Industry' award in February 2020.