Location
Dallas
Continental Ave
Dallas, TX
Description
A rolling ribbon cutting for the Continental Bike/Ped Bridge, Trinity Skyline Trail, Sylvan Bridge, and West Dallas Gateway
Join people on bikes and local dignitaries as we inaugurate the refurbished Continental Bike/Ped Bridge, the opening of the Trinity Skyline Trail, the new Sylvan Avenue Bridge, and the brand new West Dallas Gateway Plaza!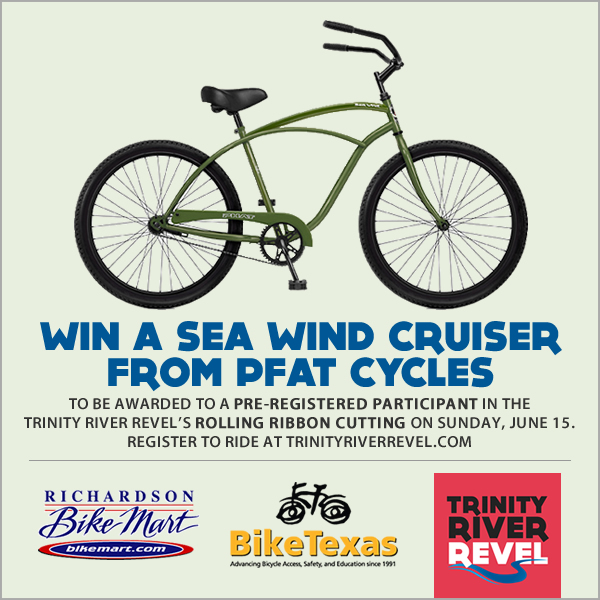 Register for this family-friendly bike ride to four new major attractions in Dallas and be entered for a chance to win a new bike! You must attend the ride to win.
The ride will be roughly 4 miles long and proceed at an easy pace.
FAQs
Is there an age limit to be on this ride?
This will be an all-ages, family-friendly event, but children under 16 must be acoompanied by an adult. Anyone and everyone who wants Dallas to be more bike friendly should attend this ride!
What are my transport/parking options getting to the event?
We will start on the soon-to-open Continental Bridge. You can see all the latest transit, parking, and directions info here: Get directions and parking information
Where can I contact the organizer with any questions?
You can contact BikeTexas at mail@biketexas.org or 512-476-7433
Are helmets required?
UPDATE: As of Tuesday, June 10, Dallas has amended its mandatory helmet law to only apply to riders under 18 years of age. Helmets are encouraged for everyone, but will not be required to participate in this ride unless you are under 18.
Do I have to bring a printed ticket to the ride?
No need, just bring yourself and your bike!