Experience the Caribbean festival known as Trinidad Carnival aka "the greatest show on Earth" with us - from the comfort of your home!
About this event
Although Caribbean Carnivals are cancelled for the next few months, that doesn't mean you can't experience the vibes virtually with us!
Who should attend our Trinidad Carnival Stay-cay?
If you're someone who:
Loves the Caribbean Carnival culture
Always wanted to experience a Caribbean Carnival
Wants to get together with your friends for a party
Had your Carnival plans impacted by COVID-19
Wants to learn more about Trinidad Carnival!
What will you get with your Trinidad Carnival Stay-cay ticket?
Full cultural immersion with a live Trini-style "fete" (party) along with others around the world plus a live DJ playing sweet soca music while we dance the night away (with drink in hand) of course!
Par-tay with a purpose: this event is pay what you can with all proceeds going to the Heritage Children's Center in Tobago. The Heritage Children's Center is a school for differently abled children. They've been providing classes virtually for the kids since the pandemic started, however most do not have the proper technology to participate fully in classes. Your donation will go towards purchasing tablets for the kids. Our goal is to purchase and deliver 10 tablets to Tobago!
Our recipe for bake and shark (a Trinidadian delicacy) so you can create your own all-inclusive fete at home. Bonus: the drink of the night will be the best rum punch you've ever tasted (we'll give you the recipe!)
And lastly, this event is the official birthday celebration of one of our founders, Esha :)
Who are we?
We're Esha and Tarik Davis. We're the founders of Events by Ashé and creators of Ultimate Trinidad Carnival. We've been taking people just like you to experience Trinidad Carnival for over 9 years.
Our Trinidad Carnival Stay-cay was created to be your Trinidad Carnival par-tay with a purpose from the comfort of your own home!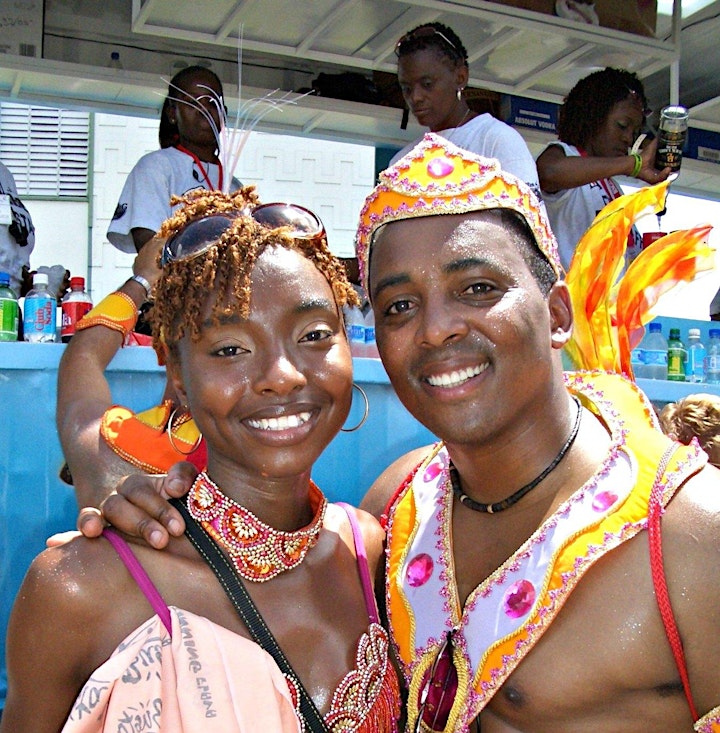 You'll get a completely planned-for-you staycation experience. No need for you to do the research; we deliver it all to you!
What else can you get with our Trinidad Carnival Stay-cay?
Our Carnivalista Goodie Bag to help you out whenever you're ready to travel again! ($20 value)
1 month of FREE membership to Ultimate Insiders+, our membership site for lovers of Caribbean culture ($25 value)
Your Trinidad Carnival Stay-cay kit delivered virtually to you with a step-by-step guide to get you ready and other swag ($20 value)
Register today and we'll "see" you there!