Play Mas' with us in Trinidad in 2022 Your carnival squad is waiting...
About this event
No friends to go to carnival with? We've got you! Join our squad.
Join Jump and Wine for Trinidad Carnival 2022 from February 24 - March 3, 2022.
Jump and Wine is a Jamaican-owned group trip planning service. Owned by Juleen, an experienced solo traveller, feteran, and wine enthusiast, Jump and Wine specialises in unique group travel experiences centred on carnival and/or wine travel. Juleen uses her personal experience of travelling to Trinidad (and the world) solo to ensure that your needs will be covered.
Ladies, are you tired of waiting for your friends to be ready? Does your group suddenly become a trio, a duo, or solo trip when it's time to book the tickets? Jump & Wine is designed for you.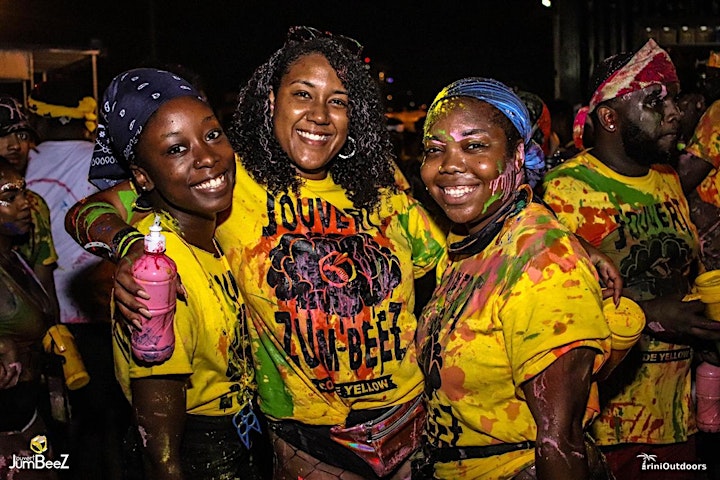 *** Packages from $+ ***
Each package includes:
Single or double occupancy hotel accommodations in/around Port of Spain
$500 credit towards costume of your choice. Band TBD.
Costume pick-up and delivery to your hotel room
J'ouvert. Band TBD
Three fetes
R/T Transportation to fetes, road march, and group activities
Airport (POS) pick-up and drop off
Welcome dinner/cocktails
Welcome gift/goodie bag
Professional photographs in carnival costume
Carnival packing guide and Trinidad essentials guide
Local excursion on March 2
Oh, and did we mention vibes?
And your new carnival squad!
Add-ons are available:
Makeup and/or hair services
Additional fetes/events
The following are not included in your package:
flights to Trinidad
carnival accessories
travel insurance
tips and gratuities
room service
meals (unless otherwise stated)
vaccinations or travel documents required to enter Trinidad
If you need help arranging any of these, ask and we'll help as best as we can.
Let us do the planning and join us on the road in Trinidad.
US$500 deposit required to secure spot. Payment plan options available. Full payment is required by January 1, 2022.
ROOM ONLY PACKAGES
Jump & Wine offers limited room-only packages. Hotel rooms are available from February 24 - Mar 3, 2022 in Port of Spain. You can select from 1 King bed (sleeps 2) or 2 Double beds (sleeps 4).
To secure your room, a $799 deposit is required. Payment plan options available. Full payment is required by January 1, 2022.
Note: If you are purchasing the full package, accommodations is already included.
COSTUME PICKUP + DELIVERY PACKAGES
For your convenience, Jump & Wine will pick up your costume package from your band's distribution and deliver it to locations within Port of Spain. Delivery outside Port of Spain might be available depending on location for an additional fee.
Note: If you are purchasing the full package, costume delivery to your hotel room is already included.