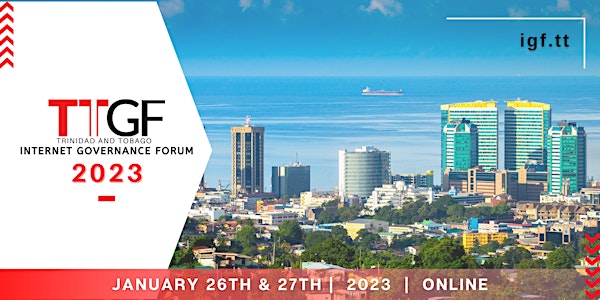 Trinidad and Tobago Internet Governance Forum - TTIGF 2023
TTIGF 2023 - CREATING A STRONGER, MORE RESILIENT INTERNET FOR TRINIDAD AND TOBAGO'S SHARED, SUSTAINABLE FUTURE
About this event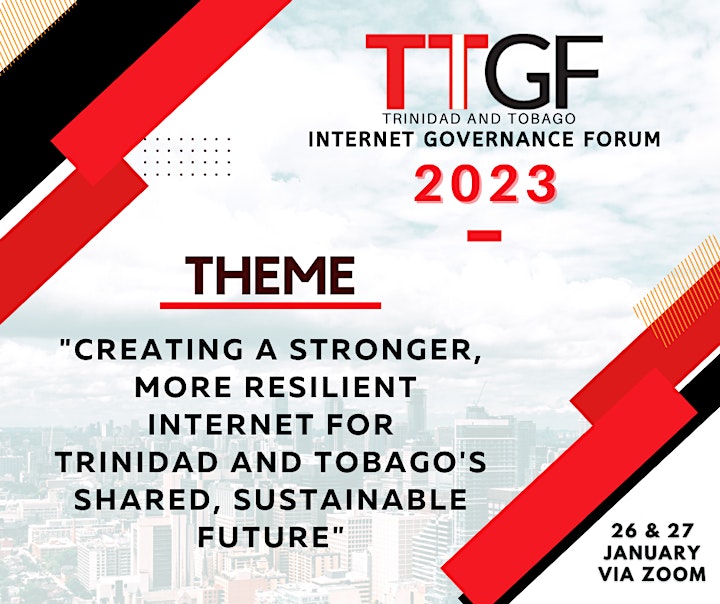 TTIGF 2023
CREATING A STRONGER, MORE RESILIENT INTERNET FOR TRINIDAD AND TOBAGO'S SHARED, SUSTAINABLE FUTURE
Date: 26th & 27th January 2023.
Time: 8:00 am - 1:00 pm.
TTIGF 2023 will be held over 2 days on Thursday 26th and Friday 27th January, 2023. The theme was selected to reflect the current climate in Trinidad and Tobago after being forced into a digital age. Join the discussions with experts from the different stakeholder groups. This collective brainstorm around the theme: Creating a Stronger, More Resilient Internet for Trinidad and Tobago's Shared, Sustainable Future is more important than ever in our evolving society.
Academic Community
Technical Community/ ICT Civil Society
Civil Society
Commercial / Business
Government
ALL INTERNET USERS ... your participation and your voice are vital in this conversation.
Register to join the discussion. We need to hear from YOU!
You only need to register once for access to all the days.
Day 1: Panel Sessions
Topics:
1. Internet Resilience: Implications for Trinidad and Tobago and the Caribbean
2. Education in ICT
Day 2: Panel Sessions
Topics:
1. Digital Acceptance, Transformation and Acceleration for T&T – what does DATA mean
2. The A.R.T of Cybersecurity: Attacks, Risks, and Threats
Visit igf.tt for more details!