Trini Jungle Juice: SUN RUM FUN Cruise 2018

Sunday, April 1, 2018 from 12:00 PM to 4:00 PM (EST)
Event Details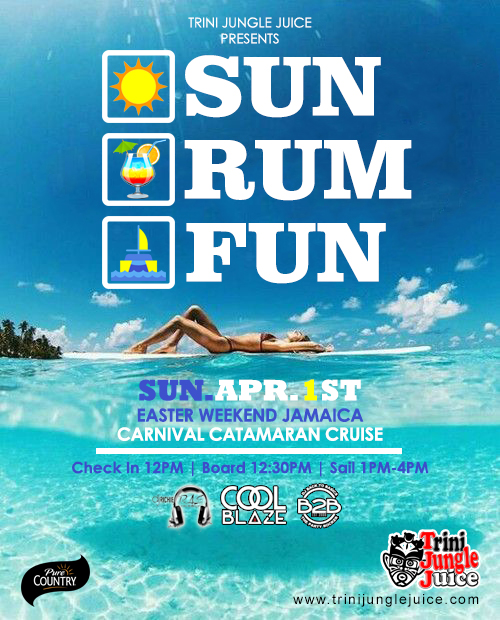 It's the 5th installment of our annual Jamaica Easter Weekend cruise.

SUN RUM FUN
Sunday 1st April 2018
(Easter Sunday)

Ocho Rios, Jamaica
New sailing route (to avoid choppy water)
Swim stop

Check In 12PM
Boarding 12:30PM
Sailing 1PM-4PM

DRINKS INCLUSIVE

Music Driven by:
Back to Basics (New York/Trinidad)
Richie R.A.S (Jamaica)
LLCoolBlaze (Miami)

Best of Soca, Dancehall/Reggae, Hip Hop, Top 40 and more.

Bikinis × Boardshorts
Exclusive PUMP

For info/tickets, contact a TJJ Jamrock Ambassador:

JAMAICA
Alicia Camps-Ganess
Amanda Auboine
Bianca Hernould
Brittne Murray
Cayli Keane
Chanel DaCosta
Chelsea Jameson
Franci HoShing
Jeneque Pinnock
Julia Lindo
Justin Murray
Kathryn Silvera
Kayla Bostic
Kazani Hoo Kim
Kelly-Ann Diedrick
Laura Bailey
Lauren Alanna Renee
Leanne Spence
Michael 'Fada Mike' Gordon
Nalini Banhan
Natalie Murray
Patrice Taylor
Rhe-Ann Prescod
Richie Spence 876-379-8520
Sarah Elizabeth Jackson
Sueal Hardeen
Vierness Kassie

TRINIDAD/OTHER
Amiel Barrimond
Andre Choo Quan
Anthony Eroll Maugee
Giovanni Choo Quan
Kristel Kouly
Neshia Batchasingh
Nikolai Choo Quan
Renee Harper
Rheena Madd Dem
Stephen Choo Quan

100% Jungle Juice
Not from Concentrate
Sponsored by
Pure Country

2017 - SUN RUM FUN photos
http://www.trinijunglejuice.com/photos/2017/jamaica/sun_rum_fun_2017_pt1/
http://www.trinijunglejuice.com/photos/2017/jamaica/sun_rum_fun_2017_pt2/

2016 - SUN RUM FUN photos
www.trinijunglejuice.com/photos/2016/jamaica/sun_rum_fun_2016_pt1/
www.trinijunglejuice.com/photos/2016/jamaica/sun_rum_fun_2016_pt2/

2015 - SUN RUM FUN photos
www.trinijunglejuice.com/photos/2015/jamaica/sun_rum_fun_2015_pt1/
www.trinijunglejuice.com/photos/2015/jamaica/sun_rum_fun_2015_pt2/

2014 - SUN RUM FUN photos
www.trinijunglejuice.com/photos/2014/jamaica/sun_rum_fun_2014/

Website: www.trinijunglejuice.com

#tjjsunrumfun #trinijunglejuice #sunrumfun #sunrumfuncruise #sunrumfun2018 #jamaica #eastersunday #catamarancruise #jamaicacarnival2018 #bacchanalja2018 #carnivalinjamaica2018 #FindMeAtSunRumFun
FAQs
Are there ID requirements or an age limit to enter the event?
Must be 18 years and older to drink | ID Required
What can/can't I bring to the event?
Although it's a Drinks Inclusive event, feel free to bring your drink of choice on board.

What shall I wear to the event?
Swimwear, Bikinis, Board Shorts. Weather permitting, there will be a swim stop.
What is the refund policy?
All ticket sales are final. No Refund or Exchange.

If event has been rescheduled, original tickets will be honored for the new date and/or time. There are no refunds for a rescheduled event.

Inclement weather conditions may affect an event or travel to and from it, however there will be no refunds for unused tickets or for the loss of enjoyment caused by these weather conditions or any other "acts of God".
When & Where

Ocho Rios
Mahogany Beach, Pineapple
Ocho Rios, St Ann Parish
Jamaica

Sunday, April 1, 2018 from 12:00 PM to 4:00 PM (EST)
Add to my calendar
Organizer
TriniJungleJuice.com is the 1st Caribbean entertainment website to take "YOU" Global, reaching Caribbean and International communities across the world.
Mission: "Uniting the Globe though Caribbean Entertainment one Carnival at a time."