Description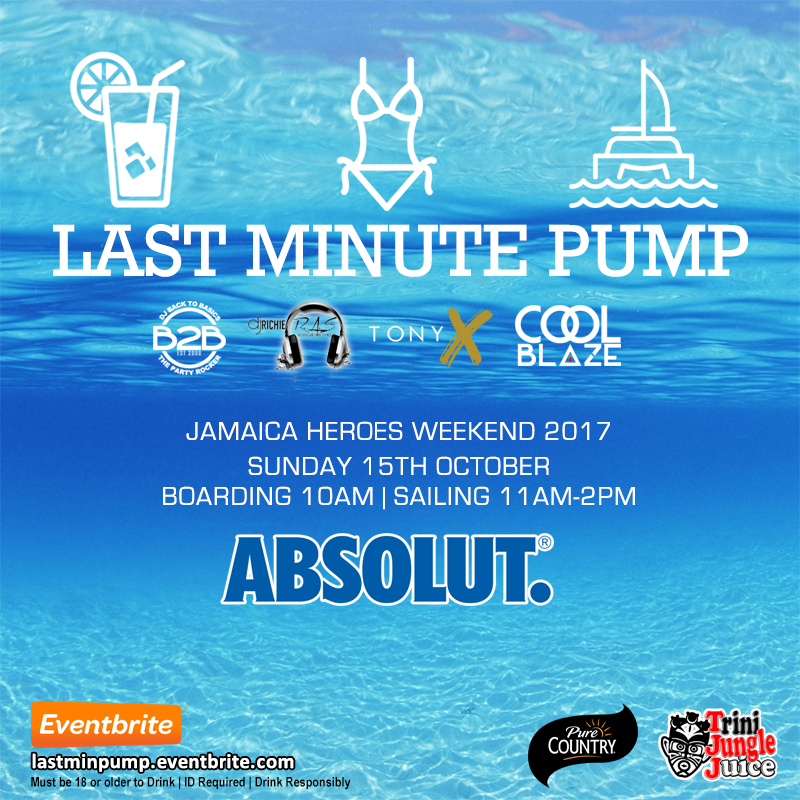 Join us for the 4th installment of our exclusive Jamaica Heroes Weekend Cruise in beautiful Ocho Rios. Get in a Last Minute PUMP with Trini Jungle Juice and friends before heading to Frenchmen's Foreplay.

Trini Jungle Juice
Last Minute PUMP
Catamaran Cruise

Sunday 15th October, 2017

Boarding 10am
Sailing 11am-2pm

Mahogany Beach, Pineapple
Ocho Rios, Jamaica

US $45 Drinks Inclusive.

Dress: Swimwear (Bikinis + Board Shorts)
Swim stop at a private location.
Music By
Trinidad & Tobago Ultimate Party Rocker ... Back to Basics
One of Jamaica's most versatile & respected selectors ... Richie R.A.S
Not your average Club DJ, a master in the blend of music mixing Caribbean sounds with EDM ... LLCoolBlaze direct from Miami

Hosted by The Only Voice That Matters ... Tony X.

Best of Soca, Reggae/Dancehall, Hip Hop, Top 40 and more.
Ambassadors:
JAMAICA
Alicia Camps-Ganess
Amanda Auboine
Bianca Hernould
Brittne Murray
Cayli Keane
Kathryn Silvera
Kazani Hoo Kim
Laura Bailey
Lauren Alanna Renee
Leanne Spence
Michael "Fada Mike" Gordon
Nalini Banhan
Natalie Murray
Patrice Taylor
Richie R.A.S 876-379-8520
Sarah Elizabeth Jackson
Sueal Hardeen
Vierness Kassie
TRINIDAD/OTHER
Amiel Barrimond (London)
Anthony Eroll Maugee
Andre Choo Quan
Kelly-Ann Diedrick (Miami)
Neshia Batchasingh
Renee Harper (Miami)
Rheena Madd Dem (Miami)
Stephen Choo Quan

Sponsored by:
Absolut
Pure Country
Serious PUMPers ONLY.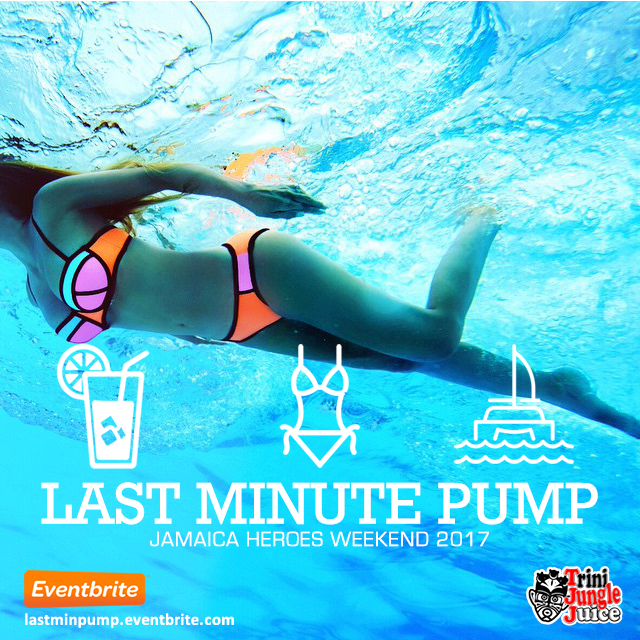 See Trini Jungle Juice: Last Minute PUMP 2016 photos
http://www.trinijunglejuice.com/photos/2016/jamaica/tjj_last_minute_pump_2016-pt1/
http://www.trinijunglejuice.com/photos/2016/jamaica/tjj_last_minute_pump_2016-pt2/

Information:- www.trinijunglejuice.com or e-mail events@trinijunglejuice.com
#trinijunglejuice #lastminutepump #catamarancruise #ochorios #jamaica #heroesweekend2017 #jamrock #fetestrong #tjjlastminutepump #seriouspumpersonly
===========================
FAQs
Are there ID requirements or an age limit to enter the event?
Must be 18 years and older to drink | ID Required
What can/can't I bring to the event?
Although it's a Drinks Inclusive event, feel free to bring your drink of choice on board.

What shall I wear to the event?
Swimwear, Bikinis, Board Shorts. Weather permitting, there will be a swim stop at private location.

Male tickets are sold out, can I buy a female ticket?

Men can only use male ticket. Females can access the event using either a female or male ticket.

How can I keep from getting seasick?
Here are some ways you can reduce the risk of becoming seasick:
Take antiemetic drugs. A variety of medications are available to help prevent or treat motion sickness. Medicines for nausea are called antiemetic drugs. They include antihistamines such as Bonine and Dramamine — available over the counter.
Get fresh air. If you are feeling seasick, it is often helpful to go out on an open deck or balcony and look toward the horizon.
Have a bite. The best foods are light and bland, such as saltine crackers, plain bread, or pretzels. Having some food in your stomach is better than having an empty stomach, but be careful not to eat too much. Also, you might want to sip some ginger ale: Ginger is a well-known natural remedy for motion sickness. Peppermint also may have calming effects on the stomach. Many people find that eating crackers along with drinking water or soda helps.
Wear an acupressure wristband. These wristbands apply pressure to a point on the wrist, generally where you wear a watch. Many people find the pressure helps them avoid nausea, one of the symptoms of motion sickness. You can find acupressure wristbands in some pharmacies, or order them from online stores such as Amazon.

What is the refund policy?
All ticket sales are final. No Refund or Exchange.

If event has been rescheduled, original tickets will be honored for the new date and/or time. There are no refunds for a rescheduled event.

Inclement weather conditions may affect an event or travel to and from it, however there will be no refunds for unused tickets or for the loss of enjoyment caused by these weather conditions or any other "acts of God".