About this Event
We are honored to partner with National Museum of African American History and Culture (a.k.a. the Black Smithsonian) to re-boot our panel series, TRiiBE TUESDAY!
Join us for a talk with archivists Renata Cherlise of Blvck Vrchives, Angela Ford of the Obsidian Collection, and Smithsonian reps about how to research and preserve our family histories.
Black folks encounter so many obstacles when it comes to accessing archival materials and records. Our editor-in-chief, Tiffany Walden, will talk through her researching methods for her nonfiction memoir series, Out West. She will also do a live reading preview of Out West Part III, which dives into the history of the West Side's Madison Street. We will have research and photo scanning stations available for you to digitize your family records on site.
Meet us at the Farm on Ogden on Sept 17th (6PM-8PM) and bring the whole family with!
Click here to read OUT WEST pt. I.
Click here to read OUT WEST pt. II.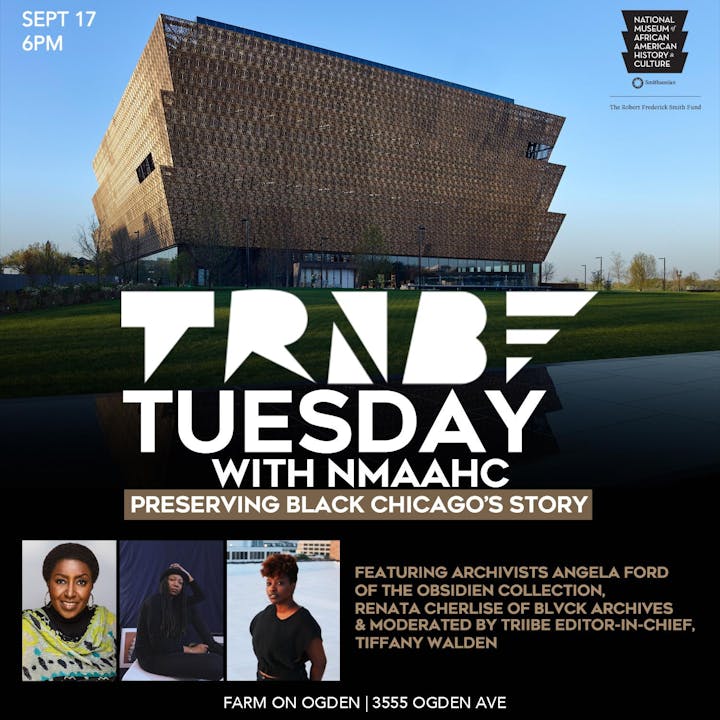 This program is a part of a series of events being held during Community Curation in Chicago, a digital preservation initiative hosted by the National Museum of African American History and Culture's Robert F. Smith Fund in collaboration with the Black Metropolis Research Consortium and its member institutions the DuSable Museum of African American History, Shorefront Legacy Center, the Chicago Public Library's Woodson Regional Library, and Chicago State University.
Visit thetriibe.com to learn more about us!