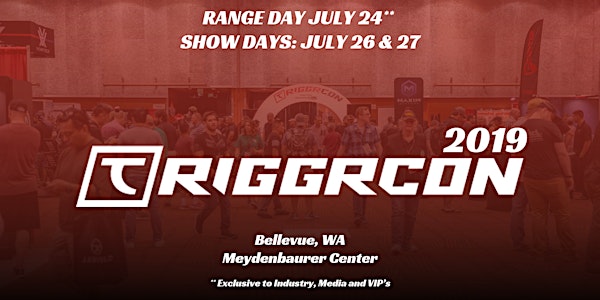 Triggrcon 2019
When and where
Location
Meydenbauer Center 11100 Northeast 6th Street Bellevue, WA 98004
Description
Triggrcon is a 3 day event in Bellevue, Washington. It will include a range day and industry hours` open to media and industry attendees and the final 2 days for enthusiasts. Triggrcon will showcase the newest, most innovative companies and products in the tactical firearms industry. The conference will be capped in exhibitors and attendees to maintain an intimate and exclusive environment.
Triggrcon builds on existing relationships while fostering new partnerships. With several leading companies coordinating major product launches for the show for 2019, the buzz created will be epic. Media and industry attendees will experience a coordinated effort of manufacturers not seen at other shows while firearms enthusiasts will have a gateway into a show that normally is only offered to industry professionals.
FAQs
Are there ID or minimum age requirements to enter Triggrcon?
Triggrcon is an all ages show. There are no ID requirements though everyone must have a ticket to enter.
What are my parking options at Triggrcon?
There is limited parking under the convention center though there are plenty parking options within 2 blocks from the venue. Parking fees will vary depending on the parking lot.
Can I bring my pet to the Triggrcon?
NO animals except for properly identified on-duty ADA recognized service animals.
Are personal firearms or ammunition allowed?
NO personal firearms or ammunition allowed (this exlcudes commissioned law enforcement). Only firearms on display by exhibitors whose firing pins have been removed (and have been inspected by Triggrcon Safety Advisors) will be permitted on the show floor. If you forget and bring your firearm, we will have a locker provider to store on premisis.

How can I contact the organizer with any questions?
Please send all questions to info@triggrcon.com.
Do I have to bring my printed ticket to the event?
No, you may either print your ticket or have it on your phone.
Will badges be required?
Only industry, media, exhibitors will require you to wear your badge during the show. Standard public/enthusiast attendees do not require to wear a badge during the show.

Where are the official Triggrcon hotels and how do I book with the block?
The official Triggrcon hotels are the Marriott Bellevue, the Bellevue Red Lion & the Belleve AC Hotel. Please refer to https://experient3.com/lodging/triggrcon/ for booking your housing.