Description
Trigger Turns 2
Celebrate with us and learn to create deeper connections with anyone, anywhere
Monday 15th October 2018 @ LABS High Holborn
---
Everything starts with a conversation.
Trigger was born out of frustration with small talk and boredom of being asked 'what do you do?' every time you meet someone new. Probably similar to you, Georgie Nightingall our Founder, felt whenever she repeated her elevator pitch people didn't seem interested and instead labelled her by her job, which left her feeling socially undernourished and disconnected in a world that's becoming 'more globally connected'.
She craved a good DMC (that's a Deep Meaningful Conversation) - the kind that makes you feel seen, that grounds you and propels you further on your adventure. These conversations are uniquely organic, playful and collaborative. They're full of insights and discovery about yourself, others and the world. And wonderfully, make you feel ALIVE.
Georgie didn't want to just stumble upon real and stimulating conversations by accident. She wanted to know how to create them with purpose and confidence.
Which led her to create Trigger Conversations.
In 2 years Trigger Conversations has engineered 4,000 stimulating & meaningful conversations with over 1,200 humans at 50 events and workshops. We've tallied up 70+ 5* reviews on Facebook, trained 6 event hosts and increased TC-HQ to 3. And not to mention one kickass TEDx talk given by Georgie (watch here).
On Monday 15th October, Trigger Turns 2 at LABS High Holborn.
And to celebrate all we have learnt and the awesome people we've met, we're inviting you to join our conversational adventure.
---
What you'll experience in an evening with us:
The evening has been designed with 3 core principles at its heart: Explore, Learn, Connect.
Explore
…How 'Everything Starts With a Conversation' - The evening's theme. It'll be infused in everything.
…What it Feels Like to be Alive – Trigger's much-loved menu of conversation will be served, empowering you to effortlessly be you and meet humans on a 'real' level.
Learn
…From Us – Absorb conversational tricks and apply them immediately into your life. We'll also share the Trigger story, our future plans for world domination and how you can get involved... (are we joking?)
…From our Speakers – Inspire your conversation to reach new heights, using insights from 3 humans who'll explore our theme: 'Everything starts with a conversation'. Speakers are announced leading up to the event via our Facebook page. But for those who are impatient, our fab speakers are: Peter Mandeno (Creative Entrepreneur turned Academic), James Light (Documentary Film Maker) and Tony Margiotta (his motto is discipline = freedom).
…From your Fellow Conversationalists – Tap into one of the world's most abundant assets because people need people, not just Google!
...And, from Yourself – Make the night your time to remember the awesome things that make you, you.
Connect
…With Humans – The room will be filled with an eclectic, electric mix of Londoners who think we're more than our jobs. You'll be sure to find interesting people from all walks of life, each with unique stories, ideas and opportunities.
…With the Trigger Tribe – We may all roam, but it feels amazing when we all come home.
...Anywhere - Connection is the feeling we all crave: to be heard, seen, loved. After a night with Trigger, it's our wish that you experience an enhanced feeling of connection with the world, others and yourself.
Question is now, are you ready to unlock your potential to connect?
Love from,
The #Trigger Team
#nosmalltalk #triggertribe #meaningfulconversation
---
The Basic Details
When:
Monday 15th October, 6.30 - 9.30PM
Where:
LABS High Holborn, 136 High Holborn, London, WC1V 6PX
What is included:
The evening will be structured around Trigger's conversational menu - a metaphorical menu consisting of conversational courses such as canapes, starters, mains, dessert, cheese and coffee. Each course consists of questions that have a different length and depth of conversational possibility. You are paired with a new human every course, allowing you to meet and connect with a variety of minds.
An exciting array of speakers shall intersperse the menu, alongside Trigger's Founder Georgie Nightingall who will share the Trigger story so far and look ahead to what our future holds.
Time shall also be given for unstructured conversations and mingling!
Light food and drinks shall be served.
---
This event is for you if:
- You think you're more than your job.
- You value spontaneous, quirky or creative conversations that expand your perspective and challenge you.
- You're bored of small talk.
- You want to make meaningful connections with others but without the awkward networking part.
- You want to learn how easy it is to talk to strangers in a meaningful way.
- You just read the invite and you're super curious!
What other people say:
In 1 word…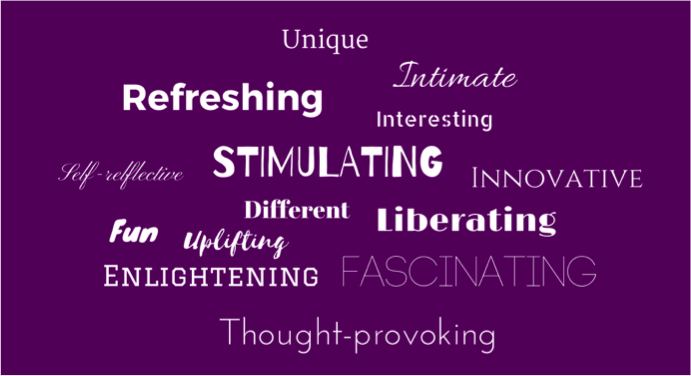 In a few words…
'You spend a lot of time in conversations wanting to get to this point, and this is all about getting to the fun bit of the conversation… and it is facilitated so you get know something worthwhile about people right away and you want to share because people are here to share and people are here to listen. It's a lot of fun…a lot of real, human experience packed into one evening.'
'Brilliant event the other night :) I've been meaning to come for ages, glad I finally did! It's so important that we do what we can to build up our social fabric - a fabric that can seem tragically weak at times - and this is a great step towards it. The questions force one to avoid the superficial and the automatic, and instead connect on a deeper level - something that we could do well translate into our daily lives.'
'I loved the idea of Trigger from the get-go! For every human interested in other humans, which should be all of us, Trigger really prompts a timely reminder for all of us to scratch below the surface and use our conversations as a tool for real human connection, curiosity, and adventurousness (i.e. it's real and it's awesome)! A fun, curious, playful, at times even salacious, and ultimately utterly hilarious night in the company of great people, this is what collective humanity should be about!'
---


Want to know more about Trigger Conversations?
Life is too big just for small talk.

We're on a mission to bring back the lost art of conversation and connection in a digital world.
Trigger Conversations is a human connection organisation that sees conversation as an opportunity for adventure and discovery. We are engineers of serendipity and have the tools to help people connect in a more authentic way. As facilitators and question curators we have developed a formula that extracts curiosity, courage and joy from even the most sceptical.

How? We create spaces that banish small talk at the door and strip people of their work labels. Instead, we invite participants to simply, be real. At our events, we are not our jobs, but humans.
The result? Real connections. Fresh ideas. Liberating conversations.


So far, Trigger has:
- Brought together 1200 people over 50 events.
- Initiated over 4000 meaningful conversations.
- Made a lot of people happy! (check out 70+ 5* reviews on Facebook)


Where to find us:
Website: https://www.triggerconversations.co.uk
Facebook: https://www.facebook.com/TriggerConversations/
Twitter: https://twitter.com/TRIGGERConvos
Instagram: https://instagram.com/triggerconversations/
Youtube: https://www.youtube.com/channel/UCw1RDSvUJA6Z3rg9dW3LIBw

---
Terms and Conditions:
By buying a ticket, you consent to being filmed, recorded and photographed at the event as a member of the audience and to footage and photographs of you being used by Trigger Conversations in any medium for the promotion and marketing of Trigger Conversations.
Copyright © 2017 Trigger Conversations. All rights reserved.