Description
Trigger Conversations Classic - Thursday 8th November 2018
---
Everything starts with a conversation.
And conversation takes up most of our lives. So why do we spend our time having conversations that are frustrating, limiting and draining?


Every moment of every day, from that first coffee purchase to the tube journey home, there are countless opportunities for connection, joy, growth and insight. And yet we spend most of these moments playing along with familiar, mind-numbing scripts, responding day in, day out with "what do you do", "I'm fine, thanks" or nothing at all.

Perhaps it is time to say goodbye to boring small talk that feels limiting, and instead say hello to conversations that are adventurous, expansive, meaningful and stimulating.

It's time to experience Trigger Conversations.

At Trigger Conversations our mission is to help you connect anywhere, exploring greater depth and connection in every interaction you have.

At each event, we guide you into a place of greater awareness, sharing with you insights and conversation techniques that will help you tap the amazing potential for human growth and connection every moment of your daily life.

Our evenings are structured to help you easily experience those conversations you crave, finding serendipitous connection with complete strangers, and empowering you with the techniques to make these moments a daily occurrence in your life.

The theme of the evening at our next event will be confirmed soon.
---
What other people say:
In 1 word…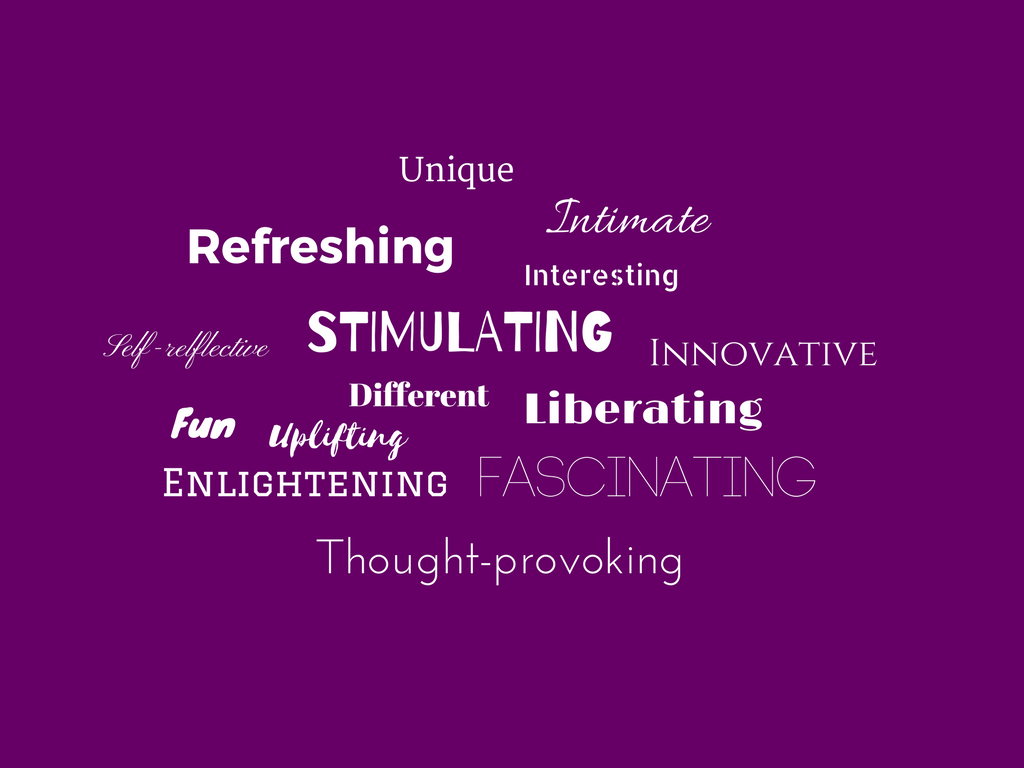 ---
This event is for you if:
- You think you're more than your job.
- You value spontaneous, quirky or creative conversations that expand your perspective and challenge you.
- You're bored of small talk.
- You want to make meaningful connections with others but without the awkward networking part.
- You want to learn how easy it is to talk to strangers in a meaningful way.
- You just read the invite and you're super curious!

---
How it works:


The evening is inspired and structured around another great human passion; food!

A seven-course meal of conversation awaits you, starting light, and getting heartier as the evening goes on.


18.30 -19.00: Join us for a drink and chat at the bar
19.00-19.05: An Introduction to Trigger Conversations
19.05 - 21.00: The Conversation Menu
- Canapes*
- Starter*
- Main*
- Break
- Theme of the Eve Special Segment

- Dessert*
- Cheese*
- Coffee*
21.00 onwards: Time to finish the conversations you started and mingle with everyone else!
*A light selection of canapes and drinks only will be provided throughout the evening. The dinner menu is more of a metaphor!
---


Here's an example or two…
'When I was a child, I wanted to be...'
'Would you like to live more in your body or in your head?'
'What makes a person a good travelling companion?
'What is your superpower?'
'How would you spend the rest of the year if money were no object?'
…and many more (We won't ruin the surprise!)
---




What other people say:
In a few words...
'You spend a lot of time in conversations wanting to get to this point, and this is all about getting to the fun bit of the conversation… and it is facilitated so you get know something worthwhile about people right away and you want to share because people are here to share and people are here to listen.. it's a lot of fun…a lot of real, human experience packed into one evening.'
'Fantastic experience! A breath of fresh air and a great way to meet new people who are also interested in going beyond the superficial. If you're someone who is bored of standard social interaction this may well be the answer you have been looking for.'
'Brilliant event the other night :) I've been meaning to come for ages, glad I finally did! It's so important that we do what we can to build up our social fabric - a fabric that can seem tragically weak at times - and this is a great step towards it. The questions force one to avoid the superficial and the automatic, and instead connect on a deeper level - something that we could do well translate into our daily lives.'
'It was great to just spend an evening having stimulating conversations and developing perspective. There was no agenda to the conversations (i.e. networking, speed dating) and that was really cool: to value a good conversation for simply that. Thank you!'
'Nuts. Totally random. Fun. Nice people. Do it!'
'Trigger Conversations has such immediate charm and sincerity that it only takes one interaction to feel like you're with friends and not a room of complete strangers. The event is dedicated to appreciating the thrill of conversation, but not just any conversation, conversation that people can remember and enjoy. I'm personally not a fan of small talk, or job talk, or any of that monotonous, boring spiel. So, at Trigger, I get to set aside all that and enjoy the real, human words for an evening - and become inspired to continue the effect with strangers outside of the events.'
'Trigger is super awesome!!! Like, incredible, splediferous, fantastic, so great - I could not find enough positive words to describe the events, honestly! The concept is fun, and well put together. The events are a spectacular mix of thought provoking conversation with some of the most interesting people you could ever be put in a room with... the vibe: energetic, empowering and inspirational! I can never get enough of connecting with interesting people in a really genuine way.'
'I loved the idea of Trigger from the get-go! For every human interested in other humans, which should be all of us, Trigger really prompts a timely reminder for all of us to scratch below the surface and use our conversations as a tool for real human connection, curiosity, and adventurousness (i.e. it's real and it's awesome)! A fun, curious, playful, at times even salacious, and ultimately utterly hilarious night in the company of great people, this is what collective humanity should be about!'
'The 'menu' format of the evening is clever and fun, and the questions really do teach you something about yourself in regard to what you are happy to share with a stranger. I recommend these events to everyone, no matter whether you're an introvert or an extrovert. The entire event is very comfortable and allows you to step out of your comfort zone without feeling uncomfortable because everyone there is in the same boat, chatting to a stranger. It is an excellent concept, very well executed by the lovely hosts, and is a fantastic and original way to spend an evening.'
Check out the other 70+ 5* reviews here.
---
Want to know more about Trigger Conversations?
Life is too big just for small talk. Trigger is on a mission to improve the world's conversations.
We want to bring back the lost art of conversation and connection in a digital world. Our vision is for a world where people are inspired and empowered to come together to have meaningful, stimulating and liberating conversations that build social fabric and are good for the soul.
What we do
We bring people together to make real connections through authentic conversations in a safe environment.
Real connections. New ideas. Inspirational conversations.
Join us for an experience.
So far, Trigger has:
- Brought together 1200 people over 50 events and trainings.
- Initiated over 4000 meaningful conversations.
- Made a lot of people happy! (check out 70+ 5* reviews on Facebook)
Facebook: https://www.facebook.com/TriggerConversations/
Website: https://www.triggerconversations.co.uk
Twitter: https://twitter.com/TRIGGERConvos


Terms and Conditions:
By buying a ticket, you consent to being filmed, recorded and photographed at the event as a member of the audience and to footage and photographs of you being used by Trigger Conversations in any medium for the promotion and marketing of Trigger Conversations.
Copyright © 2018 Trigger Conversations. All rights reserved.