Social Selling plays a fundamental role in the new way of doing business and communicating with the client. Join us to discover more!
About this event
Marketing managers play a crucial role in the transition towards a more modern selling strategy. They are the best enablers, setting a standard for their employees and encouraging them to actively adopt social selling techniques. This webinar is designed to show managers why and how 90% of top marketing professionals are implementing social selling tactics.
In this edition, Sarah Loessner will be presenting. why and how you should bring your Marketing & Sales activities to the highest level of efficiency with strategic Account-Based Marketing. Instead of waiting "for some fishes to swim into your net" – Account-Based Marketing helps you to identify the biggest opportunities right from the beginning. Proactively listening to strategic accounts and creating a highly personalized buying experience for your prospects will unlock new business opportunities!
You will learn in our live event:
What is Account-Based Marketing and why is it important
The importance of aligning your Sales and Marketing Teams
Identifying highly relevant Accounts and leads and how to leverage the LinkedIn Sales Navigator (Bonus: SmartLinks)
Creating a consistent customer experience and personalized outreach, to build sustainable relationships with BDM's
The world is standing on the verge of a digital revolution and this digitalisation is rapidly changing the way we do business. As the information gap between buyer and seller is closing, the buyer's journey changes, calling for an entirely new approach to selling. Social Selling is a tactic designed to identify where the buyers stand and influence them earlier in the buying cycle. Sellers who have mastered this tactic are proven to have more business opportunities, more connections with business decision-makers and shorter closing times.
We believe that the future will be shaped by how people will use digital tools and social platforms. Therefore, we have been helping technology companies to set the foundation to win in the social space and we would like to help you in the same way.
Speaker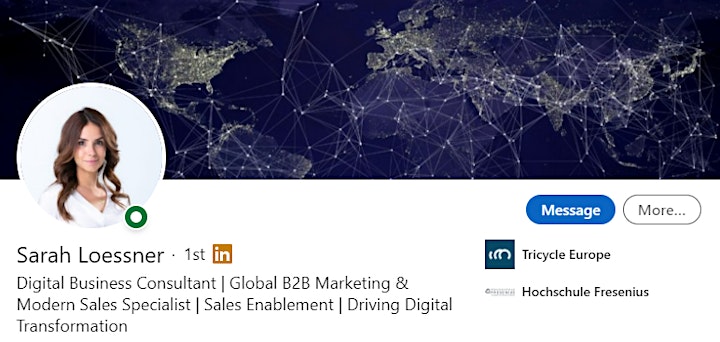 Sarah Loessner - Digital Business Consultant
I enjoy identifying changes in society and markets, reacting to them and transforming them into opportunities. It is the driving force of my daily life as well as my aspiration in work. My motivation is to cooperate globally with inspiring people and help them to benefit from the great potential of the digital world.
Innovation never stops. Great changes and digitalisation shape our world. Technology determines our lives and future in many senses. It brings opportunities as well as challenges. Therefore, I need to participate in the field of digital transformation actively.
Technology Innovations I am extremely excited about? AI, Blockchain & Virtual Reality!
For the last seven years, I've been working in the German and Dutch digital market - with a great passion for digital marketing, brand building, consulting & project management.
In my current position at Tricycle Europe, I have the unique opportunity to support Sales & Marketing B2B professionals globally and ensuring they succeed in times of the digital transformation. I assist corporations in building long-lasting and sustainable business relationships, through Networking, Social Selling, Professional Branding and new business channels.
Are you ready to take your Sales & Marketing teams to the next level?
Organizer of Tricycle Social Selling for Managers
Tricycle Europe is a leading provider of end-to-end marketing and sales support to companies all over the globe. Through our made-to-measure modern selling programs, we help marketing and sales-teams achieve optimal efficiency. We have established ourselves as digital coaching experts, assisting large enterprises to transform their marketing and sales organisation.