Description
Quotes about the show:
"While aiming to mystify the audience with his mind-reading and illusions, Orsini also mixes comedy and storytelling into his 90-minute shows, commanding the crowd's attention with his charisma and enthusiasm." - Spirit of Jefferson
"The show last night was fantastic. I am still dumbfounded...So much fun! Can't wait to bring more friends and come see it again!" - Ursla Key
"Paul and I really, really enjoyed your show Friday night! I look forward to seeing more shows :-)" - Stephanie Hoch
"Awesome show! (my girlfriend) and I had a great time." - Jason Hitchman
"The show is awesome! I loved the CSI routine." - Danny Mitchell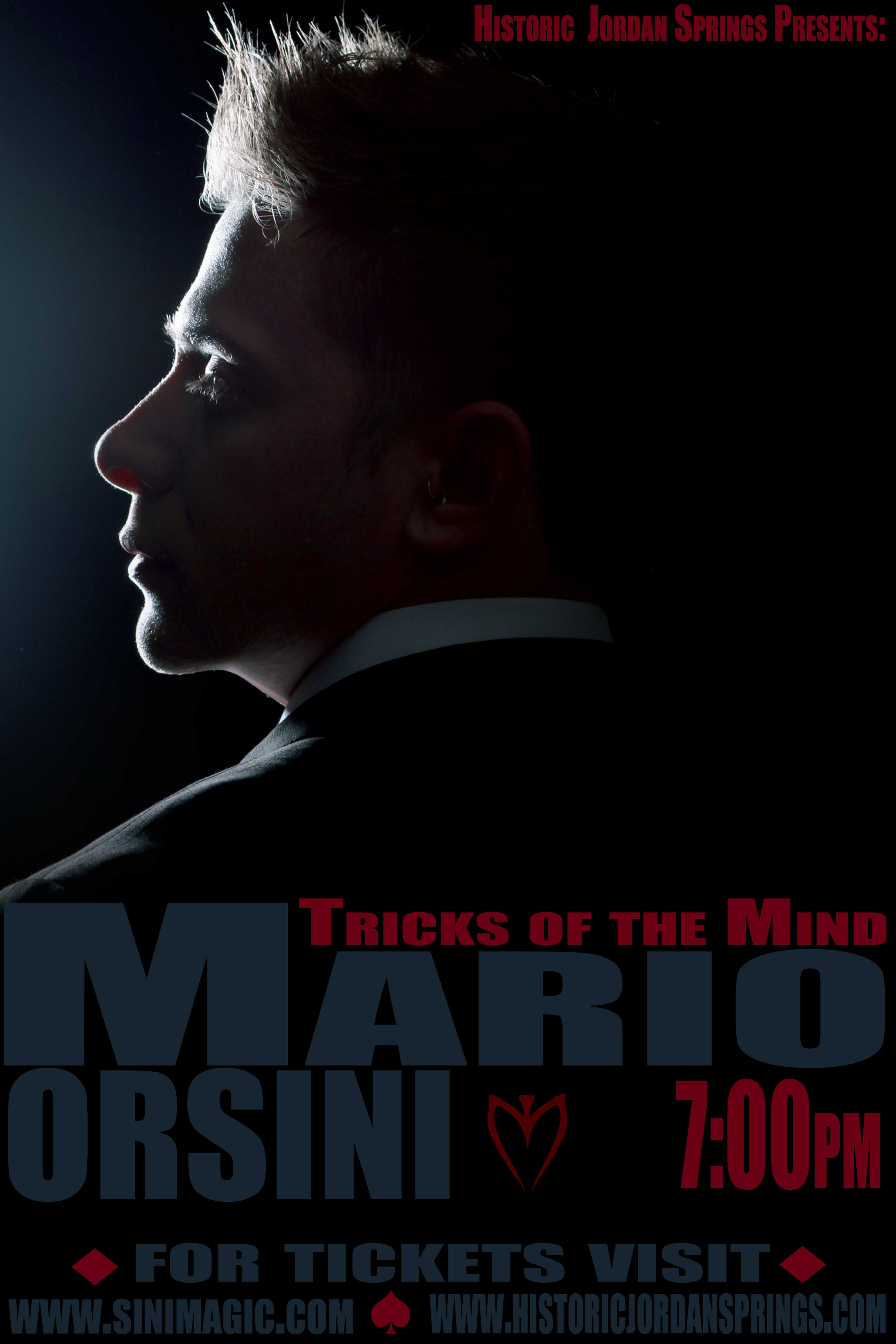 Tricks of the Mind is an intimate evening of magic and mind-reading at Historic Jordan Springs Event and Cultural Centre in Jordan Springs, Virginia. With each show limited to 50 guests everyone will have close-up view of the magic.
Famed to be one of the most haunted locations in the country, the Jordan Springs estate has played host to everything from a hotel, to a monestary, to a whorehouse, and even a drug and alcohol rehabilitation center. Located in the 1832 wing of the first estate hotel, the Mario Orsini Theatre sits in what was the original Carriage House and has been featured on the SyFy Channel's "Haunted Collector," A&E Biography's "My Ghost Story," as well as numerous other shows. The 48,000 square foot main house sits on a 237 acre wooded estate that has an ominous presence that can only be experienced in person.
Over the last few years Mario Orsini has become one of the most in-demand magicians on the east coast. He has performed at casinos like the Greenbrier Resort and the Hollywood Casino; countless fairs and festivals including the WV Italian Heritage Festival; four-straight appearances at the Miss West Virginia Scholarship Pageant; holds numerous theater ticket sales records; and dozens of radio and television appearances including his first national television appearance in 2012. Mario has kicked off 2013 with a bang including performances at the Strand Theatre, Musselman Auditorium, the West Virginia Speaker of the House Dinner and the opening of his new monthly show TRICKS OF THE MIND at Historic Jordan Springs.
*Bar opens 1 hour before show.
Please visit www.sinimagic.com or www.historicjordansprings.com for more information.