TRICK IS BACK, BIGGER AND BETTER THAN EVER! TRICK PRIDE SAN DIEGO 2021
About this event
TRICK IS BACK FINALLY AFTER A YEAR HIATUS WITH ALL YOUR FAVORITES.
FEATURING: San Diego favorite MATEO SEGADE, TRICK regular SINDRI [LA] and the super sexy boys from NYC, DJ ALONE and DJ REAUBERT.
EARLY BIRD TICKETS SOLD OUT
2ND RELEASE ALMOST SOLD OUT
3RD RELEASE AVAILABLE
** ALL TICKET HOLDERS GET FRONT OF THE LINE PRIORITY ACCESS **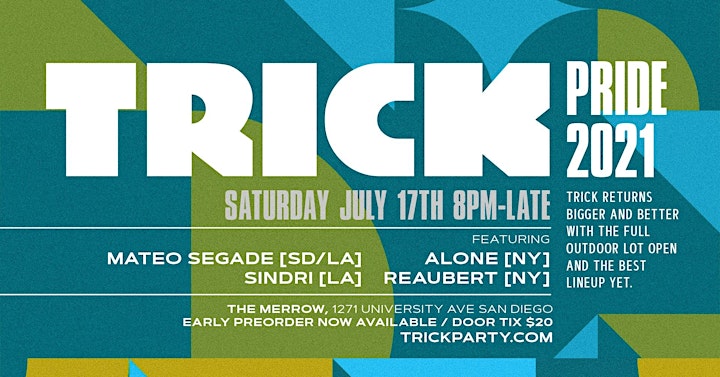 T E S T I N G 4 T I C K E T S
Impulse San Diego, in partnership with Nudies, TRICK, AIDS Healthcare Foundation, and Good to Go Clinic is hosting another Testing 4 Tickets campaign in the week leading up to San Diego Pride.
One Code, THREE FREE Tickets:
This year, we are giving out a *limited* number of discount codes to get you FREE entry to: Nudies Pride, the shuttle to Nudies Pride, and TRICK.
All you need to do is get a FREE STI test at the AHF or Good To Go clinics in Hillcrest and tell someone at the front desk that you were tested for an Impulse Ticket. The Impulse Ticket features a unique promo code on the back that will grant you a full discount at checkout for tickets to Nudies Pride (Friday, July 17) and TRICK (Saturday, July 18). That same promo code can also get you a free roundtrip ticket on the Impulse Bussy Bus that will take you from Hillcrest and the Nudies location on Friday night. Just remember to enter the promo code at checkout to have your ticket fully discounted.
There is a limited supply of tickets this year, so be sure to get tested early and to inform the clinic that you are testing for tickets when you make a reservation. ALSO, having a code does not guarantee you access to the event or a spot on the Bussy Bus. You will need to go purchase a ticket and enter the promo code at checkout to receive your free event ticket. Impulse Tickets will not be accepted at the door of either event.
TESTING LOCATIONS:
AHF CLINIC:
Location: 3940 Fourth Ave Ste 140, San Diego, CA 92103
Hours: M – Th, 8:30 AM – 5:30 PM
To make an appointment, call 619-516-8931.
GOOD to GO CLINIC:
Location: 3830 Park Blvd, San Diego, CA 92103
Hours: M – Th, 8:00 AM – 4:30 PM
To make an appointment, visit goodtogosd.com or call 619-543-9340
ALREADY BEEN TESTED?
Good call! If you received a full STI test on or after June 1, 2021, you are also eligible for an Impulse Ticket. To receive your Impulse Ticket containing a discount code, just head to either AHF or Good 2 Go beginning July 10 and provide proof that you recently received a full STI test. You only need to provide proof of testing, not your results.
QUESTIONS?
Please send any questions about Testing 4 Tickets, or about Impulse in general, to impulsesandiego@gmail.com or DM us @impulsesandiego.