7 Tickets Added to celebrate Halloween Showcase!! Arrive in your costume for a chance to WIN BEST DRESSED!
About this event
The original creators of Paint, Pole & SIP returns to ATLANTA with an unforgettable TRICK & TREAT experience!
October will grant all participants to paint & sip while enjoying thee BEST entertainment performances in ATL!!
Celebrate Halloween a little early  and arrive in your costume for a chance to WIN BEST DRESSED! A costume is preferred but not required at this event! 
DON'T MISS THE CHANCE to learn tricks while you sip and shop treats with our on site Sex-spert Milani Symone from Mesmerizing SinSations plus receive gifts from our sponsored gifts worth $100+!! 
Don't forget to Bring your tips $$$$ to show some appreciation for all of their tricks from an exclusive performer lineup from entertainers traveling from Los Angeles & ATL!!! 
Shop with vendors from all over the area during our intermissions, have a drink, and enjoy tasty treats from local caterers! Must be 21+ to drink or at least 18+ and Up to Perform/and or Enter.
VIP patrons include: 
Meet & Greet with Host/Sponsors/Performers
VIP Section w/Front Row Access & Complimentary Catering
$100 valued Sponsored Pretty Naughty Swag Bags
Personal Bottle (of spirits, wine or liquor of your choice) - 21+ ONLY
FREE CLASS from IamSexyFit plus general admission features 
View General Ticket perks & some of the performer itinerary in the the flyer below.  VIP, Early Birds and Seated tickets will be limited!
No tickets will be SOLD at the door. All tickets are sold online.
Do Not Miss the SALE- #PrettyGirlsPole have a 98% SELL OUT RATE!
Groups of 4 or more (and birthdays) receive discounts, Please direct any questions via Email to prettygirlspole@gmail.com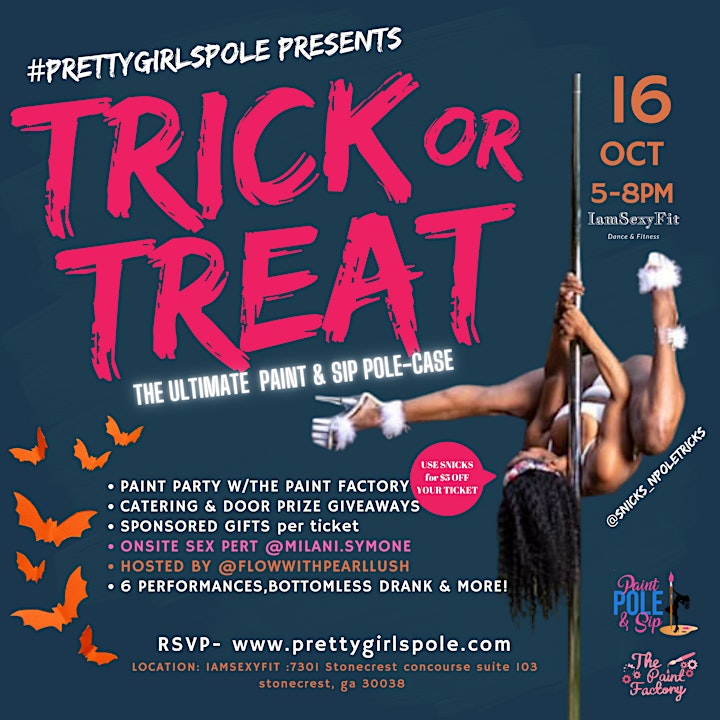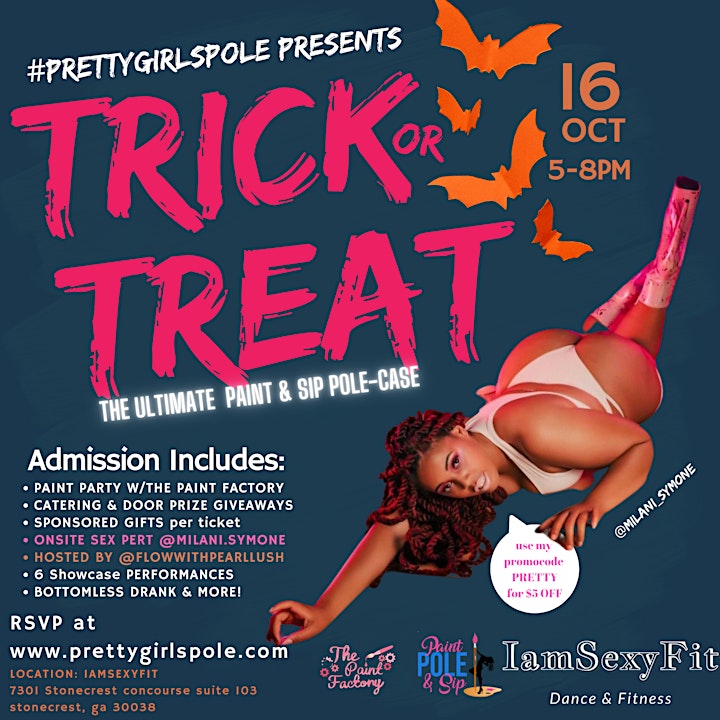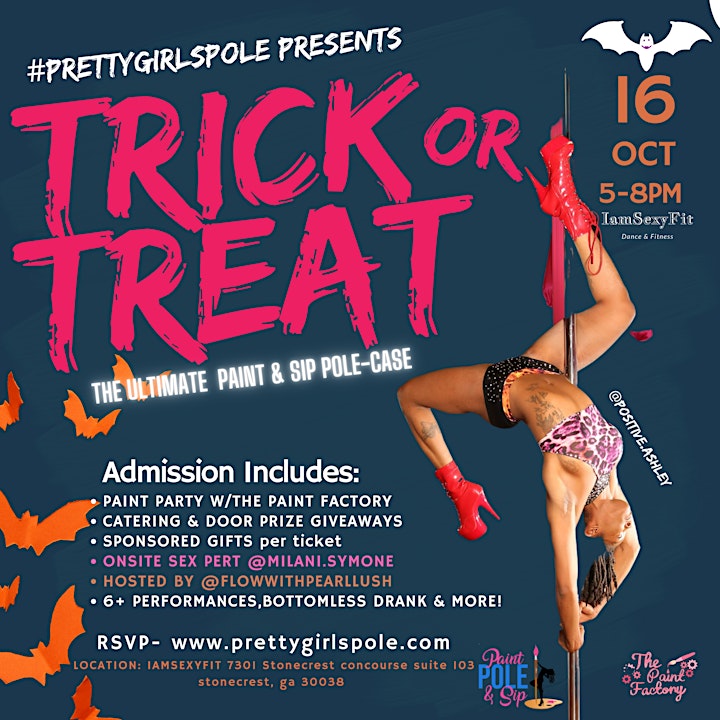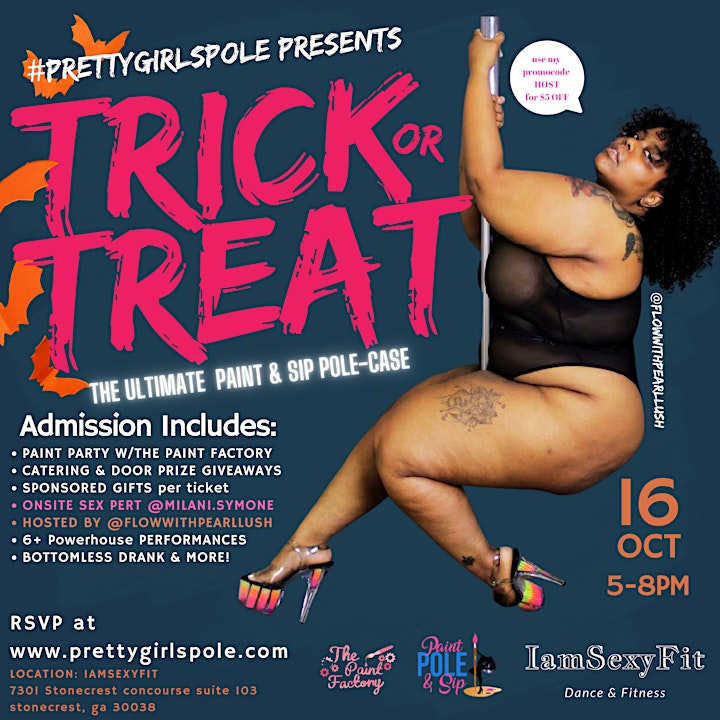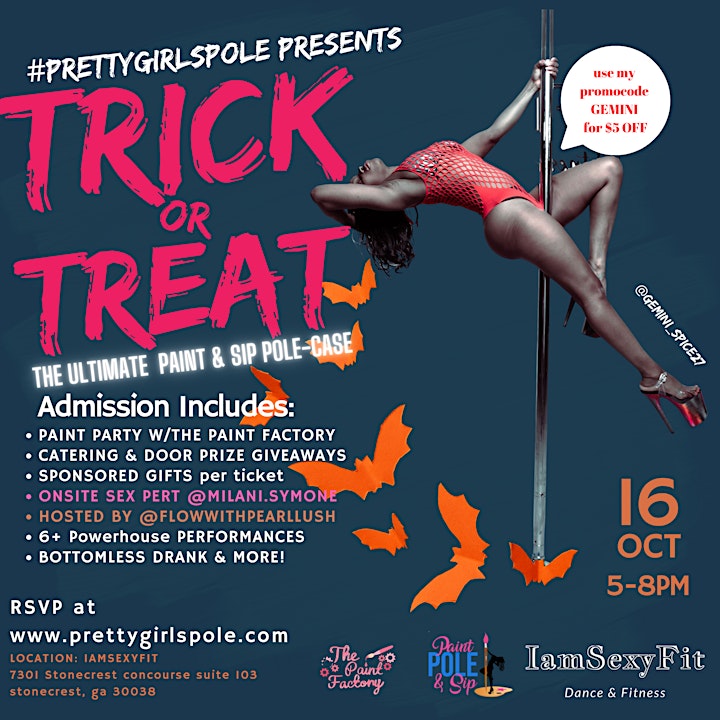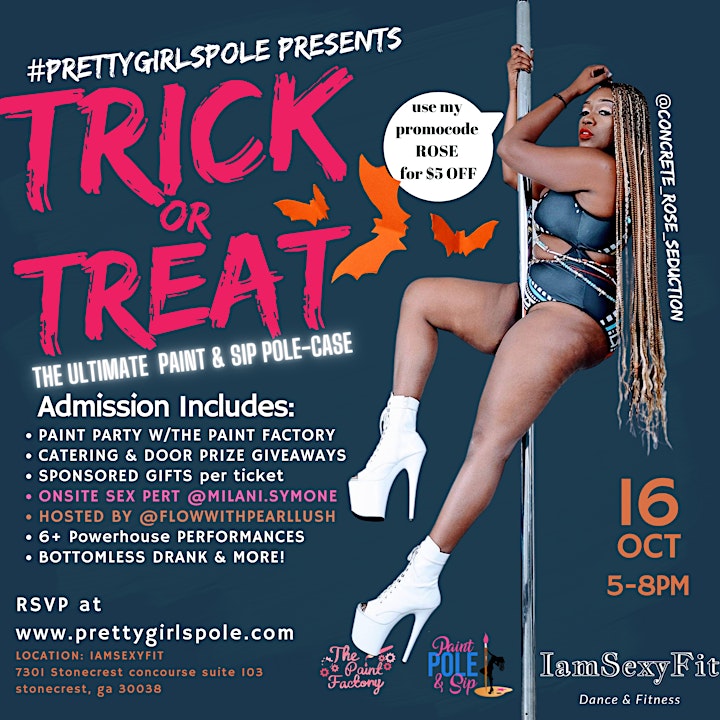 Frequently Asked Questions
Who is allowed to attend this event?
LGBT+ Friendly
a Co-Ed Experience - Most Voted for DATE NIGHT ACTIVITIES.
This event is here to serve those 18+ (IDs will be checked at the door)
Any Discounts?
There are 10 Early Bird Tickets available until September 30, 2021 or until tickets are sold.
Special discounts to Virgo & Libra Szn Birthdays or Groups of 4 + , please email us at prettygirlspole@gmail.com for details.
What to Bring/Attire?
Encouraging All Guest to arrive in costumes to be admitted in our BEST DRESS GIVEAWAY. Costumes are preferred but not EXPECTED.
Bring your ones to tip your entertainment. Every dollar given helps support artist (some of them only showcase/or perform) and we want to encourage them to continue sharing all their TRICKS!
Guest 21+ Feel free to BYOB - will be ID'd at the door.
This will be a moment you'd like to dress up or dress comfy.
Aprons will be provided to protect your attire.