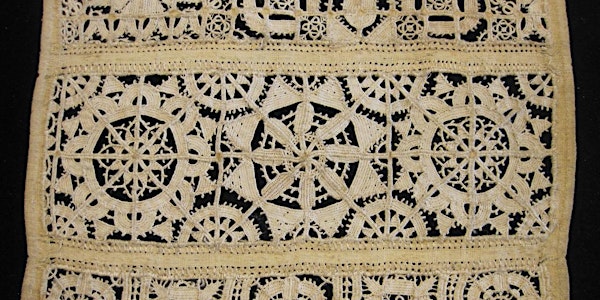 Tricia Nguyen: Patterns and Pieces, Whitework samplers of the 17th century
Patterns and Pieces: Whitework samplers of the 17th century By Tricia Nguyen
About this event
Dr. Tricia Wilson Nguyen is a teacher, historian, entrepreneur, and engineer. Her interests stretch between the embroidery and technology of the past and present. Dr.Nguyen's primary field is engineering where she has been part of a small group of scientists and artists who have pioneered the new field of electronic textiles.
Her product developments in that field have been seen in Land's End, Brookstone, the fields of World Cup Soccer and have been exhibited at the Smithsonian. But in this venue, Tricia is best known for her knowledge and interpretation of historical needlework through projects such as the Plimoth Jacket. She is the owner of Thistle Threads, a company which researches and designs historically inspired needlework. Her unique twist is viewing the objects through the lens of economic history using her engineering background to understand the clues they hold. Her current research project concerns embroidered caskets, applying experimental archeology practices to understand the genre. To do this, she is running a popular course, called Cabinet of Curiosities where over 600 stitchers are producing their own interpretation.
By the end of the 17th century, patterns for several forms of needlework had been published and distributed for over a hundred years. These early pattern books were kept and used by multiple generations as well as reproduced in multiple editions and extensively plagiarized. Close study of the patterns and samplers of the last half of the 17th century can reveal many answers to the working of popular cut whitework techniques. From the fronts-pieces, pattern names, and subtle clues in the woodcuts we can tell which patterns were realistic and gave instruction to the reader and which were opportunistic prints by less-knowledgeable artists and likely unable to be worked. We can start to group these samplers based on technique and pattern and discuss the many conundrums that they hold.
Webinar ticket sales are not refundable.