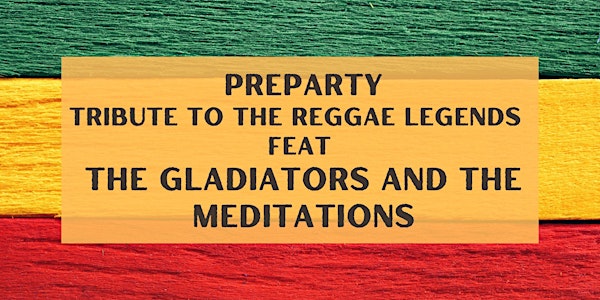 Tribute to the Reggae Legends Pre-Party: The Gladiators and the Meditations
Live concert and ticket giveaway
When and where
Location
WorldBeat Cultural Center 2100 Park Avenue San Diego, CA 92101
Refund Policy
Contact the organizer to request a refund.
Eventbrite's fee is nonrefundable.
About this event
The Meditations are among the most beloved and respected harmony trios to emerge from the roots era of reggae during the 1970s. In 1999, they returned better than ever with Ghetto Knowledge, their first album together since 1992 and their only full-length release with Easy Star. After a successful career in Jamaica in the 70s, including recording timeless hits like "Woman Is Like A Shadow," "Miracles," "Fly Natty Dread," and "Having Fun," the group recorded "Jah Music" for Easy Star Records' debut compilation. The song was a favorite on reggae radio and the collaboration with Easy Star led to the release of Ghetto Knowledge in 1999. Ghetto Knowledge bears all of the trademarks of a classic Meditations record: gorgeous harmonies, beautifully written songs and cultural lyrics. Many of the tracks had been written in the 1970s and 1980s but had never been recorded for release before. This disc established The Meditations once and for all as one of the premier vocal groups in Jamaican history.
The Gladiators have been masters of the reggae arena for the past 30 years. After the rise and fall of many reggae artists and bands, they remain one of the most influential reggae groups to date. The group's original leader, Albert Griffiths, formed the legendary band - whose name was suggested to him on a bus by a fellow traveler who had just seen the movie "Ben Hur." The concept of men who fought for their liberty against Babylon immediately struck a chord with Albert and remains a testament today of the difficult life and struggle of Jamaica. The Gladiators have proven on stage and in the studio that they are without a doubt one of the best and most enduring original real roots, rock reggae bands.
In 2005 The Gladiators continue with the fresh new "Father and Sons" album recorded in Jamaica still faithful to their roots compositions delivering reggae music full of heart, force and courage. Featuring Albert Griffiths' two sons, Anthony on drums and Al sharing lead vocals, "Father and Sons" is a gripping reflection on life, love and faith.
Currently, Albert is in the process of turning The Gladiators over to his two sons he knows are capable of carrying on this musical heritage. With Anthony on drums setting the pace for the band and Al's voice, which is virtually indistinguishable from his father's, these two young reggae warriors have proven both live and in the studio that they are fully competent and are infusing a new, youthful energy and substance to carry The Gladiators' legacy into the future. The "New" Gladiators have already garnered tremendous response touring throughout Europe, Brazil, the South Pacific and Australia to as many as 70,000 fans in mostly sold-out shows. They are poised and ready to spread their message to the rest of the world!
Members $20 | Non-Members $25
Interested in becoming a WorldBeat Member? Join the newly launched membership program and save on our paid events, the Cafe and more! Click the link for more details
Members