Description
Tribute to the Dragon (Bruce Lee's Birthday)
Venue: Federal Hall National Memorial (26 Wall Street, NYC)
New Yorkers from various professional sectors, including Nonprofit organizations, social activists, and martial arts centers around the tristate are coming together to pay tribute to Bruce Lee on his birthday, November 27th, at the historic Federal Hall National Monument located at 26 Wall Street, New York. The event features speeches from Martial art experts, celebrities, cultural and social Icons, public officials, as well as presentations, workshops, exhibitions that pays tribute to Bruce Lee and those that promotes cultural harmony within the American cultural diversity. The program is designed to promote recognition of ethnic contribution in the American Popular Culture.
Event Schedule: 10am -6pm: Featuring Speeches from experts, celebrities, Icons,
Parallel presentations, workshops, exhibitions, movie
Audience: prominent martial professionals, martial art schools, institutions, enterprises, enthusiasts, acting schools, actors, celebrities, prominent members of the Chinese American Communities in the US; the event is free and open to the public
Reception: 6:30pm-9:30pm (Guests by Invitation) food, drinks, Live Music, Chinese cultural (Dragon) dance performance, Kung Fu Dance, Martial arts demonstrations, Exhibitions, Recognition awards.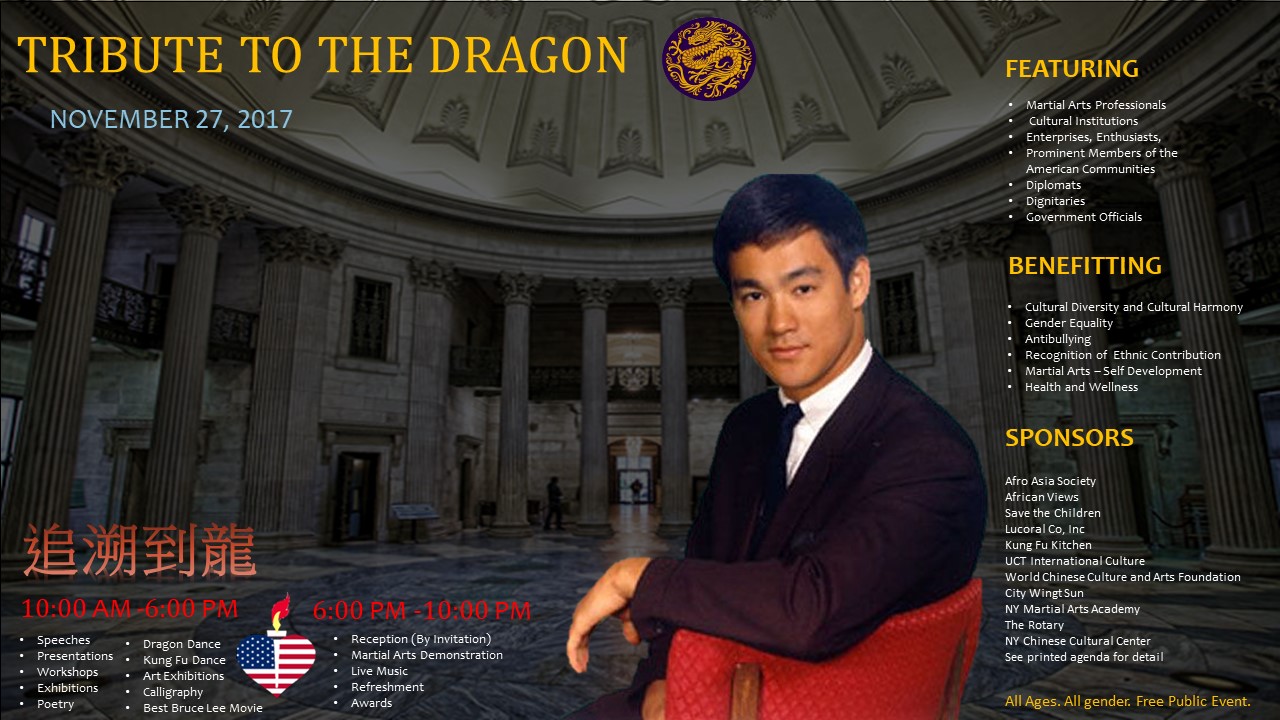 Beneficiary Causes: Cultural Diversity and Cultural Harmony, Gender Equality, Antibullying, History of Ethnic Contribution, Martial Arts Physical Fitness, Personal health, Motivation, and Self-Development, Self Defense, and so much more.
Watch this space for event updates