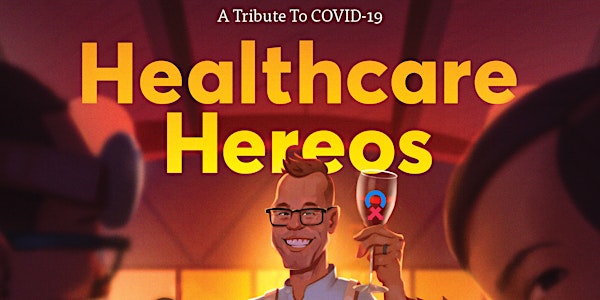 Tribute to COVID-19 Healthcare Heroes
You've been taking care of us during the COVID-19 pandemic. Now, it's our turn to take care of YOU - our healthcare heroes!
When and where
Location
Herb & Wood 2210 Kettner Boulevard San Diego, CA 92101
About this event
This event has been more than a year in the making as we've navigated the waves of the COVID-19 pandemic. We are beyond excited to finally be able to pay tribute to our healthcare heroes!
Calling all San Diego Healthcare Professionals!
Please join us for a special evening of food, fun and entertainment on Saturday, Feb. 5, 2022. We've teamed up with Celebrated Chef Brian Malarkey to honor the incredible feats and milestones you have been a part of during the historic and unprecedented COVID-19 pandemic.
You are a healthcare hero that has gone above and beyond your capacity since we entered this unchartered territory in early 2020. This is our way of expressing gratitude for your dedication, commitment and sacrifice during San Diego's coronavirus response. We sincerely hope you can attend and look forward to honoring and celebrating you as one of our special guests.
The event will begin at 6 p.m. and will feature trays of heavy hors d'oeuvres and desserts designed and prepared by Chef Malarkey and his team at Herb & Wood. Beverages will be provided and a cash bar will also be available. There will be raffle prizes, music and a special guest appearance by Chef Malarkey himself!
While we want to serve and celebrate every single healthcare professional possible, we do have limited space for this event and ask that you RSVP for the evening's festivities by registering through our event site. Our deadline for RSVP'ing is Friday, Jan. 7, 2022.
Please note that all attendees will be required to show proof of vaccination or negative Covid-19 test (test to be taken within 72 hours of the event).
About the Chef: Chef Malarkey is one of the country's most successful and sought-after chef/restaurateurs. Throughout his career he has created over 15 wildly successful restaurant concepts including the nationally acclaimed Herb & Wood restaurant where our event will be held. Malarkey was a contestant on Bravo's "Top Chef All-Stars" (Season 17), and routinely appears as a judge on Food Network's "Guy's Grocery Games", makes regular appearances on the "Today Show" and "Good Morning America", and was also "Top Chef" season 3 finalist and winning mentor on ABC's "The Taste", which he co-hosted alongside Anthony Bourdain, Nigella Lawson and Ludo Lefebvre. Malarkey has judged a variety of television cooking programs, including "Rachael vs. Guy: Kids Cook Off", "Chopped All-Stars", and "Cutthroat Kitchen", and can be seen headlining food and wine festivals around the country.
About Point the Way Foundation: Point the Way Foundation was founded in 2014 with the goal of creating brighter tomorrows for individuals, families and organizations in need. It does so through charitable acts and financial support with a focus on three main causes: Community, Education and Military Support. With a mission to Point the Way to a Brighter Tomorrow, the Foundation works to embrace and assist those in need through meaningful campaigns and contributions, and purposeful fundraising.