About this Event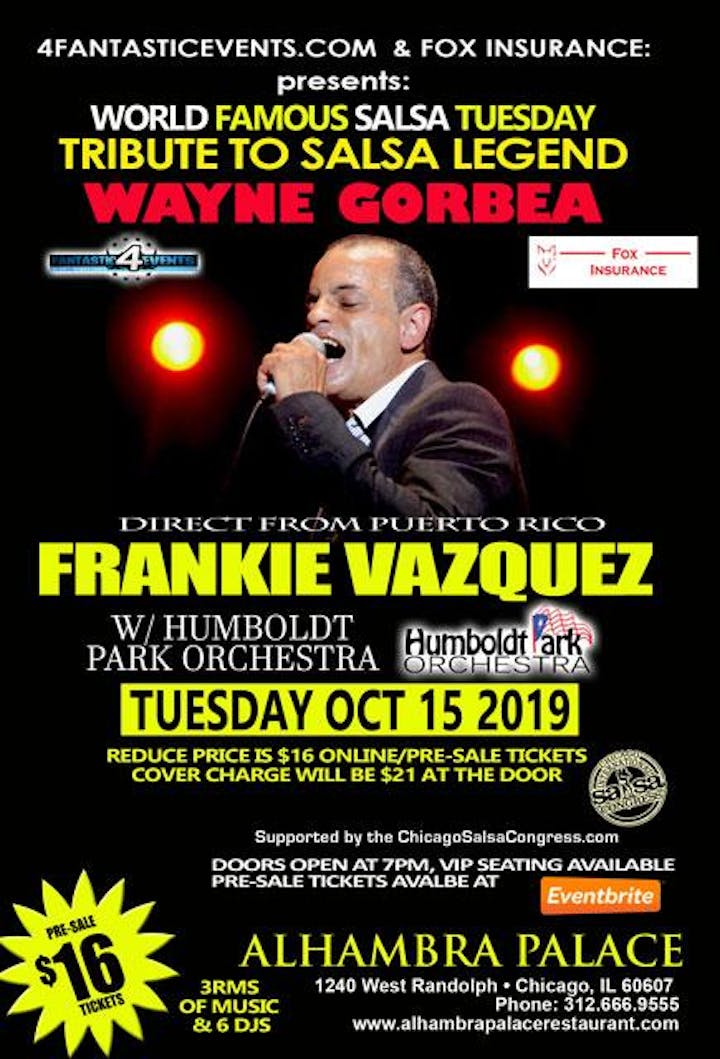 4FANTASTICEVENTS.COM in conjunction with Fox Insurance presents:
TRIBUTE SALSA TUESDAY ft Frankie Vazquez Tribute to Wayne Gorbae
Save the Date: Tuesday Oct 15th 2019
Live Salsa Band, 3 RMS of Music, 6 DJs
Live band: Frankie Vazquez (Direct from Puerto Rico)
https://www.facebook.com/frankie.vazquez.737
Pre-Sale Ticket just $16-Purchase your "Pre-sale" tickets today on line or purchase at the venue ahead of time: https://www.eventbrite.com/e/tribute-salsa-tuesday-ft-frankie-vazquez-tribute-to-wayne-gorbae-tickets-71253163129
OR
MUST RSVP BEFORE 3PM DAY OF EVENT!!
RSVP FOR THIS EVENT HERE:
http://www.4fantasticevents.com/
4 Classes Every Tuesday we give you...
❶Beginner Salsa Class
❷Intermediate/Advance Salsa Class
❸Bachata Class
❹Kizomba Class
Music by Salsa Tuesday DJ Team
DJ Prieto
DJ Play
DJ Luis Molina
DJ Freddy Fresh
DJ Eclipse
DJ Eric "ET" Taylor
Now 4 Classes Every Tuesday
Beginner Salsa Class ON1 by Maria Torres
Salsa On2 Class by Jesus Alejandro Aguilera
Bachata Class by Amy Tsai
Kizomba/Steppin' Class by Courtney Lundgren
IN THE MAIN ALHAMBRA ROOM (7pm to 2am)
Music & Video Mix of Salsa, Mambo, Cha-Cha, Merengue, Cumbia
by DJ Prieto
IN THE KIZOMBA/ZOUK ROOM (7pm to 12AM)
Music of Kizomba, Steppin, Zouk, Semba
by DJ Eclipse & Eric "ET" Taylor
IN THE BACHATA ROOM (7pm to 11AM)
Music of Bachata Sensual, Dominican Style
by DJ Luis Molina
7:00pm sharp - Doors Open for Main Room
7:45- 8:45pm KIZOMBA/STEP Class with Courtney Lundgren
7:45-8:45pm BACHATA Class with Amy Tsai
7:45-8:45pm BEGGINER SALSA Class by Maria Torres
7:45-8:45pm SALSA ON2 Class by Jesus Alejandro Aguilera
8:45pm-10:00pm: Salsa/Video Music by DJ PRIETO
10:00pm - 10:45pm Frankie Vazquez Tribute Band
10:45pm-11:15pm: Salsa/Video Music by DJ PLAY
11:15PM – Midnight: Frankie Vazquez Tribute Band
Midnight to Close: Salsa/Video Music by DJ PRIETO
MUST RSVP NO LATER THEN 3PM (DAY OF THE EVENT)
Alhambra Palace Restaurant
1240 W. RANDOLPH
CHICAGO IL 60604
Bio: Wayne Gorbea
Born on October 22, 1950 to Puerto Rican parents in Manhattan, Wayne Gorbea studied violin orchestration and trumpet in high school as well as participating in many percussion rumba sessions.
After joining the army in 1968, he taught himself piano and after being discharged from service he returned to New York City where he led several bands and made his debut recording in 1973.
He went onto release several standout albums in the 1970s, inaugurate his own WayneGo label in 1980 and produce numerous albums with Shanachie in the 1990s. All that time he remained true to his classic salsa dura sound.
and today his music is better recorded than ever and he is producing tunes that are longer and richer in texture and variety.
Wayne Gorbea died on September 14, 2015 in New York City,
Discography:
Cógele el Gusto (Shanachie Records, 1998)
¡Saboreando! Salsa Dura en el Bronx (Shanachie Records, 2000)
Fiesta en el Bronx (Shanachie Records, 2002)
Live from New York (Reyes Records, 2004)
Prakatun, Cogele el Gusto Otra Vez (Wayne Gorbea's Salsa Picante, 2006)
Introducing Wayne Gorbea's Salsa Picante (World Music Network, 2007)
Salsa Boricua (SMC Pro Arte, 2012)