About this Event
Will call patrons must present photo ID at the door.
Doors and box office open at 6PM on show nights.
When box office is closed tickets may be purchased at the front desk of the Graduate Athens Hotel.
Purchasing a reserved table will produce one ticket for the event. Tables may include admission for 2 or 4 persons. See ticket descriptions for details.
VIP Suite includes food and beverage service, access to private suite, comfortable sofas, and admission for up to 10 persons.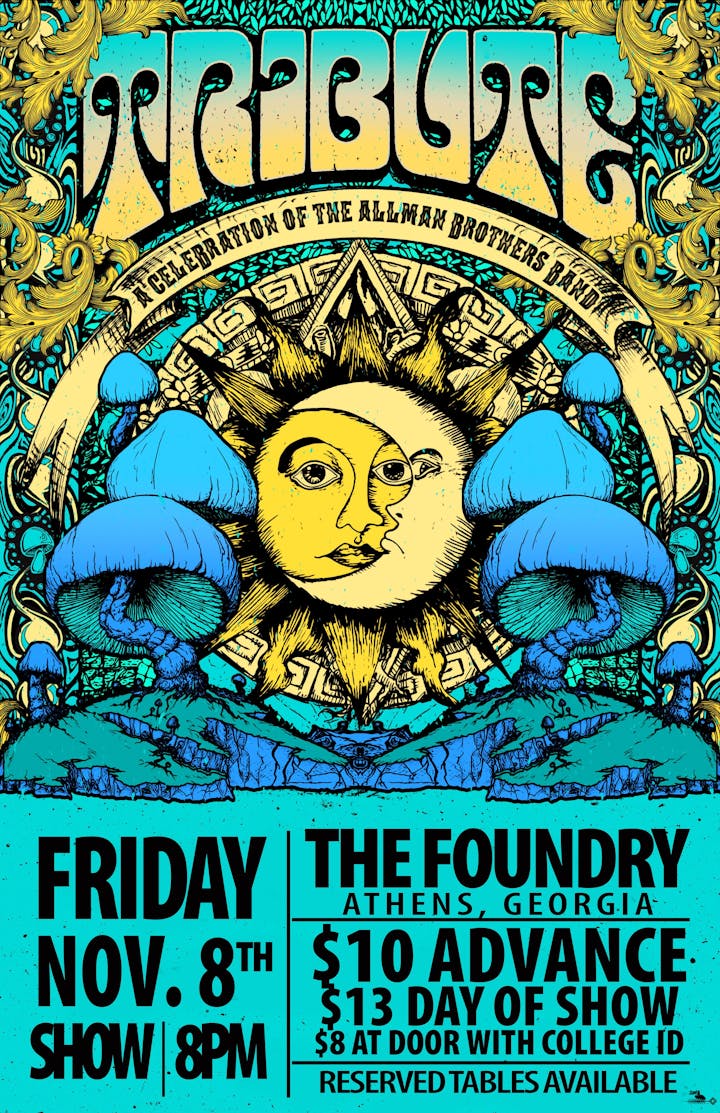 TRIBUTE - a celebration of The Allman Brothers Band is a powerful 8 piece group that faithfully recreates the music of one of the finest bands of all time.
Since its founding in 2013, Atlanta-based TRIBUTE has earned a reputation as the source for the authentic ABB sound around Atlanta and throughout the Southeast. Rigged with vintage equipment, they interpret the Allman catalog in such a way that these songs written in the '60s and '70s come alive again.
If the band has learned anything from performing these songs, it is the realization that even though The Allman Brothers Band has shut down, their music maintains the same power over people just as it did 45 years ago. It is a phenomenon TRIBUTE gladly verifies every time they hit the stage.
With sold out shows at City Winery, appearances at The Fox Thea-tre's 40th Anniversary Block Party, Mable House Barnes Amphithea-tre, a NYE show at the Strand Theatre, The Foundry in Athens, leg-endary shows at Atlanta landmarks Northside Tavern and Smith's Ol-de Bar, a huge 4th of July concert in Pigeon Forge, TN, an all night jam at Alabama's oldest juke-joint and over a hundred other shows, TRIBUTE has amassed a large and loyal following.
TRIBUTE recalls that unique period in American rock, when psyche-delia ebbed and The ABB informed us what jazz, rock, country and blues could sound like. Comprised of musicians with decades of performance experience, the members of TRIBUTE bring their shared love of The Allman Brothers Band to life when it comes time for hittin' the note.