Description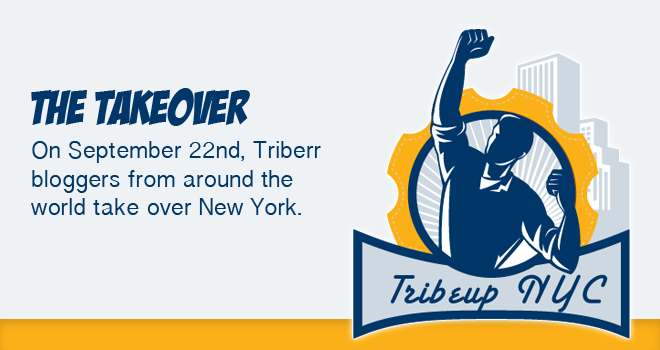 TribeUpNYC is a conference for bloggers who's aim is to answer one question.
How do we move the blogging industry forward?
Triberr has teaming up with My Guest Blog, and Internet Media Labs to host an epic conference in which the world's leading bloggers will meet to discuss how to advance the blogging industry.

A jam-packed day of seminars, discussions, and networking, focused on how bloggers can convert their content, knowledge, and influence, into a product people will pay for.

We have invited world renown thought leaders to share how they have risen to the top, and what needs to be done to make that path available to others.
The Ceremony
Doors open at 12:30PM EST, and the Opening Ceremony starts at 1PM sharp. Don't be late.
We will start with four hand-picked speakers delivering their best material in 20 minute sessions, followed by a couple of hours of mingling, connecting, and conversing with the area's most talented Bloggers.
Food and drinks will be flowing freely.
The Awesome Five
We will have 5 wise elders share their insight in short, exciting, punchy, sessions.
The elders are:
Geoff Livingston will present Attention: How To Get It, Keep It, and Leverage It.
Geoff is a distinguished keynote speaker. He has presented for SxSW, Mashable, TEDx, Hubspot, Procter & Gamble, Comcast, Dell, the U.S. Army, Robert Wood Johnson Foundation, Mid-Atlantic Marketing Summit, Radian6, and many others.
A former journalist, Geoff has authored three books, most recently co-authoring Marketing in the Round with Gini Dietrich.
Robert Moore will present How to Use Social Platforms to Find Your Audience, Build Relationships and Create Advocates
Robert is the Co-Founder and CEO of Internet Media Labs, an NYC based internet technology and media company. IML builds platforms and applications that allow both businesses and consumers to harness the power of the real-time social web.
A life-long entrepreneur, Robert has been building successful businesses for over 20 years.
Lena West will present How to Leverage Influence to Drive Real Business Growth.
Lena is a blogger for Huffington Post. She is The Network Journal's "40 Under Forty", AlleyCat News' "25 Women of Silicon Alley", The Women's Congress' Entrepreneurial Champion for Women in Business and was dubbed an "Entrepreneurial Hero" by NCWIT.
She is a dynamic speaker that dispenses a no-nonsense kind of advice, and you will enjoy the hell out of her, guaranteed.
Brendan Fitzgibbons will present How To Be Funny.
Brendan is a blogger for The Onion, Cracked magazine, and RollingStone.com. He is an accomplished Stand-Up comic and an actor.
He will share the secrets of how to write entertaining, funny, and compelling content.
Dino Dogan will present Mythbusting the Blogosphere.
Dino is a blogger at DIYBlogger.NET, Founder of Triberr, Strategic Marketing Consultant for hire, a speaker, and an author.
Event co-organizer: