Description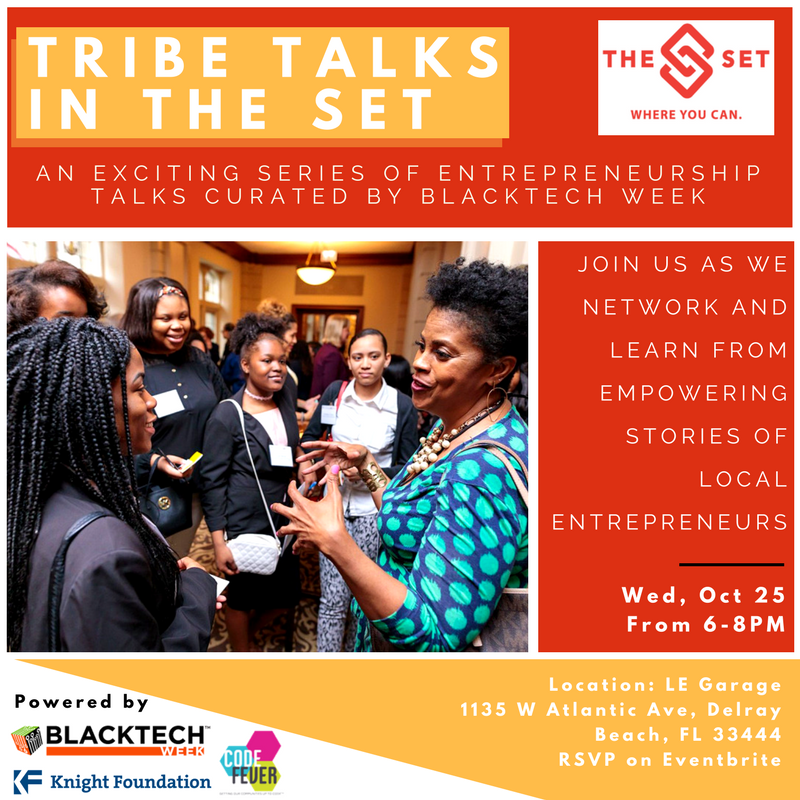 Have an idea that you think might be material for a startup? Do you need mentorship from successful entrepreneurs? Looking to find new talented team members or meet other entrepreneurs in Delray?
Well then look no further! Join us for Blacktech Week's first Tribe Talks in The Set event Wednesday, October 25th 2017 from 6-8pm at Le Garage. Come out to learn from successful business owners and network with local like-minded entrepreneurs.

Blacktech Week's- Tribe Talks series is an extension of the monthly BlackTech Week Office Hours events. Each month like-minded start-up entrepreneurs, innovators, and professionals of color get together to discuss ways to take their business or idea to a new level!
For the month of October, we're connecting the Miami and Delray Beach tech ecosystems! Our Co-Founder, Felecia Hatcher, will be the featured keynote speaker for the night. Be sure to join us on October 25 for an insightful talk on strategies for building diverse and inclusive startups. You won't want to miss your chance to network with professionals from the Delray Beach startup scene.
Throughout the Tribe Talks series, you'll get the chance to hear successful business owners share lessons from their journey and get connected to the local startup ecosystem. We want to help build tribes of like-minded entrepreneurs in Delray Beach so don't miss out.
Location: Le Garage - 1135 W Atlantic Ave, Delray Beach, FL 33444
Time: Wednesday, Oct. 25th, 2017 from 6-8pm
RSVP for the event ASAP. Space is limited.
Event Powered by Blacktech Week and Knight Foundation