| | |
| --- | --- |
| TRIBAL SOLSTICE VII ~ JUNE 27-30, 2013 ~ SOUTH FLORIDA | |
Event Details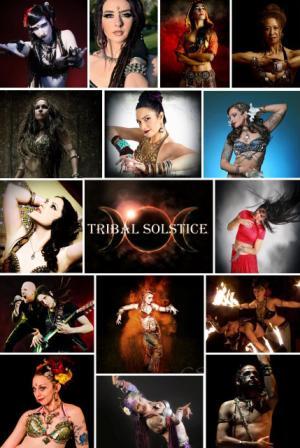 WELCOME TO TRIBAL SOLSTICE VII
We will be hosting our Seventh Annual Tribal Solstice Festival once again at the friendly, beautifully rennovated and convenient Hamptom Inn in Downtown Fort Lauderdale, just a few minutes walk from our Cinema Paradiso where we will be hosting our Saturday Night Gala Show, and within 2 blocks from Maguires Hill 16 where we will have our Dinner show on Friday, After Party and Fire Show. 

You will be just several minutes away from the beaches, local landmarks, shopping, restaurants, dance clubs and museums. 

Our 2013 line up includes a combination of Local Florida Instructors and an amazing group of National/International Artist. 
Alicia Belly Craft
Anasma
April Rose
Ariellah
Asharah
Donna Mejia
Frank Farinaro
Hip Expressions
Jill Parker
Kajira Djoumahna
Kami Liddle
Lacey Sanchez
Lee Ali
Sherry Whitley 
Special Musical Guest: BeatBox Guitar
Over 20 Workshops  
4 Mini Intensives    
Kick off Party
Show & After Party  
Bazaar

 
You can book your own room directly from our website. Don't miss the low prices!                            Breakfast & Parking is included for all registered Hotel Guests
Free Parking for all workshop attendees and shoppers! 


Join us in the Summer of 2013 and Enjoy your Tribal Solstice!
www.TribalSolstice.com
 No Refunds or Exchanges an any of the workshops
Where

Hampton Inn Fort Lauderdale, Civic Center
250 N Andrews Ave
Fort Lauderdale, FL 33301


Organizer
LOTUS TRIBAL ARTS & KALA TRIBAL EVENTS
"Tribal Solstice VIII"
Our Eighth Annual Tribal Style Bellydance Festival
Presented by Lotus Tribal Arts, & Kala Tribal Productions
Saturday, June 22-22, 2014
www.TribalSolstice.com
The dance culture explodes with the beautiful visions of Tribal Style Bellydance this June 20-22. With a kaleidoscope of talents from around the U.S and beyond; some of the most sought after instructors gather to share their talents with the South Florida Dance Community.
We want you to experience the best of in bellydance and the very best in South Florida. Our gorgeous sunny and sandy beaches, our awesome outdoor activities, along with a jampacked weekend of Fierce Bellydance. All workshops are held at Fort Lauderdale's Hampton Inn; placing you in the middle of a cultural modern, beautiful and friendly downtown just a few minutes from the ocean and world renowned beaches.

The Gothic setting of the Cinema Paradiso; home of the Fort Lauderdale International Film Festival is where we're hosting our Saturday Night Gala Show, which is within just a few short blocks from Maguires Hill 16, our Friday Kick Off and After Party Fire Show.

Tribal Solstice Line-Up

Guest Instructors
Ariellah

- (California) - ariellah.com

Arish Lam

- (Puerto Rico) -

Jill Parker

- (California) - jillparkerbellydance.com

Kami Liddle -

(California) - kamiliddle.com

Lori Tawasha -

(California) - suhailainternational.com

Mira Betz

- (California) - miramania.com

Olivia Kissel

- (Pennsylvania) - oliviakissel.com

Sami'Te

(North Carolina) - www.samiterocks.com

Unmata

- (California) - www.unmata.com
Schedule
All Workshops at Hampton Inn Fort Lauderdale (Official Hotel)
Friday through Sunday. June 20th through the 22nd
250 N. Andrews Avenue | Fort Lauderdale | FL | 33301 | www.hamptoninnftlauderdale.com
Gala Show Cinema Paradiso ~ Saturday, June 21st, at 8:00 PM
503 SE 6th Street | Fort Lauderdale, Florida 33301
Show begins at 8:00pm (doors open at 7:30) | Tickets are $25 in advance / $35 at the door
Kick Off and After Party is at Maguire's Hill 16 | Fri, June 20th at 9:00 PM & Sat, June 21th at 11:00 PM - 535 North Andrews Avenue Fort Lauderdale, FL 33301-3215

Sponsorship & Advertising opportunities available, please contact for more information
For a complete line-up and tickets www.TribalSolstice.comor 954-832-6141 
Alina Yllanes
E-mail:TribalSolstice@yahoo.com  
 Free Parking for all Attendees!
Breakfast is included for all Registered Guests
Hot Tub Party every night into the wee hours!
over 30 Workshops - Awesome Master Instruction
3 Shows
Bazaar

Workshops are selling fast, and rooms are booking. Don't miss the low prices!
You can book your own room directly from our website.
Join us this Summer and Enjoy your Tribal Solstice!
www.TribalSolstice.com
TRIBAL SOLSTICE VII ~ JUNE 27-30, 2013 ~ SOUTH FLORIDA