Description

A Tribute to Tribal Belly Dance ans its Musical inspiration - A.T.S., I.T.S., Tribal Fusion and more.

The venue is small, so tickets are limited for the performance section of the night. We will open the dancefloor following performances with 2 rooms running late night. Get your tickets early. reserved seating is assigned in order of purchase (meaning the first ones to buy tickets get the best seats in each section). Reserved seating is by advance purchase Only.
An epic event is coming together - Hosted by Beat Church and Underground Nomads.

2 rooms of Live Music and Dancefloor DJ sets with:
HELM (live)
SIDECAR TOMMY (beats antique)
DJ AMAR (electric vardo)
JEF STOTT (six degrees records)
DJ DRAGONFLY (the groove garden)
+ BEAT CHURCH Residents BALANCE & NEPTUNE
Performances by:
FATCHANCEBELLYDANCE with HELM
UNMATA with Calamity Sam
DANCERS OF HAHBI'RU
THE FOXGLOVE SWEETHEARTS
SALIMPOUR SCHOOL
AZURE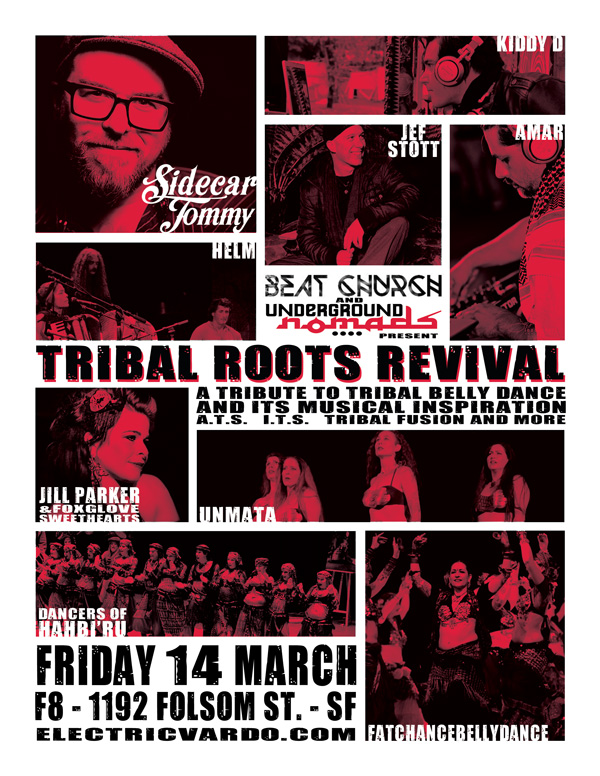 This is both a night of performances in an intimiate venue with a selection of San Francisco's Pioneers in the Global Belly Dance community AND a night on the dancefloor. 2 rooms with different music and performances.

There will be Limited Reserved Seating by advance purchase only.

Tickets:

$20 for 9pm entry.
$33+ for Reserved Seating (limited, advance only).
$15 Late night entry after 11pm for the dancefloor (Limited $10 early bird tix). We go till 3am or later.

Doors 9pm.

Front Room:
Performances: 10pm
Dancefloor: 12:00-3am
- Some late night performances too

Back Room:
Music and performances 11pm-3am
Organizer of Tribal Roots Revival - A night of Global Bass, Tribal Fusion Belly Dance
Electric Vardo began in March 2005, exploring eastern gypsy culture through music, dance, visual & culinary art. The collective included co-founders DJ Amar, DJ Sep and Ultra Gypsy, with partners DJ Dragonfly, Frederique, Freyja, Sooozhyq and Calamity Sam. Electric Vardo extended family members include Dhamaal, Sila & the Afrofunk Experience, Tabla Rasa, Rena Jones, Boom Boom Bollywood, Dholrhythms, Triple Power, Lumin, Kitundu, Soulsalaam, Cheb i Sabbah, Sub Swara, Atash Maya, SooozhyQ, Beats without Borders, the Nekyia, Clandestine, Surya Dub, Non Stop Bhangra, Cheb i Sabbah, The Groove Garden, Hookahdome, Zulu Lounge… and the list goes on.
On June 30th 2006 we hosted "Midsummernight Breaks" – a smashing reunion of the original Dhamaal DJs (Janaka Selekta, Maneesh the Twister, Dhruva) combined with a live set by Sub Swara (Dhruva, Sunder, Haj), joined by Kush Arora with Bellydance performances by Frederique & Haven, and an opening set with Amar. We'll be planning another one this year.
In April 06 we had a special night at Club Six feauring DJ SEP & CHEB i SABBAH & AMAR with FREDERIQUE & Special guest HAVEN, & a unique performance by AMAR+ FREDERIQUE+SOOOZHYQ, the closing night of Dhamaal's 3rd annual Sights & Sounds festival.
May 2007 marked the first Cosmik Casbah - a partnership with DJ Amar & DJ Dragonfly - Celebrating the weekend of Tribal Fest, bringing night-time entertainment for the masses of Tribal / Fusion Belly Dancers who travel from around the world and spend the week in Sebastopol. We offer a different experience to complement the festivities during the day. While we have a select few performances by featured dancers Exclusively performing at the afterparty, our focus is on the music, on the dancefloor. We bring in Musical acts ranging from Beats Antique to Maduro, Cheb i Sabbah to Ana Sia to fuel the dancefloor, Live musical acts ranging from Dan Cantrell's hand-picked ensembles to Beatbox Guitar's unique ethno-acoustic sounds.
Each year we bring you something different. Different from last year, different from Tribal Fest, different each night.
Electric Vardo's first monthly event:
11.March.05 – ELECTRIC VARDO
DAS COLLECTIVE = DJ Dragonfly (gatheringforgood.com) + DJ Sep(KPFA/Dub Mission) + DJ Amar (Bansuri.net) bring you an unique Global experience featuring Live Music, DJs, Dance, Visual Art and Culinary Delights. The focus of this opening night will be on the East: South Asia and Beyond, enticing the crowd with infusions of Ragas from the streets of Calcutta complemented by the spicy flavors of Bengal, moving into rhythmic motion with Bhangra dancers, Live Percussion and DJs spinning Tribal Breaks, Exotic House, Global Chill, Middle Eastern Drum & Bass, and rhythms & melodies from the far off saffron scented lands.
Artists for the night included: the DAS Collective (DJs Dragonfly-Amar-Sep), Live Asian percussion ensemble TABLA RASA, Live middle eastern drum & bass masters LUMIN, Guest DJs SOULSALAAM, JIMMY LOVE and members of the DHAMAAL Collective, Dance performance with DHOL RHYTHMS Bhangra Dance Troupe and FREDERIQUE of Belly Groove, plus a special evening Dinner Lounge with live performances by KITUNDU + SUKHADIA on Phonoharp and tabla, and TEED ROCKWELL performing Hindustani Ragas on Chapman Stick. Visuals by DAS Collective Residents, Art installations by JIMMY LOVE, Guest Chef AMAR, and in house Chef STERLING with Liquid Diva SALIE behind the bar.
From here forward, we have brought a range of events with varying themes, top notch dancers, musicians, DJs and visual artists, and where the venues permit - exotic culinary experiences.