TRIANGLE: Creating Healthy Green Schools through Integrative Process and WE...
Description
Creating Healthy Green Schools through Integrative Process and WELL principles

USGBC Triangle Bi-Monthly Luncheon Meeting Tuesday 9/19Hyatt Place Raleigh West from 11:30-1:00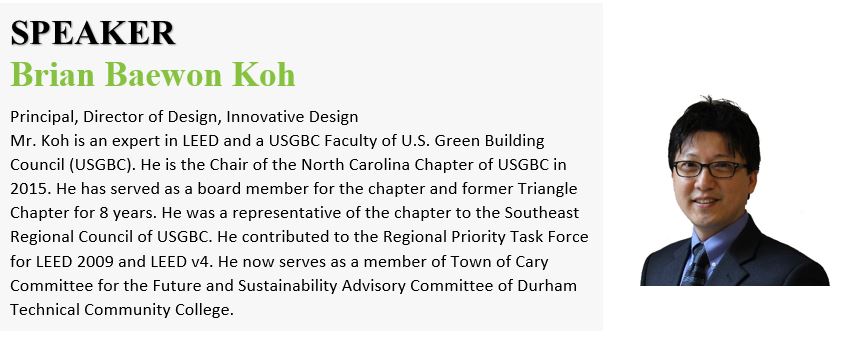 This course presents the details of the new credit in LEED v4 – Integrative Process, which is to support high-performance, cost-effective project outcomes through an early analysis of the interrelationships among systems. The presentation will include an example of the integrative process that the Isaacc Dickson Elementary School project has gone through to create a LEED Platinum pursuing, community-oriented, collaborative and hands-on experiential learning school. In addition, to continue LEED v4 Series from May 2017 presentation, this presentation will introduce some of the specific Features of WELL that are applicable to K-12 schools. Early energy modeling and its accuracy is a key part of Integrative Process. To continue the topic in the series, the November 2017 event will delve into the energy modeling and LEED v4.
After completing this course, attendees will be able to:
Differentiate the difference between the Integrative Process in LEED v4 and conventional process.
Facilitate adoption of the Integrative Process Credit of LEED v4 among their project stakeholders and community members.
Identify the minimum requirements to achieve Integrative Process credit in LEED v4.
Utilize the Integrative Process of LEED v4 Credit in the design charrette and Owner's Project Requirements (OPR).
Audience:
Design professionals, contractors, owners, facilities planners, facilities managers, sustainability consultants, government officials and employees of public agencies who are interested in adopting integrative process throughout the lifespan of a building, specifically in institutional building types such as K-12 schools.
Price (Includes Buffet Lunch): Members: $30
Non-Members: $35
Walk-Ins: $40 - Students: $15