Triangle Area Virtual Landscape School
About this event
NC Cooperative Extension is partnering with area businesses to host this educational event for landscape professionals. Classes will be led by specialists from NC State University and NCDA&CS.
Presentations will begin at 9:00AM each day and last for at least 1 hour.
*** Look under each session for respective CEU credits offered ***
Agenda:
March 22, 2021: The Latest & Greatest in Turfgrass Pathology & Control, Dr. Jim Kerns, Associate Professor & Turf Extension Specialist - NCSU
NC Pesticide License (1 of each DLNX), NC Landscape Contractor (1-L)
March 23, 2021: Soil Fertility Management for Successful Lawns & Landscapes, Dr. David Hardy, Soil Testing - NC Dept. of Agriculture & CS, Agronomic Division
NC Landscape Contractor (1-L)
March 24, 2021: Keeping Your Employees Happy and Healthy, Mr. Lee Ivy, Senior Lecturer - NCSU
NC Landscape Contractor (1-B)
March 25, 2021: Scale in Urban Landscapes & Methods for Control, Dr. Steve Frank - NCSU
NC Pesticide License (1 of each DLNX), NC Landscape Contractor (1-L), ISA (1-Certified Arborist, 1-Municipal, 1-BCMA Management)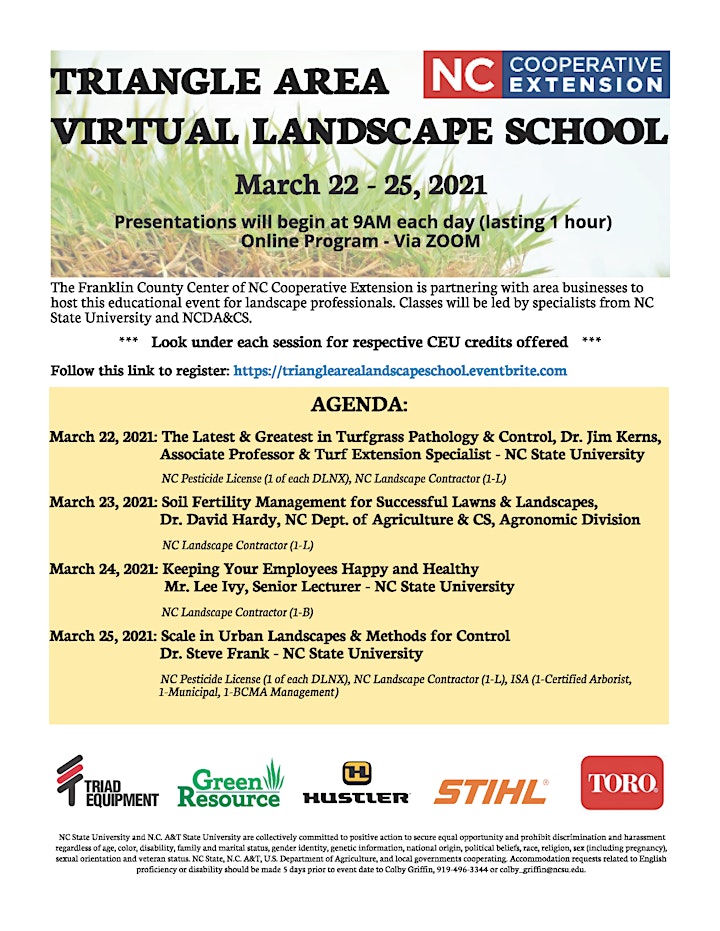 Organizer of Triangle Area Virtual Landscape School
---
NC State University and N.C. A&T State University work in tandem, along with federal, state and local governments, to form a strategic partnership called N.C. Cooperative Extension, which staffs local offices in all 100 counties and with the Eastern Band of Cherokee Indians.
Read our Privacy Statement
N.C. Cooperative Extension prohibits discrimination and harassment on the basis of race, color, national origin, age, sex (including pregnancy), disability, religion, sexual orientation, gender identity, and veteran status.
Individuals with disabilities are invited to request reasonable accommodations to participate in Extension sponsored programs and events. Please contact the county Extension office offering the program at least 14 days prior to the event to make arrangements.