Description
The Tri-State VegFest celebrates plant-based living, with food samples, cruelty-free vendors, speakers, yoga, and chef demonstrations. There's something for everyone!
More Info: http://bit.ly/2rUT2Q6

FREE PARKING for all attendees! Tickets WILL be avalaible for purchase at the door.
Children under 12 are FREE.

VegFest is a dairy-free, meatless, plant-based food festival that showcases plant-based cuisine and cruelty-free products that are part of a vegan lifestyle – but ultimately the festival is all about food, community, and entertainment. VegFest is a celebration of the health, environmental, and animal welfare benefits of a plant-based lifestyle. There will be vegan food to sample and purchase, engaging speakers, exciting performers, and members from the local vegan community to answer questions and showcase what inspires them. As a participant, volunteer, or attendee, your presence assists us to achieve our mission in educating as many families and individuals as possible about the benefits of a plant-based lifestyle.
---
SPEAKERS:
▶︎ David Coman-Hidy: Executive Director of The Humane League.
▶︎ Brian Clement, Ph.D., LN. : Co-Director of The Hippocrates Health Institute
▶︎ Diana Cimino: NYC Food Policy Coordinator (Humane Society of the United States)
▶︎ Clare Farrow: New York City Grassroots Director for The Humane League
---
YOGA:
▶︎ Kristin McGee: Celebrity Yoga Instructor
---
LIVE PERFORMANCE:
▶︎ Kneel Cohn: Warshow Angel Frontman & Vegan Activist
---
VENDORS:
Absolute Green
Aya's Natural Treasures, LLC
Bon Et Bio Eta
Bunny Treats
Capt. Marriner's Gourmet
Catskill Animal Sanctuary
Compassion Co
Compassionate Farming Education Initiative
Cruise Planners
CUTCO
Dair Me Not
Fera
Filfil Foods
Food Therapy Rx
Freakin' Vegan
Fruiggie
Good as Green
Gordon's Gourmet
Hawaiian Husky Organic Shave Ice
Health-Ade Kombucha
Hi-FiBar
Hippocrates Health Institute
Holi Aioli
ICE BOX JAM
Idlife
Indraloka Animal Sanctuary
JhalNYC
Juice Plus and Tower Garden
Khalila's CornKrush
Kids Corner
Kneipp
Kuli Kuli
LipSense/SeneGence
Little Man's Juice Bar and Grill LLC
Loving Hut
Macro Vegetarian
Mo'Pweeze Bakery
National Health Solutions
Nature Has Flavor
NSPIRE NETWORK
P-nuff Crunch
Perfect Foods
Pink Zebra
Popcorn for the People
Rhythm Superfoods
Self Love
Shankara Vegan Restaurant
Shear Happiness
SHO Nutrition
ShotCo.
Soul Bowls
Stage
Stoner Girl Treats and Eats
Suja Juice
Tamerlaine Farm Animal Sanctuary
The Humane League
The Psychic Gift of Astrology
The Sacred Kitchen LLC
Try Vegan Food Truck
Vegetarian Society of New Jersey
Veggie Grub
Vita Coco
Vital Eats
WarblerGarb
Yeah Dawg
Zico Coconut Water
PLUS MORE!



Interested in becoming a vendor? http://vegfestexpos.com/exhibit
---
Directions From NYC: If you're travelling from New York City, you can take NJ Transit North East Corridor Line from Penn Station. It takes roughly an hour, and the cost ranges from $10.00-$12.25 (one way) for adult and $4.50-$5.50 for senior, child and disabled. For more information call NJ Transit at (973) 275-5555 and (800) 772-2287.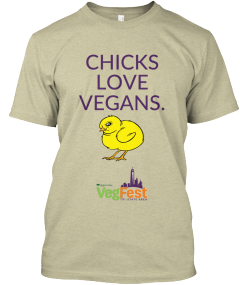 Tri-State VegFest Apparel
$25.99
We partnered with Teespring to create some awesome merchandise for this event. Show your support and look good wearing it. Check it out!