Description
There will be two teams involved in this component, the endurance team and the overland team.
Endurance Team:
Kayak, Bike, Hike and Rappel Drummond Island in a day.
The Tri-Excursion starts with a paddle to Harbor Island to find the USGS Marker (4 Miles), then to the Fossil Ledges (11miles). At the ledges, we will transition to bikes and ride the long twisting ride to Marble Head (17.5 Miles). At Marble Head, there will be some rappelling and hiking. Then we will bike back to basecamp at the Township Park (19miles). The Entire Trip will be a little over 50 miles of yaking, biking, and hiking. With some exploring.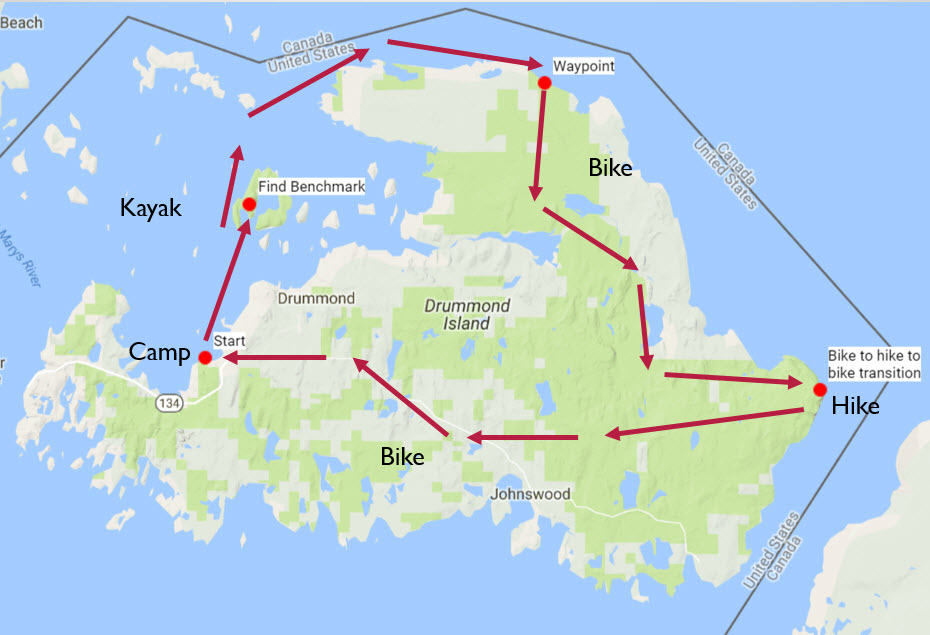 Participants should be in reasonably good shape to do the endurance portion of the excursion.
Overland Team:
The overland team will support the endurance team at transitions and offer assistance to members who need it. The overland team will also get to explore a vast portion of the island including the Fossil Ledges (transition). The team will offload bikes and load kayaks - returning them to basecamp. Then they will continue to explore the island and meet with the endurance team at Marble Head for optional rappelling and hiking.
Both teams will join back at basecamp for an evening of relaxation.
You must be a member of the Fortune Bay Expedition Team to participate in the excursion.
Contact the expedition leader at - pathfinder@fortunebay.org