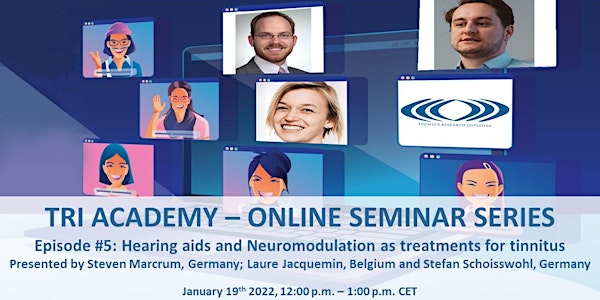 TRI Academy - Episode # 5: Hearing aids and Neuromodulation for tinnitus
The Tinnitus Research Initiative Foundation brings you TRI Academy's Episode #5 in its monthly Online Seminar Series
About this event
In the fifth episode of TRI Academy's Online Seminar Series, the following speakers will be presenting:
Steven Marcrum, Germany: "Hearing aids for the treatment of chronic tinnitus: Device- and patient-associated determinants of therapeutic success"
Conventional hearing aids are commonly recommended for the treatment of tinnitus, though results of studies investigating the efficacy of hearing aid-based tinnitus treatments have been mixed. In this talk, we will discuss the features of hearing aid fittings most likely to reduce tinnitus symptoms, as well as the characteristics of patients most likely to benefit from this form of therapy.
Stefan Schoisswohl, Germany & Laure Jacquemin, Belgium: "Shushing the Sizzle: Non-invasive Brain Stimulation in Tinnitus"
Based on neurophysiological alterations in conjunction with the generation and maintenance of tinnitus, several neuromodulation approaches have been developed and investigated to counteract these tinnitus-related pathological changes of the human brain. This talk will give a short overview of non-invasive brain stimulation techniques in tinnitus with a special focus on the current research stage of transcranial electrical stimulation (Dr. Laure Jacquemin) and repetitive transcranial magnetic stimulation (Dr. Stefan Schoisswohl).
The session will be moderated by Anusha Mohan, Trinity College Dublin, Ireland.
After welcoming remarks, each session will include two 20-minute talks. Questions from the audience for both talks will be moderated towards the end of the session.
A Zoom invitation link for this seminar will be provided in ample time before the event date.