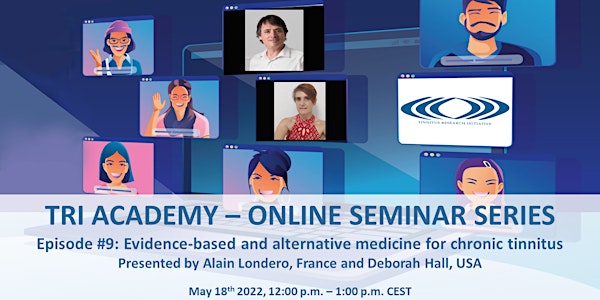 TRI Academy #9:Evidence-based & Alternative Medicine for chronic tinnitus
The Tinnitus Research Initiative Foundation brings you TRI Academy's Episode # 9 in its monthly Online Seminar Series
About this event
In the ninth episode of TRI Academy's Online Seminar Series, the following speakers will be presenting:
Deborah Hall: "Scientifically proven to reduce tinnitus": Examining the evidence behind the claims
Evidence based medicine (EBM) integrates clinical experience and patient values with the best available research information so that people can make the best treatment choices. In this presentation, I introduce the basic concepts of EBM and illustrate with some tinnitus-related examples.
Alain Londero: "Non-Evidence Based Medicine": pseudoscience, quackery, placebo effect and ethics.
Because of the lack of a cure and without scientific evidence many tinnitus patients turn to costly, unproven and potentially harmful complementary and alternative medicines (CAM). Nethertheless in certain circumstances with strict ethical rules, the placebo effect could be a legitimate treatment option. If considered, CAM should be integrated in a multidisciplinary approach under medical supervision.
The session will be moderated by Anusha Mohan, Trinity College Dublin, Ireland.
After welcoming remarks, each session will include two 20-minute talks. Questions from the audience for both talks will be moderated towards the end of the session.
A Zoom invitation link for this seminar will be provided along with the confirmation receipt of registration.