TREVOR HUFFMAN BASKETBALL ACADEMY - MANTON, JULY 10-12TH, 7TH-12TH GRADE BO...
Description
WHAT IS THE TREVOR HUFFMAN BASKETBALL ACADEMY?
THBA is an Elite and Youth Skill Development Basketball Academy for Northern Michigan players to learn how to be the best player and person they can be. After 12 years of professional basketball in Europe and cup of tea in the NBA, Trevor's mission is to create a place for Northern Michigan players to learn how to unlock their potential and reach their goals. By planting the seed early, players can start to grow and cultivate their passion for basketball and get ahead of the competition!
Learn how to design and implement a customized basketball training program that gets immediate results and has helped hundreds of players get to the next level.
Have fun playing and practicing the game we all love to play.
Learn offensive skills for improving shooting, dribbling, passing, and learning how to read and react to any offense or defensive situation.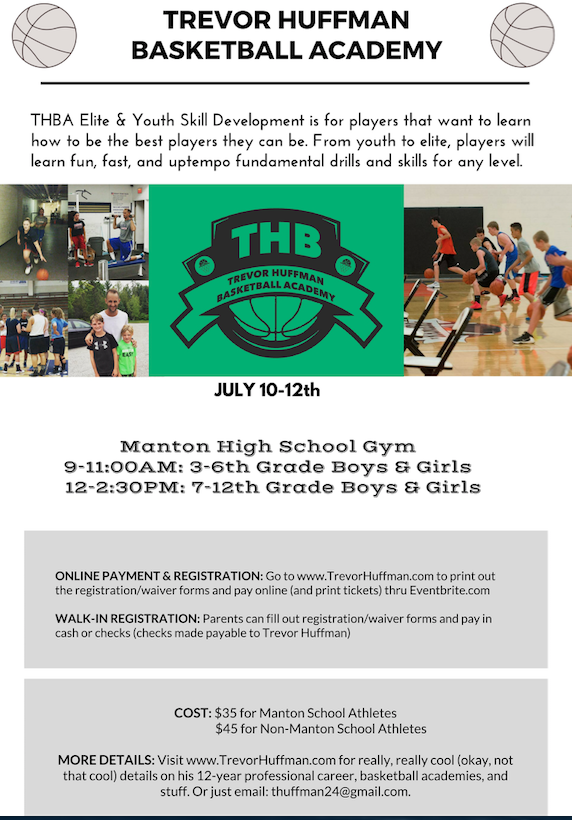 Trevor inspires kids to be their best and our kids have enjoyed working with him! - Coach Hiller, Varsity Head Coach of Manton Rangers
--------------------------------------------------------------------------------
We were thrilled with Trevor's session with our team! He put them t

hrough an exhausting workout - yet they ENJOYED every minute of it! He kept the kids fully engaged, and the up-tempo pace made a two-hour workout seem like minutes! Trevor was able to connect with our kids and easily communicate what was expected of them. We can't wait to have him back at Pine River to help our athletes reach their potential!
-Brian Goodenow, Pine River Boys Basketball - Varsity Head Coach
-------------------------------------------------------------------------------------------------------
Would like to thank Trevor Huffman for putting on 3 clinics for our

youth. The clinics ranged from 5th-12th grade boys and girls. Not only did these young ball players learn a lot about how to become a good ball player but also the importance off the court behavior and about life in general. The drills were intense and highly motivated.

It was great to see him be able to keep their attention and motivated through the duration of the clinic.
I feel very confident after talking to many of the players and witnessing it myself that they understand what it takes to reach their full potential and will continue to use these throughout their career. Highly recommend him if your looking to see players get a true understanding what it takes to reach full potential. Our feedback here at Onaway from parents and kids has outstanding on how they felt about this camp. Look forward to seeing you in Onaway again for another clinic.
Thanks,
Eddy Szymoniak - Head Coach Onaway Varsity Boys Basketball