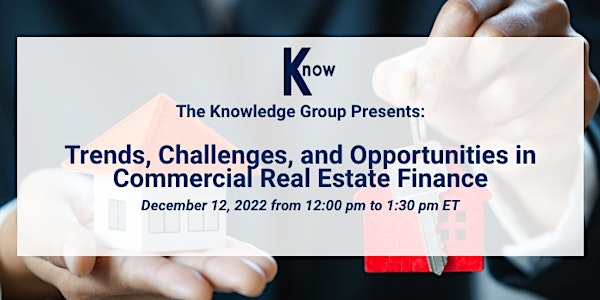 Trends, Challenges, and Opportunities in Commercial Real Estate Finance
Trends, Challenges, and Opportunities in Commercial Real Estate Finance
About this event
The unprecedented challenges brought by the COVID-19 pandemic resulted in drastic changes in the commercial real estate industry. As market conditions continue to shift, landlords and tenants must proactively track and manage the changes to their leases to sustain lease accounting compliance and ensure they're getting the maximum value out of these costly agreements.
This new business priority underscores the need for business owners to invest in dedicated technology that provides internal control and audit trails, configurability of processes and reporting requirements, robust system security, and accurate lease accounting to help them leverage their leases as strategic assets.
The Knowledge Group has assembled a panel of key thought leaders and practitioners to provide the audience with an in-depth analysis of the emerging trends, opportunities, and challenges in lease administration. Speakers will also offer the best strategies to navigate through the evolving regulatory paradigm.
Key topics include:
Commercial Real Estate in the Post-COVID Era: Trends and Developments
Emerging Opportunities and Challenges
Leveraging Lease Optimization Software
Best Strategies
What's Ahead?
Meet the Speakers:
Marc Betesh, Executive Chairman & Founder, Visual Lease
Joe Fitzgerald, SVP, Lease Market Strategy, Visual Lease
Can't attend the live online event?
No problem! You can register for the recording of this webcast.
For More Information Visit our Website:
Limited Availability: Free Registration via Eventbrite