Description
Join us for the first ever Trees for All: Chesapeake Regional Environmental Justice Workshop. This two-day event will bring together diverse stakeholders working to retain and increase healthy tree canopy in their communities. In-depth panel discussions with national and regional speakers and interactive sessions will outline how to address challenges to sustained community engagement and barriers to establishing healthy community canopy. If you are invested in community trees in the Chesapeake Bay region - whether you work in government, a nonprofit, the private sector or contribute as a community volunteer - this workshop is designed to help you address environmental injustice as it relates to community trees. Lunch and refreshments will be provided.
Where: National Wildlife Visitor Center, 10901 Scarlet Tanager Loop, Laurel, MD 20708 (Located within Patuxent Research Refuge South Loop)
When: Tuesday, August 8th 12:30 PM - 4 PM & Wednesday, August 9th 9:30 AM - 4 PM
Who Should Come: Urban forestry professionals, Municipal arborists/tree managers, Nonprofit community greening professionals and advocates, Planners, Academics, Funders, and any other individuals with an interest in improving access to quality tree canopy in systemically disenfranchised communities.
Agenda: See the agenda here.
Credits: 6 Maryland Licensed Tree Expert Continuing Education Credits will be offered. International Society of Arboriculture Continuing Education Credits are pending.
Scholarships: Contact Lillie Leaf for more information on available scholarships.
Deadline for Registration: August 4th at 12 PM - We can not accept registrations after this date and time due to catering.
Hotels: Holiday Inn Express & Suites & Hampton Inn
Tabling: Organizations with a focus on environmental justice, urban greening, or urban and community forestry who are interested in tabling at this event please contact Lillie Leaf.
This workshop is supported through a grant from the USDA Forest Service, and is hosted in partnership with Metropolitan Washington Council of Governments, DC Urban Forestry Administration, Prince George's County, and Maryland Department of Natural Resources.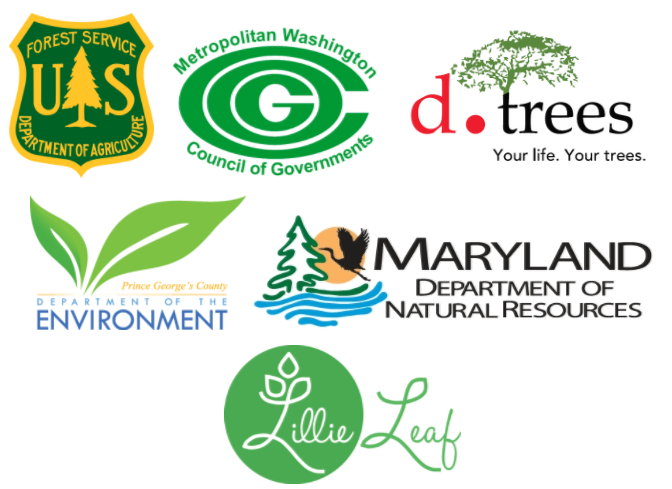 Questions? Email Sarah@LillieLeaf.com.