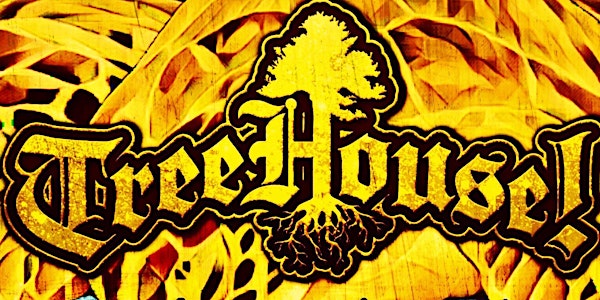 TreeHouse! w/ Sons of Paradise, Rockstead
The Pour House Music Hall & Record Shop
Location
The Pour House Music Hall & Record Shop
224 S Blount St
Raleigh, NC 27601
About this event
TreeHouse!:
Somewhere between the Caribbean Sea and California coastline, the rare merging of influences on the beaches of the Carolinas brought forth a unique style in the sounds of TreeHouse! This American Reggae Fusion act is a nationally acclaimed musical force founded by singer-songwriter, Jeremy Anderson (aka Positive J) who performs lead vocals, guitar, trumpet, and melodica live on stage, while also arranging and recording horn lines, keys, bass, and percussion on current and previous releases. In 2020, as the industry shut down and full band touring became unfeasible, Anderson took the reigns of the project as a solo looping artist while he traveled out into the world for new inspiration, wrote a slew of new songs on the road, and has now brought that energy back into the studio, where he is currently working on the next TreeHouse! release in its new form.
"They played as if they were headlining Coachella..." - New York Music Daily
Throughout the years, TreeHouse! has had collaborative releases with up and coming artists in the genre including Mellodose, Sun-Dried Vibes, Oogee Wawa, Austin Grimm of Roots of a Rebellion, James Begin of Tropidelic, Nick Sefakis of Iya Terra, and Dan Kelly of Fortunate Youth, while teaming up on shows with musical inspirations like Steel Pulse, 311, Michael Franti, Matisyahu, The Wailers, Dirty Heads, Pepper, Stick Figure, and SOJA.
The TreeHouse! single, "Blessings" was picked by Stephen Marley and Ky-Mani Marley as one of the top 10 songs out of hundreds of contestants in the Marley's Music Uprising, because they felt this song exemplified the spirit of Bob Marley.
Jeremy Anderson plans to continue on this musical life journey while continually evolving the approach. At every step, there is magic.
Sons of Paradise is a reggae/dub band in the midst of an explosive upcoming. The Raleigh-based group has quickly risen to headlining venues throughout the southeast with some of the biggest names in the reggae world. Led by Matt McClanahan (Vocals/Guitar) & Jordan Gee (Keyboards) the band has toured/played with artists including Beres Hammond, Julian Marley, Inner Circle, Fortunate Youth, Ballyhoo, Tropidelic, Bumpin Uglies, The Elovaters, Giant Panda Guerilla Dub Squad & many more.
ROCKSTEAD:
The feeling of love. The power of unity. The essence of happiness. The strength of togetherness and positive vibrations. The highs of living life and the lows of dealing with its obstacles. All of these things encapsulate the music of Cincinnati, OH-based Rockstead, a five-piece, passion driven rock/reggae group.
With roots leading as far back as middle school, Rockstead combines a lifetime full of influences ranging from rock, punk, reggae, jam and metal. In their early days Rockstead ruled the college party scene in Ohio with a schedule full of impromptu house shows that led to packed basements of DIY venues and later, massive crowds attending college fests such as Ohio University's infamous spring festivals. This early success catalyzed the debut of their first album "Wake Up and Live" (2013) shortly followed by their popular self-recorded "Rise" EP (2014). These releases ignited their inner road warrior leading to a plethora of plays at music festivals and concert venues across the Midwest. Since then, Rockstead continues to widen their reach touring throughout the Eastern U.S. and down into Florida.
Though member changes have occurred over the years, front man singer/guitarist Jake Burns continues to drive the group forward as they have shared stages with international touring acts such as The Wailers (Jamaica), Sticky Fingers (Australia) and Big Mountain (U.S.A.) as well as many staple East coast reggae acts like Giant Panda Guerilla Dub Squad, Badfish, Tropidelic, Bumpin' Uglies and Ballyhoo!. The band has now grown to include Nate Anuci (drums) and Jacob Riley (lead guitar). With a healthy gap since their last full release (Homegrown, 2016) Rockstead dropped their first studio album "You're In Control" in September 2020 which scored them multiple features in blogs and podcasts across the scene making them "one of the most unique and special bands in [Cincinnati]" (CincyMusic, 2020).
By using their relentless high-energy performances and genre-bending setlists, while aligning their unwavering dedication to the do-it-yourself work ethic, Rockstead shows no sign of slowing down their mission of bringing people together through music.