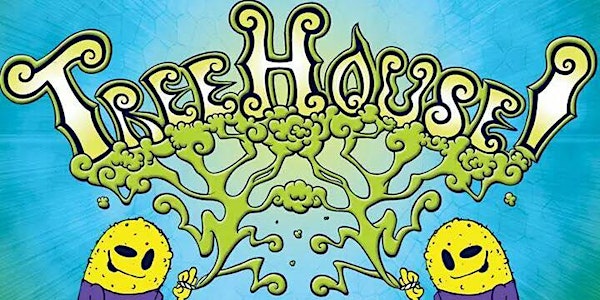 TreeHouse! + Signal Fire w/ Ashley LaRue Band
Ages 21+
The Pour House Music Hall and Record Shop
Friday night reggae party w/ TreeHouse!, Signal Fire & Ashley LaRue Band!
When and where
Location
The Pour House Music Hall & Record Shop 224 S Blount St Raleigh, NC 27601
About this event
If Pink Floyd jammed with Bob Marley, their sound might come close to TreeHouse! Reggae, Roots, Rock, Jam, and Psychedelia have never been fused together like this in the history of humankind, let alone so seamlessly. Situated in the Southeast US, right between Jamaica and California, TreeHouse! has forged a sound of its own with a timely, worldwide appeal.
After teaming up with musical idols like 311, Matisyahu, Michael Franti, Dirty Heads, and SOJA along their journey and in the spirit of the bands who laid the path before them, these road warriors continue to spread their roots coast to coast.
The TreeHouse! single, "Blessings" was picked by Stephen Marley and Ky-Mani Marley as one of the top 10 songs out of hundreds of contestants in the Marley's Music Uprising, because they felt this song exemplified the spirit of Bob Marley.
"The live show itself heals me every night. I write these songs, to some extent, for my own sake. If I am to sing this song every night, I try to make it beneficial for my own being and implant within it a message that I may need to hear, myself, for reassurance in my journey. Whenever we are feeling overwhelmed with our path, someone comes like a messenger from the universe and expresses how much we've affected their life for the better, just by doing what we do. That's what always keeps us going."
TreeHouse! recently released a new single, "Prayer for the Day" to much acclaim, followed by "Natural High (ft. Dan Kelly)", with a new album to be released in 2020.
#Reggae #Roots #ReggaeRock #RockReggae #Ska #Surf #Psychedelic #Rock #ReggaeFusion #SurfRock #Fusion #SkaRevival #World
"Wilmington, North Carolina's Signal Fire has taken a giant step forward with the release of a brilliant album, Lift Up. True to its title, this LP offers 13 well-crafted songs to soothe souls with serenity, encouragement, and hope. Marked by top-notch production from grammy winning producer Llamar "Riff Raff" Brown Lift Up boosts great songwriting, beautiful singing, and tight instrumentation." -Dave Shiffman, Rootfire Intl.
As an independent release, their second album Lift Up debuted at #1 on the iTunes reggae charts, and #8 on the Billboard reggae charts. Through years of grass roots approach, Signal Fire has built a loyal following with their uplifting music and message.
A fine blend of acoustic, reggae, alt rock, and what can only be described as "her sound", Ashley LaRue and her band reach out to the world with messages of positivity, hope, and good vibes as a bonded tribe of musical virtuosos.
Formed in August of 2018, Ashley LaRue fronts the band as a vocal powerhouse with acoustic guitar, Horace Bennett with blazin' electric leads, Johnny Beacham on drums weaving the rhythmic space, Jeremy "Bones" Rodgers with the smooth buzz of his trombone, and Pat Ward with the low end electric bass grooves. The group also features (at special shows) David Morse with psychedelic, roots, and more influences with the stroke of each key. He will also be featured on the groups upcoming album.
Come dance to the exciting energy, experience awe of their powerful stage presence, and feel the love in your soul. Leave your troubles and worries at the stage with us, and let the music set you free.