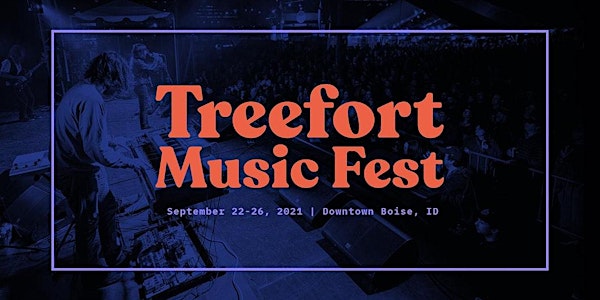 Treefort Music Fest 9
Five Days of Music, Art, and Culture in Boise, Idaho
Performers
Japanese Breakfast, The Marías, Dawn Richard, Built To Spill
Calexico, Andy Shauf, Christian Scott aTunde Adjuah, Larkin Poe, Mdou Moctar, Prefuse 73, Lightning Bolt, Wajatta, AJJ, Pell, The Felice Brothers, Chong the Nomad, Armand Hammer, Vundabar, Habibi, Arooj Aftab, Nite Jewel, Luna Li, Monophonics, The Seshen, Andrea Gibson, Rituals of Mine, East Forest, Sonny And The Sunsets, Yasmin Williams, Con Brio, The Black Tones, Magna Carda, Wild Pink, Ratboys, Guayaba, Esme Patterson, Sofía Valdés, Rosie Tucker, cheekface, Waltzer, Blood Lemon, Myke Bogan, James Supercave, Swsh, Lake Street Dive, Frank Leone, Mannequin Pussy, Haley Heynderickx
Location
1201 W Grove St
1201 West Grove Street
Boise, ID 83702
About this event
The ninth edition Treefort Music Fest is happening as a special pop-up on your calendar this fall!!
Explore hundreds of bands, yoga sessions, film screenings, storytellings, loads of laughs, technology hacks, local food and beer, community collaborations on many fronts ++ a ton of unforgettable moments over five days across multiple venues in downtown Boise.
#treefort9 | September 22 - 26, 2021
TREEFORT HEALTH PLEDGE:
We ask that you not attend if any of the following is true for you or anyone in your party:
Within 14 days before attending the festival you have tested positive, or been exposed to someone who has tested positive for, COVID-19;
Within 48 hours prior to attending the festival, you have experienced symptoms of COVID-19 (e.g., a fever of 100.4F or higher, cough, shortness of breath or difficulty breathing, chills, repeated shaking muscle pain/achiness, headache, sore throat, loss of taste or smell, nasal congestion, runny nose, vomiting, diarrhea, fatigue or any other symptoms associated with COVID-19 identified by the Centers for Disease Control and Prevention);
Within 14 days prior to attending the festival, you have traveled to any international territory identified by federal or applicable state or local governments as being subject to travel or quarantine advisories due to COVID-19.