Event Information
Performers
Toro y Moi, Vince Staples, Liz Phair
Mt Joy, Mandolin Orange, Laura Veirs, Wilderado, Angelique Kidjo, Low, Nappy Roots, Built to Spill, Rubblebucket, American Football, Cherry Glazerr, The Undercover Dream Lovers, Tigers Jaw, Juice, Dan Deacon, Her's, Shiba San, Blessed, Black Moth Super Rainbow, Y La Bamba, mewithoutYou, The Bright Light Social hour, Sierra Hull, Bad Bad Hats, Strawberry Girls, The Suffers, Intervals, Ekali, Delicate Steve, Night Beats, Ripe, Ric Wilson, Sweet Spirit, Califone, Flint Eastwood, Liz Cooper & The Stampede, Adam Jones, Video Age, ZERO, Mike Krol, Farao, Caroline Rose, TEEN, Bells Atlas, Naked Giants, Hillstomp, Acid King, Be Forest, EMA, Summer Cannibals, Rituals of Mine, Eyelids, Haley Blais, Bloods, Tim Baresko, Ava Luna, The Blank Tapes, Aan, Onhell, Gaelynn Lea, Terror Pigeon, CHAI, Mattson 2, Blushh, Cory O, Shadowgraphs, Slang, Spooky Mansion, Anna Tivel, Cumulus, Cy Dune, New Move, The Librarian, Doe, Tango Alpha Tango, Jeff Crosby & The Refugees, Thelem, Cedric Burnside, CRY, FAVX, Treepeople, The Stargazer Lilies, Slow Caves, Waker, Pinky Pinky, Eldren, Kolars, Acid Tongue, JPEGMAFIA, Yamantaka // Sonic Titan, Smokey Brights, Federale, The Ophelias, Bart Budwig, Goopsteppa, Lenny Kiser, Dentist, Reptaliens, deathlist, Mat the Alien, Wicked Bears, Paper Gates, Hosannas, Bobby's Oar, Quiet Oaks, Illuminati Hotties, Gymshorts, Serpentfoot, The Total Bettys, Robin Bacior, Sarah Shook & the Disarmers, Carter Cruise, Cavegreen, Moorea Masa & The Mood, Cryptodira, Kyle Emerson, Matt Hopper & The Roman Candles, Whippin Shitties, Chong the Nomad, Super Sparkle, Sudan Archives, Strand, Small Million, Nick Delffs, Madge, Sunbathe, Jared Mees, Vertical Scratchers, Help, Anemone, Karen Meat, The Hoot Hoots, Lee Corey Oswald, Haviah Mighty, Go Fever, Black Belt Eagle Scout, Lens Mozer, Lounge on Fire, Low Hums, Tylor & The Train Robbers, ESC, Eleanor Murray, Jo Passed, Western Daughter, Carrion Kids, Taylor Kingman, Styles in Black, Joshy Soul, And And And, Mains & Monitors, Kilcid Band, Morgin Madison, Weeed, Scott Yoder, Grizzly Goat, Oh, Rose, CMMNWLTH, Spirit Award, Wildermiss, Bugg, Savila, Zee Will, Whiskerman, LED, Qais Essar, Stranger Danger, L.A. Edwards, Sun Blood Stories, Divide and Dissolve, Chris King & The Gutterballs, MONSTERWATCH, Tanukichan, Billy Moon, Moon Palace, Old Death Whisper, The Golden Fleece, Art d'Ecco, Fruit & Flowers, Eureka California, LUX, 1788-L, All Star Opera, Sera Cahoone, Phonetic, Plastic Man, Motherhood, Goodbye Honolulu, Truth, Black Mountain, Hillfolk Noir, Marshall Poole, Help Yourself, Get Wet +, Delta Mud, Dandu, Jonathan Warren & The Billygoats, Jimmy Vegas and the Phobes, Adrian Teacher and the Apollo Ghosts, Clinton Patterson, Jimmy Vegas and the Phobes, Black Bolt, The Love Bunch, Messimer, C.J. Boyd, Stepbrothers, Chief Broom, BOINK, Tommy Alexander, David Moon, Jack Burton, Throes, MERTLE, Shadowlands, Nude Dude, Marinero, Ivy Wild, Esme Patterson, Adrian Teacher and the Apollo Ghosts, Bread & Circus, Traitors Gate, Charlie Sutton, The Muckers, MAITA, Sahab, Idyltime, George Washing Machine, Motrik, Tres Leches, Braided Waves, Balms, bed., Whitney Ballen, No Kind of Rider, Autonomics, Devours, Sick Wish, Dogs In The Fight, Mini Blinds, Dolphin Midwives, People with Bodies, Transistor Send, Kathleen Williams, Sonis, Central City Music Company, Bryson Cone, Linqua Franqa, Spiritual Warfare and the Greasy Shadows, Blanket Ghost, Itchy Kitty, Raquel Divar, Mantooth, The Moody Jews, Bitch'n, Panther Car, Conquer Monster, Sprain, Toy Zoo, FRANKIIE, Denim Casket, The Hand, Ghostbox, Kid Koma, Why Bonnie, No Good, Oruã, Sh8peshifter, Nick Zoulek, Afrosonics, Tispur, The Puscie Jones Revue, WIBG, Prism Bitch, Rosie Tucker, St. Terrible, Up is the Down is the, General Mojo's, Grayson County Burn Ban, Bibi McGill, Indigenous Robot, Jupiter Holiday, Maddie Zahm, Booty EP, James Plane Wreck, I Will Keep Your Ghost, Axiom Tha Wyze + The Galaxy, Madisun Proof, Urban Outfielders, June West, ohbrando, Wild Spells, Divorce Court, Ealdor Bealu, Raccoon Tour, Black Ferns, Eleven & Jason D, Kyler Daron, Chairea, Cosmonautical, Snoozy Moon, Charcoal Squids, Sportscourt, King Ropes, Winter Forever, queen boychild, Kissay, THNDR, sLe.ePY.sEa.HoRs.E, Knuckle Pups, Pure Ivy, Parade of Bad Guys, Shrug Dealer, Illicit Nature, Zack Quintana, River Merrill, Wend, Rhythmic Friction, Red Light Challenge, Dedicated Servers, Like A Rocket, EvoluShawn, Mountains Like Tidal Waves, Hihazel, The Maple Bars, Preakedness, Babehoven, Jacq Maliq, Holy Camaro, Tuct., ACUDETH, The Honey Shivers, Audio Moonshine, Lee Penn Sky, Golder Strange, Ben Walden, Childspeak, Ana Lete, Liza Day, Ryan Bayne, The Guardians of Virginity, King Who, Frim Fram 4
Description
Treefort Music Fest is a multi-venue music festival in downtown Boise, Idaho featuring hundreds of artists from across the globe. Getting a full festival wristband to Treefort 2019 is the BEST WAY to see all the music and other events we have to offer, and buying your wristband early is the best way to get more bang for your buck.
March 20-24, 2019
Tickets On Sale Now!
Full Treefort 2019 Lineup Out Now!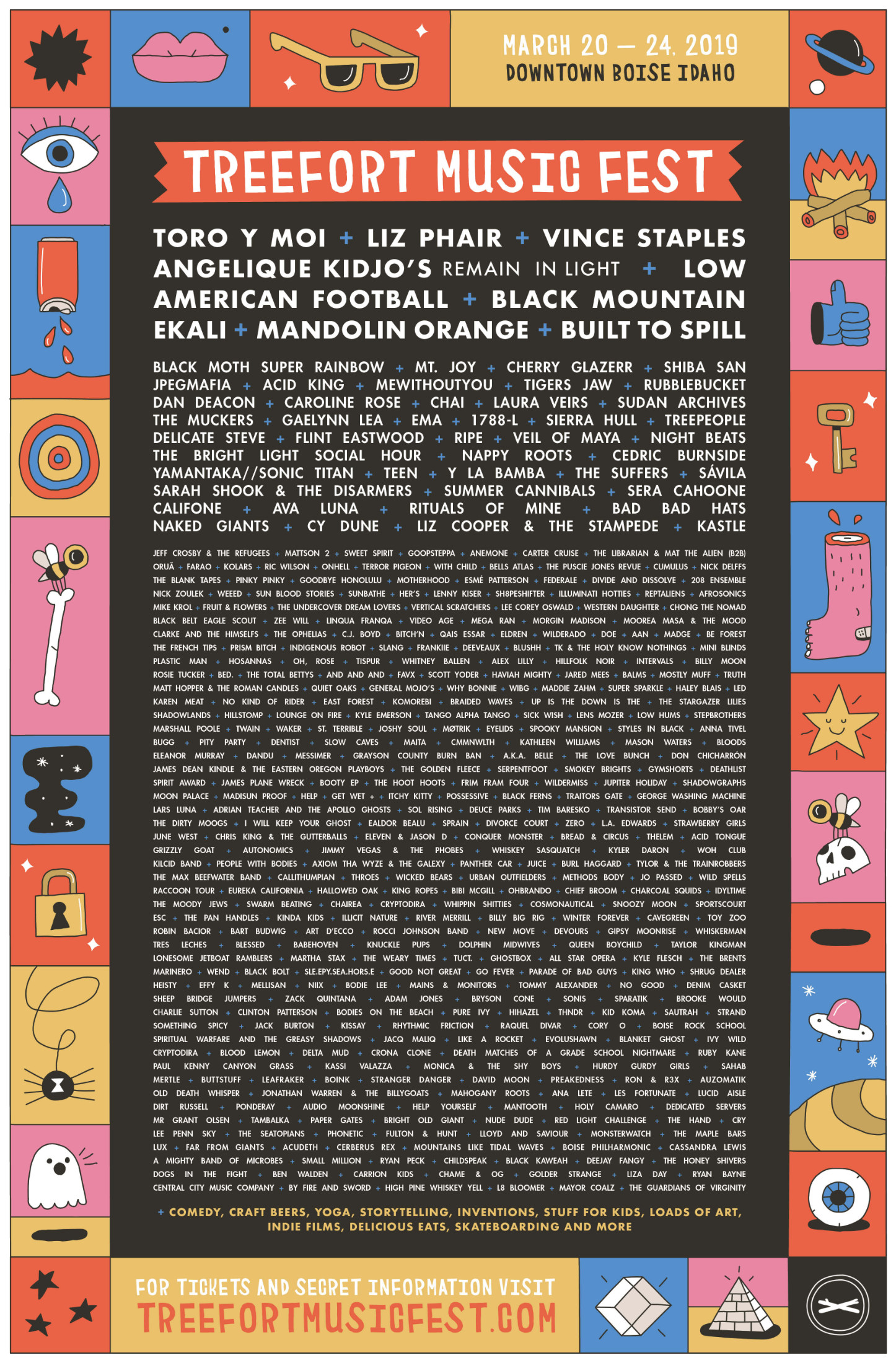 Toro Y Moi • Angelique Kidjo's Remain In Light • Vince Staples • Liz Phair • American Football • Low • Black Mountain • Built To Spill • Ekali • Mandolin Orange • Black Moth Super Rainbow • Mt. Joy • Cherry Glazerr • Shiba San • Jpegmafia • Acid King • mewithoutYou • Tigers Jaw • Rubblebucket • Dan Deacon • Caroline Rose • CHAI • Laura Veirs • Sudan Archives • Delicate Steve • Flint Eastwood • The Muckers • Ripe • Gaelynn Lea • EMA • 1788-L • Sierra Hull • Treepeople • The Bright Light Social Hour • Veil of Maya • Night Beats • Nappy Roots • Yamantaka // Sonic Titan • Cedric Burnside • TEEN • Y La Bamba • The Suffers • Sarah Shook & The Disarmers • Rituals of Mine • Truth • Bad Bad Hats • Ava Luna • Liz Cooper & The Stampede • Sera Cahoone • Naked Giants • Summer Cannibals • Cy Dune • Mattson 2 • Kastle • THE LIBRARIAN & MAT THE ALIEN (B2B) • Goopsteppa • Anemone • Sávila • Farao • Sweet Spirit • KOLARS • Ric Wilson • Carter Cruise • ONHELL • Terror Pigeon • Jeff Crosby & The Refugees • The Puscie Jones Revue • Califone • Esmé Patterson • Oruã • Her's • The Undercover Dream Lovers • With Child • Lenny Kiser • Chong The Nomad • Bells Atlas • Zee Will • Black Belt Eagle Scout • Illuminati Hotties • Cumulus • Clarke and the Himselfs • Nick Delffs • Madge • The Blank Tapes • Be Forest • TK & The Holy Know Nothings • Pinky Pinky • Hillfolk Noir • Goodbye Honolulu • Intervals • Motherhood • Haviah Mighty • Jared Mees • Federale • Mostly Muff • Divide and Dissolve • 208 Ensemble • Nick Zoulek • WEEED • Sun Blood Stories • WIBG • Sunbathe • Sh8peshifter • Reptaliens • Afrosonics • East Forest • Komorebi • Mike Krol • Hillstomp • Lounge on Fire • Fruit & Flowers • Braided Waves • Vertical Scratchers • Marshall Poole • Twain • Anna Tivel • Lee Corey Oswald • Bugg • Pity Party • Western Daughter • Bloods • Linqua Franqa • Eleanor Murray • Video Age • Moorea Masa & The Mood • Don Chicharrón • Mega Ran • Smokey Brights • Gymshorts • Morgin Madison • The Ophelias • Frim Fram Four • C.J. Boyd • Bitch'n • Qais Essar • Eldren • Wilderado • Wildermiss • Doe • Aan • The French Tips • Prism Bitch • Indigenous Robot • Slang • Frankiie • Deeveaux • Blushh • Mini Blinds • Plastic Man • Hosannas • Oh, Rose • Tispur • Whitney Ballen • Alex Lilly • Billy Moon • Rosie Tucker • Bed. • Sol Rising • Deuce Parks • Tim Baresko • The Total Bettys • And And And • FAVX • Scott Yoder • Balms • Matt Hopper & The Roman Candles • Quiet Oaks • General Mojo's • Why Bonnie • Maddie Zahm • Super Sparkle • Transistor Send • Haley Blais • LED • Karen Meat • The Dirty Moogs • No Kind of Rider • Strawberry Girls • Up is the Down is the • The Stargazer Lilies • Shadowlands • Thelem • Kyle Emerson • Tango Alpha Tango • Acid Tongue • Sick Wish • WOH Club • Lens Mozer • Low Hums • Stepbrothers • Waker • Tylor & The Trainrobbers • St. Terrible • Joshy Soul • Methods Body • Møtrik • Eyelids • Jo Passed • Spooky Mansion • Styles in Black • Bibi McGill • Dentist • Slow Caves • MAITA • CMMNWLTH • Kathleen Williams • Mason Waters • Dandu • Messimer • Grayson County Burn Ban • a.k.a. Belle • James Dean Kindle & The Eastern Oregon Playboys • The Golden Fleece • The Love Bunch • Serpentfoot • deathlist • James Plane Wreck • Spirit Award • Booty EP • The Hoot Hoots • Jupiter Holiday • Shadowgraphs • Lars Luna • Moon Palace • Madisun Proof • ohbrando • Cryptodira • Help • Get Wet + • Itchy Kitty • Possessive • Black Ferns • Traitors Gate • George Washing Machine • Bobby's Oar • Adrian Teacher and The Apollo Ghosts • I Will Keep Your Ghost • Ealdor Bealu • Sprain • Divorce Court • Zero • L.A. Edwards • June West • Chris King & The Gutterballs • Eleven & Jason D • Conquer Monster • Bread & Circus • Grizzly Goat • Autonomics • Jimmy Vegas & The Phobes • Whiskey Sasquatch • Kyler Daron • Kilcid Band • People With Bodies • Axiom Tha Wyze + The Galexy • Panther Car • Juice • King Who • The Max Beefwater Band • Callithumpian • THROES • Wicked Bears • Urban Outfielders • Wild Spells • Raccoon Tour • Eureka California • Hallowed Oak • King Ropes • Chief Broom • Charcoal Squids • Idyltime • The Moody Jews • Swarm Beating • Chairea • Whippin Shitties • Cosmonautical • Snoozy Moon • Sportscourt • ESC • The Pan Handles • Kinda Kids • Illicit Nature • River Merrill • Billy Big Rig • Winter Forever • Cavegreen • Toy Zoo • Robin Bacior • Bart Budwig • Art d'Ecco • Rocci Johnson Band • New Move • Devours • Gipsy Moonrise • Whiskerman • Tres Leches • Blessed • Babehoven • Knuckle Pups • Dolphin Midwives • queen boychild • Taylor Kingman • Lonesome Jetboat Ramblers • Martha Stax • The Weary Times • Tuct. • Ghostbox • All Star Opera • Kyle Flesch • The Brents • Marinero • Wend • Black Bolt • sLe.ePY.sEa.HoRs.E • Good Not Great • Go Fever • Parade of Bad Guys • Burl Haggard • Shrug Dealer • Heisty • Effy K • Mellisan • NIIX • Bodie Lee • Mains & Monitors • Tommy Alexander • No Good • Denim Casket • The Sheep Bridge Jumpers • Zack Quintana • Adam Jones • Bryson Cone • Sonis • Sparatik • Brooke Would • Charlie Sutton • Clinton Patterson • Bodies on the Beach • Pure Ivy • Hihazel • THNDR • Kid Koma • Sautrah • Strand • Something Spicy • Jack Burton • Kissay • Rhythmic Friction • Raquel Divar • Cory O • Boise Rock School • Spiritual Warfare and the Greasy Shadows • Jacq Maliq • Like A Rocket • EvoluShawn • Blanket Ghost • Ivy Wild • Blood Lemon • Delta Mud • Crona Clone • Death Matches of a Grade School Nightmare • Ruby Kane • Paul Kenny Canyon Grass • Kassi Valazza • Monica + The Shy Boys • Hurdy Gurdy Girls • Sahab • MERTLE • buttstuff • Leafraker • BOINK • Stranger Danger • David Moon • Preakedness • RON & R3X • Auzomatik • Old Death Whisper • Jonathan Warren & The Billygoats • Mahogany Roots • Ana Lete • Les Fortunate • Lucid Aisle • Dirt Russell • Ponderay • Audio Moonshine • Help Yourself • Mantooth • Holy Camaro • Dedicated Servers • Mr Grant Olsen • Tambalka • Paper Gates • Bright Old Giant • Nude Dude • Red Light Challenge • The Hand • CRY • Lee Penn Sky • The Seatopians • Phonetic • Fulton & Hunt • Lloyd and Saviour • MONSTERWATCH • The Maple Bars • LUX • Far From Giants • ACUDETH • Cerberus Rex • Mountains Like Tidal Waves • Boise Philharmonic • Cassandra Lewis • A Mighty Band of Microbes • Small Million • Ryan Peck • Childspeak • Black Kaweah • Deejay Fangy • The Honey Shivers • Dogs In The Fight • Ben Walden • Carrion Kids • Chame & OG • Golder Strange • Liza Day • Sheep Bridge Jumpers • Ryan Bayne • Central City Music Company • By Fire and Sword • High Pine Whiskey Yell • L8 Bloomer • Mayor Coalz • The Guardians of Virginity
Performers
Toro y Moi, Vince Staples, Liz Phair
Mt Joy, Mandolin Orange, Laura Veirs, Wilderado, Angelique Kidjo, Low, Nappy Roots, Built to Spill, Rubblebucket, American Football, Cherry Glazerr, The Undercover Dream Lovers, Tigers Jaw, Juice, Dan Deacon, Her's, Shiba San, Blessed, Black Moth Super Rainbow, Y La Bamba, mewithoutYou, The Bright Light Social hour, Sierra Hull, Bad Bad Hats, Strawberry Girls, The Suffers, Intervals, Ekali, Delicate Steve, Night Beats, Ripe, Ric Wilson, Sweet Spirit, Califone, Flint Eastwood, Liz Cooper & The Stampede, Adam Jones, Video Age, ZERO, Mike Krol, Farao, Caroline Rose, TEEN, Bells Atlas, Naked Giants, Hillstomp, Acid King, Be Forest, EMA, Summer Cannibals, Rituals of Mine, Eyelids, Haley Blais, Bloods, Tim Baresko, Ava Luna, The Blank Tapes, Aan, Onhell, Gaelynn Lea, Terror Pigeon, CHAI, Mattson 2, Blushh, Cory O, Shadowgraphs, Slang, Spooky Mansion, Anna Tivel, Cumulus, Cy Dune, New Move, The Librarian, Doe, Tango Alpha Tango, Jeff Crosby & The Refugees, Thelem, Cedric Burnside, CRY, FAVX, Treepeople, The Stargazer Lilies, Slow Caves, Waker, Pinky Pinky, Eldren, Kolars, Acid Tongue, JPEGMAFIA, Yamantaka // Sonic Titan, Smokey Brights, Federale, The Ophelias, Bart Budwig, Goopsteppa, Lenny Kiser, Dentist, Reptaliens, deathlist, Mat the Alien, Wicked Bears, Paper Gates, Hosannas, Bobby's Oar, Quiet Oaks, Illuminati Hotties, Gymshorts, Serpentfoot, The Total Bettys, Robin Bacior, Sarah Shook & the Disarmers, Carter Cruise, Cavegreen, Moorea Masa & The Mood, Cryptodira, Kyle Emerson, Matt Hopper & The Roman Candles, Whippin Shitties, Chong the Nomad, Super Sparkle, Sudan Archives, Strand, Small Million, Nick Delffs, Madge, Sunbathe, Jared Mees, Vertical Scratchers, Help, Anemone, Karen Meat, The Hoot Hoots, Lee Corey Oswald, Haviah Mighty, Go Fever, Black Belt Eagle Scout, Lens Mozer, Lounge on Fire, Low Hums, Tylor & The Train Robbers, ESC, Eleanor Murray, Jo Passed, Western Daughter, Carrion Kids, Taylor Kingman, Styles in Black, Joshy Soul, And And And, Mains & Monitors, Kilcid Band, Morgin Madison, Weeed, Scott Yoder, Grizzly Goat, Oh, Rose, CMMNWLTH, Spirit Award, Wildermiss, Bugg, Savila, Zee Will, Whiskerman, LED, Qais Essar, Stranger Danger, L.A. Edwards, Sun Blood Stories, Divide and Dissolve, Chris King & The Gutterballs, MONSTERWATCH, Tanukichan, Billy Moon, Moon Palace, Old Death Whisper, The Golden Fleece, Art d'Ecco, Fruit & Flowers, Eureka California, LUX, 1788-L, All Star Opera, Sera Cahoone, Phonetic, Plastic Man, Motherhood, Goodbye Honolulu, Truth, Black Mountain, Hillfolk Noir, Marshall Poole, Help Yourself, Get Wet +, Delta Mud, Dandu, Jonathan Warren & The Billygoats, Jimmy Vegas and the Phobes, Adrian Teacher and the Apollo Ghosts, Clinton Patterson, Jimmy Vegas and the Phobes, Black Bolt, The Love Bunch, Messimer, C.J. Boyd, Stepbrothers, Chief Broom, BOINK, Tommy Alexander, David Moon, Jack Burton, Throes, MERTLE, Shadowlands, Nude Dude, Marinero, Ivy Wild, Esme Patterson, Adrian Teacher and the Apollo Ghosts, Bread & Circus, Traitors Gate, Charlie Sutton, The Muckers, MAITA, Sahab, Idyltime, George Washing Machine, Motrik, Tres Leches, Braided Waves, Balms, bed., Whitney Ballen, No Kind of Rider, Autonomics, Devours, Sick Wish, Dogs In The Fight, Mini Blinds, Dolphin Midwives, People with Bodies, Transistor Send, Kathleen Williams, Sonis, Central City Music Company, Bryson Cone, Linqua Franqa, Spiritual Warfare and the Greasy Shadows, Blanket Ghost, Itchy Kitty, Raquel Divar, Mantooth, The Moody Jews, Bitch'n, Panther Car, Conquer Monster, Sprain, Toy Zoo, FRANKIIE, Denim Casket, The Hand, Ghostbox, Kid Koma, Why Bonnie, No Good, Oruã, Sh8peshifter, Nick Zoulek, Afrosonics, Tispur, The Puscie Jones Revue, WIBG, Prism Bitch, Rosie Tucker, St. Terrible, Up is the Down is the, General Mojo's, Grayson County Burn Ban, Bibi McGill, Indigenous Robot, Jupiter Holiday, Maddie Zahm, Booty EP, James Plane Wreck, I Will Keep Your Ghost, Axiom Tha Wyze + The Galaxy, Madisun Proof, Urban Outfielders, June West, ohbrando, Wild Spells, Divorce Court, Ealdor Bealu, Raccoon Tour, Black Ferns, Eleven & Jason D, Kyler Daron, Chairea, Cosmonautical, Snoozy Moon, Charcoal Squids, Sportscourt, King Ropes, Winter Forever, queen boychild, Kissay, THNDR, sLe.ePY.sEa.HoRs.E, Knuckle Pups, Pure Ivy, Parade of Bad Guys, Shrug Dealer, Illicit Nature, Zack Quintana, River Merrill, Wend, Rhythmic Friction, Red Light Challenge, Dedicated Servers, Like A Rocket, EvoluShawn, Mountains Like Tidal Waves, Hihazel, The Maple Bars, Preakedness, Babehoven, Jacq Maliq, Holy Camaro, Tuct., ACUDETH, The Honey Shivers, Audio Moonshine, Lee Penn Sky, Golder Strange, Ben Walden, Childspeak, Ana Lete, Liza Day, Ryan Bayne, The Guardians of Virginity, King Who, Frim Fram 4
Date and Time
Location
Refund Policy